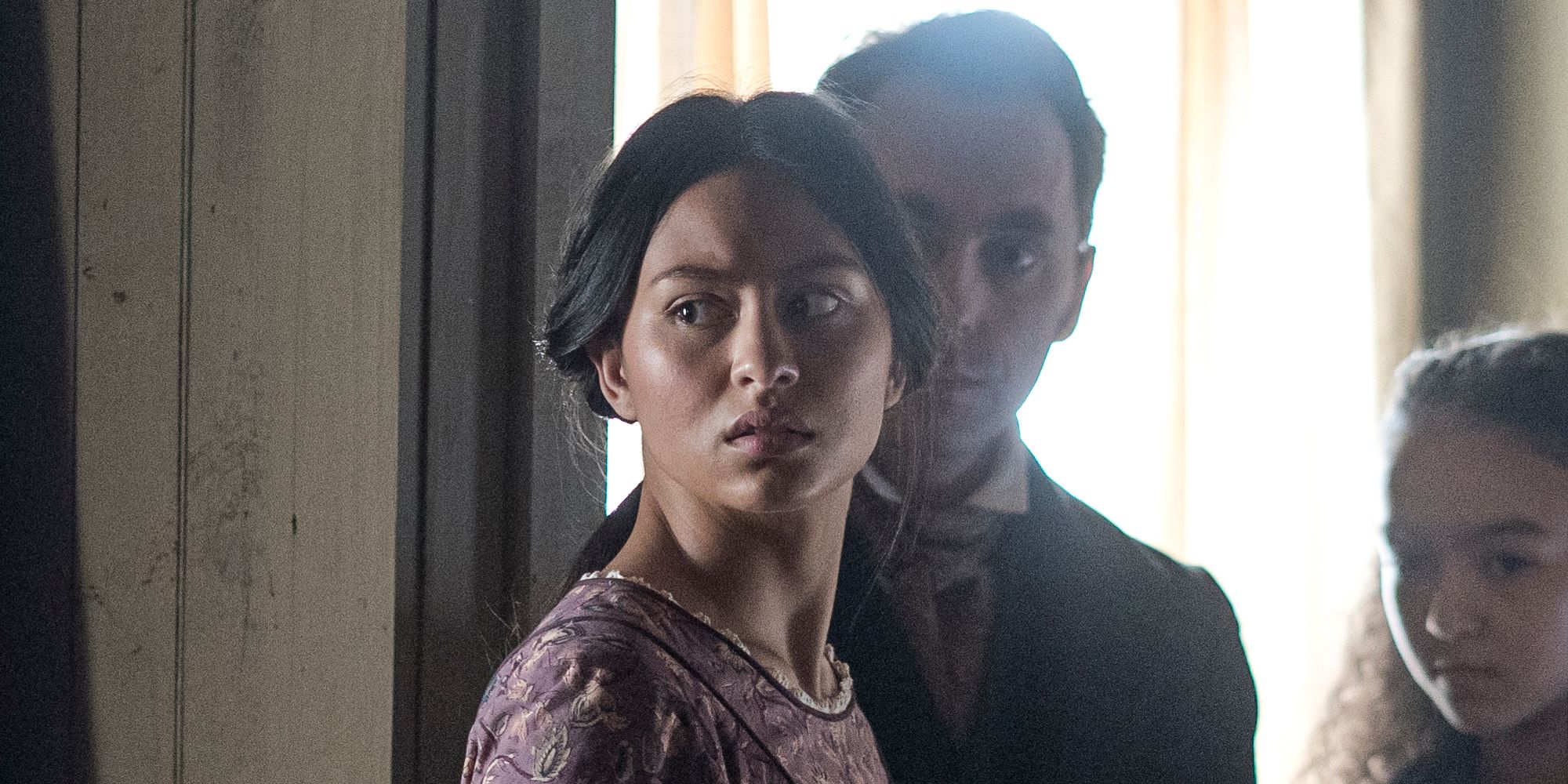 In the latest episode, Charles Boone learns more disturbing details about his family history while violence descends on Chapelwaite.
WARNING: The following contains spoilers for Chapelwaite Episode 3, "Legacy of Madness," which aired Sunday on Epix.
The hostility of the townspeople of Preacher's Corners against the Boone family turns violent in the latest episode of Chapelwaite, with not even the homestead safe from the prejudices of their neighbors. Following Charles Boone's discovery that the grave of his cousin Stephen was empty, his obsessive quest to discover what is going on moves him considerably closer to madness as he learns how deep the family curse runs, pushing his sanity to the brink.
Charles has a nightmare that he is burying his son Tane with worm- and maggot-infested soil before waking at his family cemetery, with the empty coffin of his cousin Stephen. While reading Stephen's letter bequeathing the entire estate, Charles is interrupted by a concerned Tane and a constable, who warns to stay out of town or leave the area entirely. Charles angrily refuses, intent to continue with his shipbuilding enterprise, while governess Rebecca Morgan recounts to the children her own unhappy upbringing in Preacher's Corners.
RELATED: Chapelwaite Premiere's Most Significant Changes to Jerusalem's Lot
Charles visits Chapelwaite's old caretaker, Mrs. Cloris, to inquire more about the nature of Stephen's death, determined to get to the bottom of his cousin's demise, and why his corpse would go missing. The caretaker recalls finding Stephen's daughter, Marcella, after her fatal fall down Chapelwaite's cellar stairs, a pair of scissors piercing her throat. Beside Marcella's body was Stephen himself, having hanged himself immediately after coming upon his beloved daughter. After burying his son and granddaughter, Stephen's father Philip then committed suicide as well, walking into the ocean; his body was never recovered. Given that Cloris was the only person to see Philip die, and the first to find Stephen and Marcella's bodies, Charles is skeptical of her account, and shares that he discovered Stephen's coffin empty. He then accuses Cloris of knowing Stephen's true whereabouts.
Returning to his home, the constable is shocked to see his wife Mary has allowed a fire spread. He puts out the blaze and checks on her, unaware that she was attacked on All Hallow's Eve. The town doctor confirms Mary has contracted the same illness that has claimed several in town, including the girl Susan on Halloween. Elsewhere, the town's former reverend, Samuel Gallup, and Minister Burroughs disagree about whether to publicly blame the Boones for the disease's spread, while the children are quietly expelled from school over concerns from parents that they may be carrying the illness. Charles is angered but, in the interim, Rebecca volunteers to home-school the children until the animosity toward the Boone family diminishes.
As Boone reveals to Rebecca that he discovered Stephen's grave is empty, Chapelwaite is attacked by hooded townspeople. When Charles himself is ambushed and knocked around by the attackers, Rebecca and eldest daughter Honor drive the raiders away at gunpoint. As one of the attackers runs into the woods surrounding Chapelwaite, he is killed by the same vampiric figure that preyed on Edward Mallory in the series premiere. The following morning, Boone's workers haven't shown up for work at the sawmill, instead content to drink at the town saloon. Charles visits the saloon to fire his wayward workers, claims their final pay to repair Chapelwaite. He threatens to rain fire on them and their families should they endanger his home ever again; when the lead troublemaker objects, Charles savagely beats him and offers one final warning before departing.
RELATED: Chapelwaite: Grief Is at the Center of the Boone Family's Rift
Charles visits a mental asylum on a small island off the coast to speak with Dr. Frost, a psychologist who treated Stephen, about his suspicions regarding his disappearance. Frost reveals that mental illness runs deep in the Boone family, as he has treated several members, a revelation that visibly troubles Charles. Frost urges Charles to consider checking himself into the asylum before the deterioration of his mental health makes him a liability; this request, coupled by a patient mistaking him for Stephen, causes Charles to leave abruptly in a huff.
Back at Chapelwaite, Tane is approached by the strange woman who previously warned Charles about the worms. Claiming not to have a name, the woman declares she serves a dark worm god before she instructs Tane to have Charles find the family book and gives him a worm-infested apple. Hearing of this, and maddened by a local exterminator claiming there are no rats in the walls of Chapelwaite, Charles begins smashing through the estate's walls before nearly striking his daughter Loa. Recalling that the asylum dipped patients into ice baths to shock them into lucidity, Charles takes an impromptu ice bath in the cellar only to be horrified when his insane father's final words to him — "blood calls blood" — appear on the ceiling, written in blood.
Developed for television by Peter and Jason Filardi, Chapelwaite airs on Epix with new episodes premiering on Sundays.
KEEP READING: Chapelwaite: The Boone Family's Governess Has Ulterior Motives
What If Delivers a Much-Anticipated MCU Heavyweight Matchup
About The Author