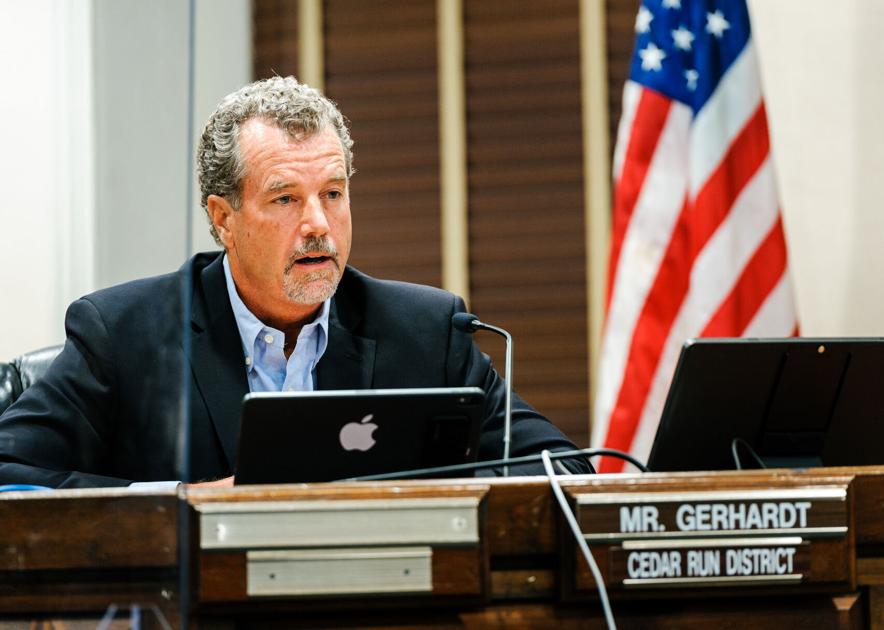 Fauquier County and a private internet provider are applying for a $15 million state grant that, if approved, will mean more than 10,000 rural homes in Fauquier County could be served by a fiber-optic internet connection by 2024. Utilizing existing electric power infrastructure, the project would subsidize connections to homes that are not currently in areas served by fiber-optic connections.
The $64 million project would require a $10.5 million commitment from the county government, which could be provided in large part by federal COVID relief funds. All Points Broadband, a Leesburg-based internet service provider, would provide $39 million in capital.
The remaining $15 million could come from the Virginia Telecommunication Initiative, a state fund dedicated to providing capital to expand internet access into areas where high-speed internet is not currently available. Although the county won't know the outcome of that grant application until the end of the year, officials expressed confidence Thursday that the application will be successful, pointing especially to an influx of federal funding meant to fund projects like the Fauquier proposal.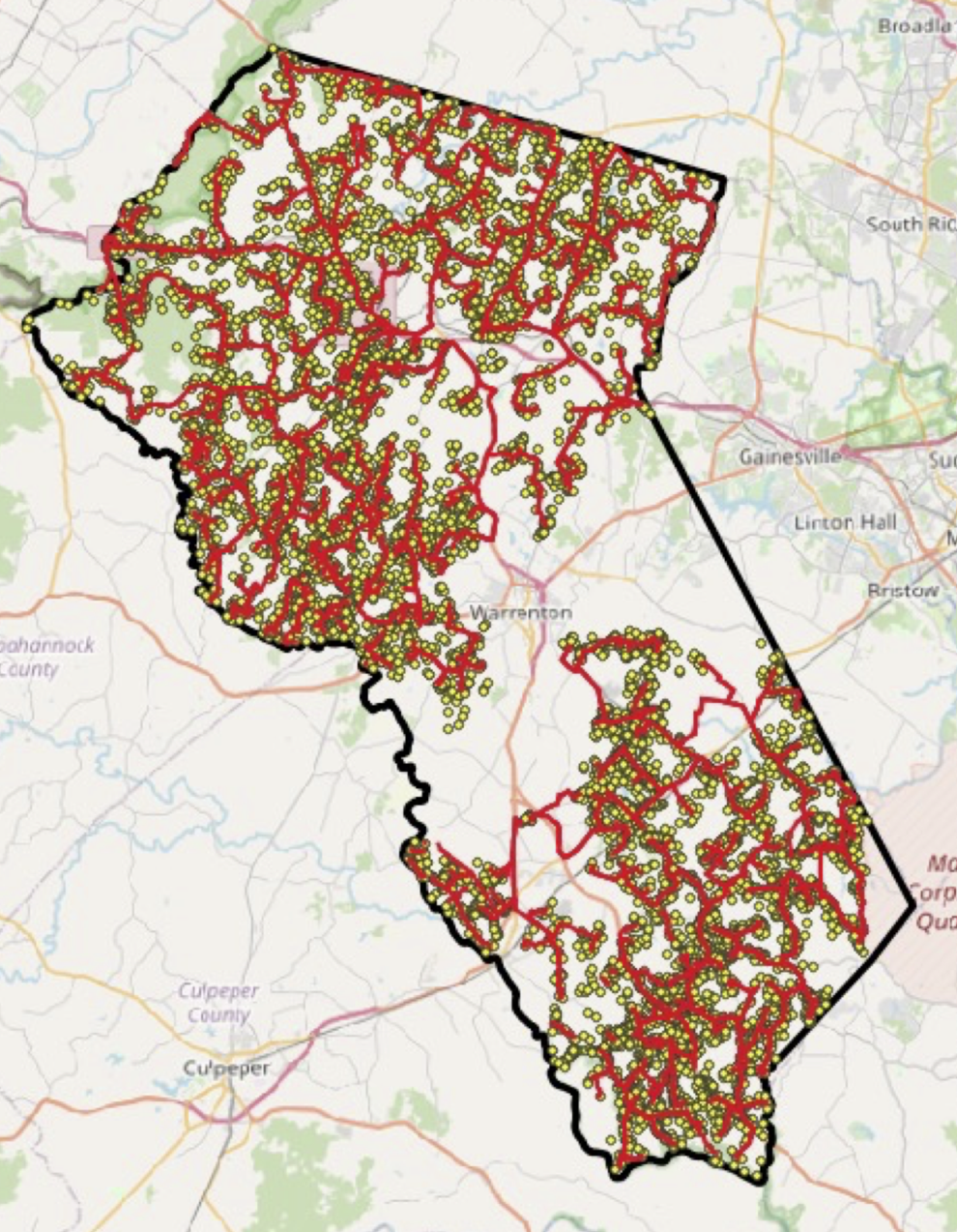 A step up from wireless broadband
Since 2019, the county has contributed several million dollars to another public-private broadband initiative that has provided wireless broadband internet access to many of the county's rural areas. With its costs subsidized by the county, Florida-based Data Stream Mobile Technologies has set up fixed-wireless broadcast equipment on 18 towers around the county, and about 600 homes and businesses have signed up for service so far.
Fixed-wireless connections are far less reliable – and far slower – than what fiber-optic connections can offer, however. Additionally, many in the county have been unable to connect their home to the Data Stream network because of unfavorable terrain that blocks the signal coming from the towers.
The Virginia General Assembly this year allocated $700 million to the VATI fund using the state's allocation from the federal American Rescue Plan Act. The legislature specifically intends to use those funds to expand access to much higher speeds than wireless services can provide. "There's literally a once in a generation opportunity to receive funding and achieve universal broadband," said All Points CEO Jimmy Carr on Thursday.
Federal stimulus funds will also likely be used to cover at least a portion of the county's share of the cost. The county will receive $13.8 million from the American Rescue Plan Act, and $4 million of that has been tentatively set aside for the fiber-internet project. All of the county's $10.5 million share could, theoretically, be paid for with the federal funds, however, and supervisors expressed openness to that idea on Thursday. Nothing was decided definitively, however. (See box.)
The Fauquier County Broadband Authority, which is comprised of county supervisors but acts as a separate legal entity, on Thursday approved a resolution to submit the grant application. If the grant is successful, the authority would have three months after receiving notice of approval to enter into a formal agreement with All Points, Dominion Energy and Rappahannock Electric Cooperative.
Carr told supervisors that the VATI grant recipients should be announced by the end of the year and he expressed confidence that the grant application would be approved. The application "is intended to win," said Carr, pointing to All Points successful grant application last year that is helping to fund a similar rural fiber-optic project in the Northern Neck.
"I have two words: 'Very impressed,'" said Supervisor Rick Gerhardt (Cedar Run District) in response to Carr's presentation to supervisors.
How the project would work
The Fauquier project would utilize existing power line poles owned by Dominion and Rappahannock Electric to bring "middle mile" fiber-optic cables to the parts of the county that are not currently served by high-speed wired internet service. (This area includes most of the county's land area.) All Points Broadband would then connect to those lines to provide "last mile" service directly to homes.
According to Carr, about 10,500 homes in Fauquier County would able to connect to the fiber-optic system under the plan developed by All Points this summer, in conjunction with the two electric companies.
Consumer plans would start at $60 per month for the "basic" 50 megabyte-per-second (Mbps) plan – the maximum speed would be the same for uploading and downloading data — with rate increases not exceeding the rate of inflation for the duration of the public-private partnership. Other plans would bring speeds of up to 1 gigabyte-per-second (Gbps) to homes, with a monthly fee of $120 for the 1 Gbps plan. Plans above "basic" would not be subject to the same restrictions on fee increases.
Under the partnership with Data Stream, on the other hand, residential connections offer a maximum of 50 Mbps downloads and 5 Mbps uploads.
All Points would charge a $200 installation fee for all connections that require 500 feet or less of new wiring from the main power line; a per-foot fee, currently pegged at about $1.20, would be charged for the distance beyond 500 feet. That "long drop" fee, applying to homes farther away from the nearest road, would be waived for those who connect within the first year of the service becoming available.
Concerns about 'equity'
Although county supervisors were generally enthusiastic about the potential project, Board Chairman Chris Granger (Center District), expressed concern about maintaining regional "equity" with county-funded services, although he said he still supports moving forward with the All Points partnership.
If the fiber-optic project is completed, he pointed out, homes in rural areas would be able to access fiber-optic internet at much faster speeds – and at a much cheaper price – than homes and businesses in the Warrenton, New Baltimore, Vint Hill and Bealeton areas that are currently served by Comcast wired internet connections.
"We have to be very cognizant that the wired services that exist today at the top of the market do not even scratch the surface, do not even come close [to what All Points would provide in the fiber-optic project]," said Granger, whose district is almost entirely serviced by Comcast and therefore ineligible for the All Points project.
The county would, essentially, be providing a $6,100-per-home service to residents of rural areas while those in more developed areas would continue paying the same rates for the same internet services, he argued. "Tax dollars are being used to decide who the haves and the have nots are."
Other supervisors said that they agreed with his concerns but said that the unique opportunity finally to achieve something close to universal broadband access in the county was even more important.
Supervisor Mary Leigh McDaniel, for instance, whose Marshall District is mostly rural, said that "this would be a game changer for businesses to operate from home," therefore driving economic activity in the county as well as helping residents connect to the internet for work, school and entertainment.