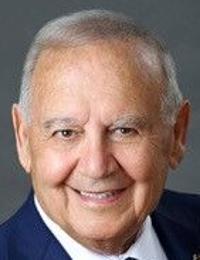 Longtime Colorado Springs auto dealers Jay Cimino, Bob Penkhus and Jim Reilly Sr., along with four others with Springs ties, will be inducted into the first Colorado Automotive Hall of Fame class Sept. 14.
Cimino, CEO of Phil Long Dealerships; Penkhus, president of Bob Penkhus Motor Co.; Reilly, owner of Reilly Buick-GMC; Soland "Don" Doenges, a partner in Doenges-Long Ford (now Phil Long Ford); Roland Purifoy, owner of Purifoy Motors; Don Hicks, owner of Porsche Colorado Springs; and Gene Wilcoxson, partner in Silver State Cadillac, all are part of the 50-member first class in the Hall of Fame. Doenges and Hicks spent most of their careers in the Denver area, while Purofoy spent much of his career in Fort Lupton and Wilcoxson spent much of his career in Pueblo. But they all owned Colorado Springs dealerships for parts of their careers.
All 50 members of the initial class of the Colorado Automotive Hall of Fame will be honored at a dinner at 5:30 p.m. Sept. 14 at Elitch Gardens. Tim Jackson, president of the Colorado Automobile Dealers Association, said the first class was scheduled to be inducted in April 2020, but the COVID-19 pandemic delayed the ceremony until this month. The first class members were selected, he said, because all were nominees for the Time magazine's Dealer of the Year.
A Trinidad native, Cimino held various positions in Chevrolet and Ford dealerships in Pueblo and Santa Fe, N.M., before joining Phil Long Ford in 1975 as general manager. He later became president and CEO of Phil Long Dealerships, the largest privately held dealership in Colorado, which owns locations in Colorado Springs, Denver, Glenwood Springs, Trinidad and Raton, N.M. He was a key player in developing Colorado Springs' Motor City area, which now has 50 dealerships, and also has led redevelopment efforts in downtown Trinidad. He has supported many local charities, including the Mt. Carmel Veterans Service Center he founded.
"As a native Coloradoan, I learned from my dad and community the spirit of winning and how important it was to serve with loyalty, integrity and perseverance. My passion is to serve our customers and community, and motivate our employees to be the best they can be," Cimino said in a email statement. "I am honored to stand next to my fellow inductees who share the same commitment to the automotive industry and to those they serve."
Penkhus, an Iowa native, moved to Colorado with his family in 1951 and grew up in the automotive business after his father opened a Volvo dealership in Colorado Springs. He joined the company after college and started a Mazda dealership in downtown Colorado Springs in 1973. Penkhus became president of Bob Penkhus Motor Co. in 1977. He was honored by the Pikes Peak Chapter of the American Red Cross in 2011 for shuttling 44 people and more than 2,000 pounds of medical supplies to support earthquake victims in Haiti in 2010.
Reilly, a lifelong Colorado Springs resident who died in 2010, was a partner in Guy Martin Buick in Colorado Springs after his father's death. His father had owned the dealership since 1923, and as general manager, Jim Reilly moved the dealership from downtown to become the first in Motor City in 1961. The dealership was later sold to Martin, who then sold his interest to Jim Reilly in 1983. Reilly added a GMC dealership in 1990 and sold both dealerships in 2000 to Denver dealer Mike Shaw, who also is among the initial class of 50 Hall of Fame members. Reilly also was a longtime president of the Pikes Peak Hill Climb.
Doenges got his start in the auto industry in Oklahoma in 1918, working in a Studebaker garage. He later moved to a Ford dealership with additional stops in Texas and Arizona before returning to Oklahoma to take over the then-bankrupt Ford dealership and later accepted an offer from Merl Long, another Ford dealer to purchase Vollmer Brothers Ford in Colorado Springs. Doenges moved to Denver in 1958 and Long's son, Phil, bought out his interest five years later. Doegnes operated a Ford dealership in Aurora until selling it in 1984.
Purifoy got his start in the auto business, working in a Missouri Chevrolet dealership in 1929 at age 14. He and his wife moved to Colorado where he opened a used car lot and rental car company, Purifoy Motors, in Colorado Springs. He operated the company for five years before buying a Chevrolet dealership in 1961 in Fort Lupton, where he operated the business for 30 years.
Hicks began his career in 1972 as a salesperson at Courtesy Ford in Denver and spent 14 years there, becoming general manager. He spent a year as general manager at Leo Payne Imports in Denver before starting Shortline Auto Group in 1987 in Aurora, which operated Subaru, Mazda, Suzuki, Volkswagen, Kia, Hyundai and Porsche dealerships. He also has been owner of Porsche Colorado Springs since 2005. He is a member of the board of directors of the National Auto Dealers Association, representing minority dealers in the Western U.S.
Wilcoxson was born in Kansas and spent many years in Pueblo. A veteran of World War II, he was a salesman for Vidmar-Mathis Motor Co. in Pueblo before he was recalled to active duty during the Korean War. He returned as new car sales manager for W.A. Wills Ford in Pueblo and became a partner in Wills-Wilcoxson Pontiac in Council Bluffs, Iowa. He returned to Colorado as a partner in Silver State Cadillac in Colorado Springs before trading that interest five years later for a partnership in W.A. Wills Buick-Cadillac in Pueblo. He bought out his partners in 1967 and changed the name of the dealership to Wilcoxson Buick-Cadillac-GMC Truck. He was a founder of  the Pueblo Economic Development Corp. and died in 2009.