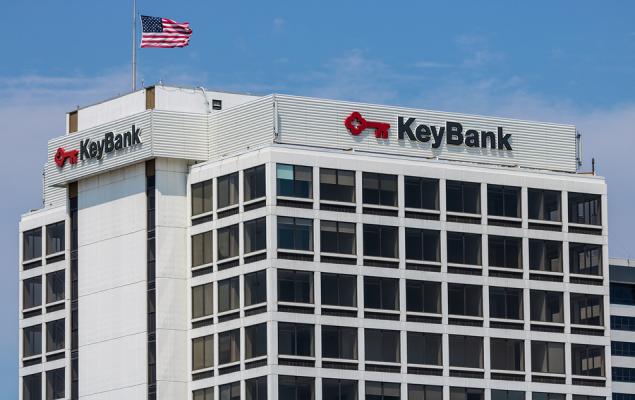 KeyBank, KeyCorp's (KEY – Free Report) banking subsidiary, has announced the divestiture of its indirect retail auto loan portfolio. Subsequently, the company entered into an accelerated share repurchase (ASR) program.
KeyBank had sold an indirect retail auto loan portfolio worth $3.2 billion to a vehicle managed by a wholly-owned subsidiary of Waterfall Asset Management, LLC. Along with this, the bank brought senior notes worth $2.8 billion from "a securitization collateralized by the sold loans." The bank continues to be the servicer of auto loans.
Don Kimble, Chief Financial Officer of KeyCorp, said, "The ASR transaction, which was aided by the capital generated from the sale of the indirect retail auto loan portfolio, further demonstrates our commitment to maximizing shareholder value."
KeyCorp has inked an agreement with Goldman Sachs & Co. LLC, a unit of Goldman Sachs (GS – Free Report) , to buy back up to $585 million worth of shares. The ASR is part of the company's share repurchase plan (under which it is authorized to repurchase shares worth up to $1.5 billion through the third quarter of 2022) announced in July.
Under the terms of the ASR program, KeyCorp will receive nearly 23.5 million shares on Sep 14, which represents 2.5% of shares outstanding. This share delivery is based on the company's closing price of 19.87 as of Sep 10. The final settlement of shares bought back under the ASR deal is expected to be completed in the last quarter of 2021.
These efforts, along with plans to hike dividend in the fourth quarter (subject to board approval), are expected to enhance shareholder value. It must be noted that amid the coronavirus-induced economic slowdown last year, the Federal Reserve had restricted capital distributions by major banks like JPMorgan (JPM – Free Report) and Bank of America (BAC – Free Report) to conserve liquidity.
Shares of KeyCorp have gained 55.1% over the past year, outperforming the industry's rally of 54.8%.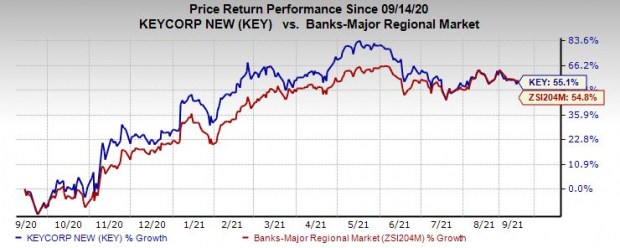 Image Source: Zacks Investment Research
At present, KeyCorp carries a Zacks Rank #3 (Hold). You can see the complete list of today's Zacks #1 Rank (Strong Buy) stocks here.