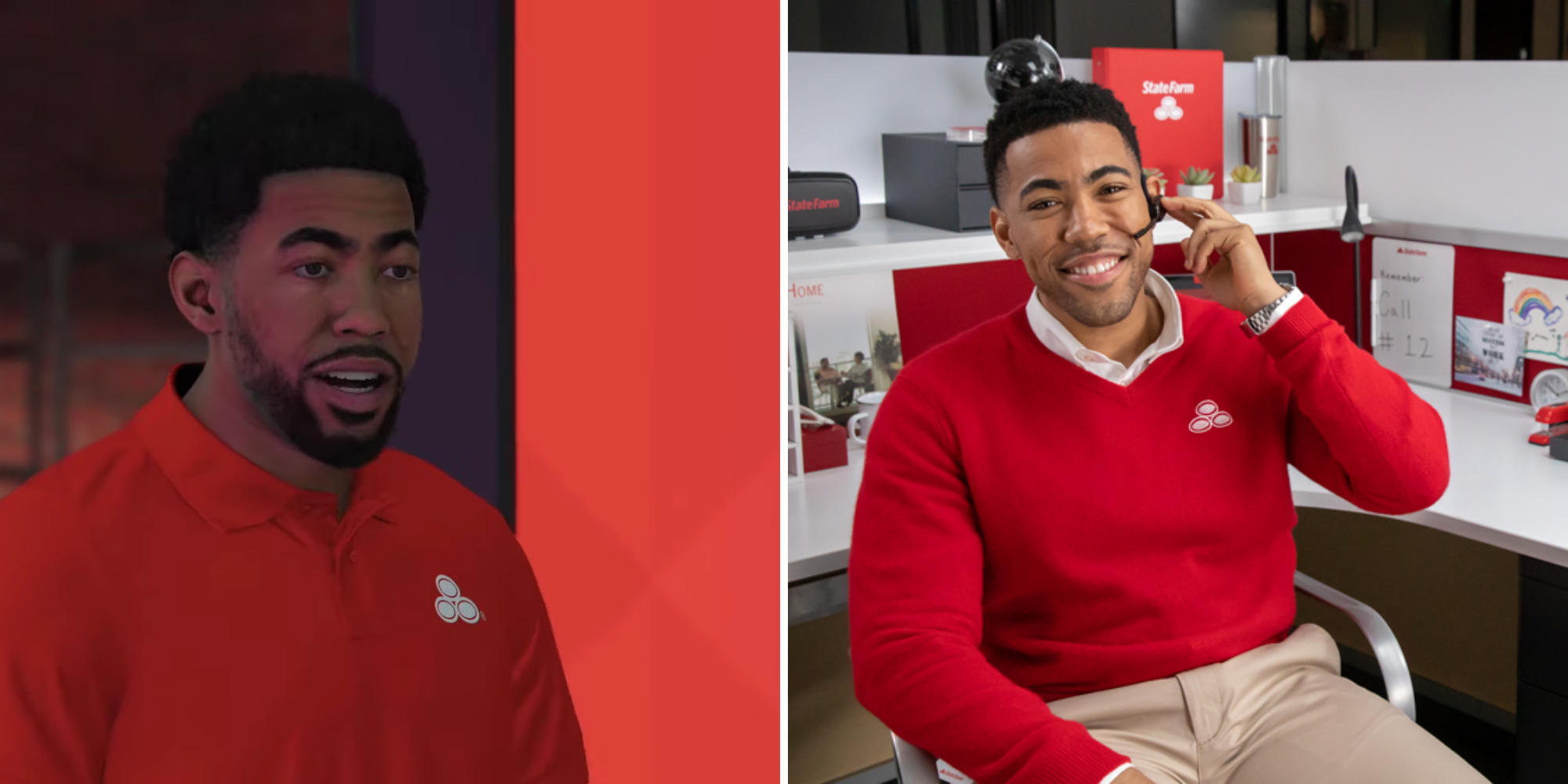 NBA 2K22's in-game State Farm advertisement is going viral for how blatant it is, and how much it misunderstands drip.
Much like previous NBA games, NBA 2K22 features the MyCareer mode that allows players to create their own character and have their own basketball journey. During this mode, the player is able to roam around open areas and complete quests, as well as training up their character with mini-games.
Related: NBA 2K22's MyTeam Mode Includes MyTeam Draft, Which Is Totally Different To FIFA Ultimate Team Draft
One quest in MyCareer has the player tasked with talking to State Farm Jake, a character from an insurance company advert in America. Although the character from the famous version of the advert has been recast in recent times, the current version of Jake is the version we see in NBA 2K22, and has seemingly been motion captured with the same actor.
A clip from the State Farm quest has gone viral on Twitter, with many mocking how blatant it is. In the clip, the player character talks to State Farm Jake, who is stood outside a State Farm shop with branded t-shirts and merchandise. The player character is clearly a big State Farm Jake fan and banters with him, before being offered an outfit similar to the one that Jake wears.
State Farm Jake then says, "can't join Team State Farm without the drip, right?", which has many laughing when the drip in question is a pair of khakis and a red sweater with an insurance company logo on it. The player then incredibly enthusiastically and not fake at all reacts to State Farm Jake saying his signature catchphrase. Beautiful.
For anyone who keeps up with NBA 2K and real-life basketball, it probably shouldn't come as too much of a surprise to see State Farm in the game. State Farm is a big advertising partner for American sports like NFL and NBA, and previous NBA games have had advertisements that are apparently just as obvious. Bet they didn't have such hot drip though.
Next: 20 Years Later, EA Sports BIG Is Still The Best Thing EA Has Ever Done
NoSkyrim Is A Skyrim Mod For People Who Don't Want To Play Skyrim
NoSkyrim mod was only out for two days before being removed from Nexus Mods.
Read Next
About The Author