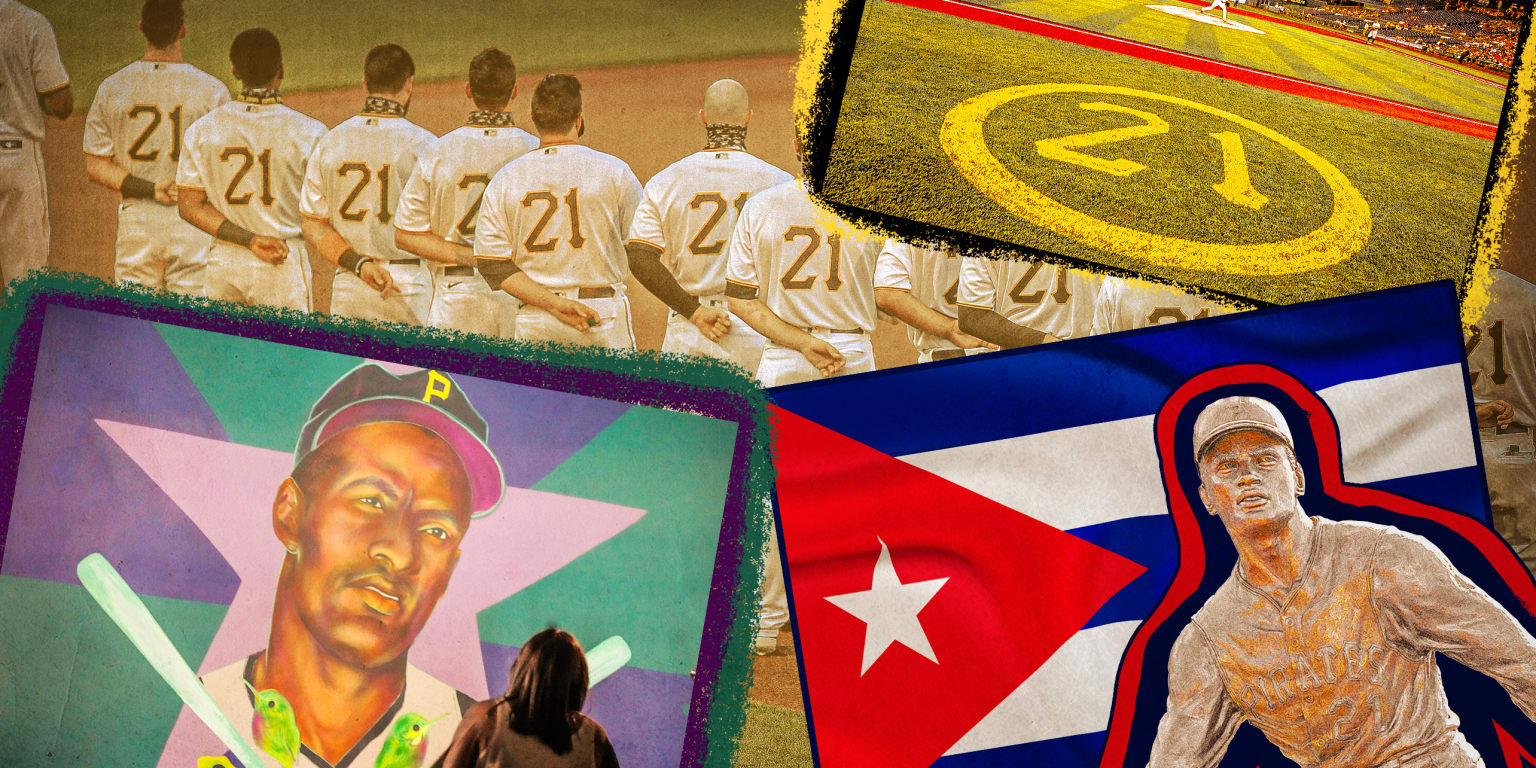 n","providerName":"Twitter","providerUrl":"https://twitter.com","type":"rich","width":550,"__typename":"ExternalEmbedContent"},"$ROOT_QUERY.getForgeContentBySlug({"locale":"en-us","slug":"roberto-clemente-day-celebrated-2021″,"type":"story"}).parts.10″:{"data":{"type":"id","generated":true,"id":"$ROOT_QUERY.getForgeContentBySlug({"locale":"en-us","slug":"roberto-clemente-day-celebrated-2021″,"type":"story"}).parts.10.data","typename":"ExternalEmbedContent"},"type":"oembed","__typename":"ExternalEmbed"},"$ROOT_QUERY.getForgeContentBySlug({"locale":"en-us","slug":"roberto-clemente-day-celebrated-2021″,"type":"story"}).parts.11″:{"content":"Yet perhaps no one reveres Clemente more than his friend and former Pirates teammate, Panamanian-born catcher Manny Sanguillén.nnClemente and Sanguillén were part of the first all-Black and Latino lineup in AL/NL history on Sept. 1, 1971. Clemente, Sanguillén recalls, would often say that he strove for excellence because he wanted to create a path to the Majors for others like him by demonstrating players from Latin America had the skills and makeup to be difference-makers on the field.nn"I have to take care of myself and play well so that one of these days, the Major Leagues will be full of Latinos," Sanguillén remembers Clemente saying.","type":"markdown","__typename":"Markdown"},"$ROOT_QUERY.getForgeContentBySlug({"locale":"en-us","slug":"roberto-clemente-day-celebrated-2021″,"type":"story"}).parts.12″:{"contentDate":"2021-09-01T23:23:02.093Z","description":"MLB Tonight reminisces about the first all-minority starting lineup in MLB history fielded by the Pirates on September 1, 1971″,"duration":"00:02:36″,"slug":"the-first-mlb-all-minority-lineup","source":null,"tags":[{"type":"id","generated":true,"id":"$ROOT_QUERY.getForgeContentBySlug({"locale":"en-us","slug":"roberto-clemente-day-celebrated-2021″,"type":"story"}).parts.12.tags.0″,"typename":"Tag"},{"type":"id","generated":true,"id":"$ROOT_QUERY.getForgeContentBySlug({"locale":"en-us","slug":"roberto-clemente-day-celebrated-2021″,"type":"story"}).parts.12.tags.1″,"typename":"Tag"}],"templateUrl":"https://img.mlbstatic.com/mlb-images/image/private/{formatInstructions}/mlb/ja4crocexsia4y6tpdmj","title":"The first MLB all-minority lineup","type":"video","url":"/video/the-first-mlb-all-minority-lineup","__typename":"Video"},"$ROOT_QUERY.getForgeContentBySlug({"locale":"en-us","slug":"roberto-clemente-day-celebrated-2021″,"type":"story"}).parts.12.tags.0″:{"slug":"mlbn-mlb-tonight","title":"MLB Tonight","__typename":"Tag"},"$ROOT_QUERY.getForgeContentBySlug({"locale":"en-us","slug":"roberto-clemente-day-celebrated-2021″,"type":"story"}).parts.12.tags.1″:{"slug":"mlb-network","title":"MLB Network","__typename":"Tag"},"$ROOT_QUERY.getForgeContentBySlug({"locale":"en-us","slug":"roberto-clemente-day-celebrated-2021″,"type":"story"}).parts.13″:{"content":"Clemente, who was 38 at the time of the fatal plane accident, did not live long enough to see his vision fulfilled. But his impact endures. The 2021 Opening Day rosters featured 256 players from 20 countries and territories, the majority of them from Latin America. They included 18 players from Puerto Rico, many of whom have modeled their game after Clemente's.nn"My dad taught me the game that way," Mets shortstop and Puerto Rico native Francisco Lindor said of Clemente's influence on his life. "Being aggressive, having fun, and then after you do all that, you go out there and help others and you become a great person off the field."nnSo on Roberto Clemente Day, we honor a great humanitarian and an extraordinarily gifted baseball player. But we also pay tribute to a man whose commitment to fairness, equality and inclusion changed the culture of our game for the better.","type":"markdown","__typename":"Markdown"},"$ROOT_QUERY.getForgeContentBySlug({"locale":"en-us","slug":"roberto-clemente-day-celebrated-2021″,"type":"story"}).tags.0.data":{"__typename":"UnsupportedTagType"},"$ROOT_QUERY.getForgeContentBySlug({"locale":"en-us","slug":"roberto-clemente-day-celebrated-2021″,"type":"story"}).tags.0″:{"data":{"type":"id","generated":true,"id":"$ROOT_QUERY.getForgeContentBySlug({"locale":"en-us","slug":"roberto-clemente-day-celebrated-2021″,"type":"story"}).tags.0.data","typename":"UnsupportedTagType"},"externalSourceName":null,"slug":"storytype-article","title":"Article","type":"article","__typename":"Tag"},"$ROOT_QUERY.getForgeContentBySlug({"locale":"en-us","slug":"roberto-clemente-day-celebrated-2021″,"type":"story"}).tags.1.data":{"__typename":"UnsupportedTagType"},"$ROOT_QUERY.getForgeContentBySlug({"locale":"en-us","slug":"roberto-clemente-day-celebrated-2021″,"type":"story"}).tags.1″:{"data":{"type":"id","generated":true,"id":"$ROOT_QUERY.getForgeContentBySlug({"locale":"en-us","slug":"roberto-clemente-day-celebrated-2021″,"type":"story"}).tags.1.data","typename":"UnsupportedTagType"},"externalSourceName":"customentity.contributor","slug":"nathalie-alonso","title":"Nathalie Alonso","type":"contributor","__typename":"Tag"},"Player:112391″:{"id":"112391″,"__typename":"Player"},"$ROOT_QUERY.getForgeContentBySlug({"locale":"en-us","slug":"roberto-clemente-day-celebrated-2021″,"type":"story"}).tags.2″:{"data":{"type":"id","generated":false,"id":"Player:112391″,"typename":"Player"},"externalSourceName":"player","slug":"playerid-112391″,"title":"Roberto Clemente","type":"player","__typename":"Tag"},"Team:134″:{"id":"134″,"__typename":"Team"},"$ROOT_QUERY.getForgeContentBySlug({"locale":"en-us","slug":"roberto-clemente-day-celebrated-2021″,"type":"story"}).tags.3″:{"data":{"type":"id","generated":false,"id":"Team:134″,"typename":"Team"},"externalSourceName":"team","slug":"teamid-134″,"title":"Pittsburgh Pirates","type":"team","__typename":"Tag"}},"appConfig":{"graphqlServiceUrl":"https://content-service.mlb.com"},"appState":{"adDomain":"mlb.mlb","appId":"","basePath":"news","club":"mlb","contentfulProperties":{"organismHeadlineFont":null,"urlLogo":null,"favicon":null,"headerMastheadTagline":null,"headerPrimaryLogo":null,"headerMastheadTaglineContainerWidth":"512px","headerMastheadTaglineContainerHeight":"56px","organismLogoVersion":"caplogo","organismLogoStyle":"light","headerMastheadLogoVersion":"cap","headerMastheadLogoStyle":"dark","footerLogoVersion":"primary","footerLogoStyle":"dark","headlineTextTransform":"none","headlineFontFamily":null,"headlineFontFamilySizeMultiplier":1,"articleVideoAutoPlay":true,"articleVideoAutoPlaySound":false,"__typename":"CF_WebProperties"},"contentfulPalette":{"headerNavigationBackgroundColor":"#041E42″,"headerNavigationTextColor":"#ffffff","headerNavigationTextColorHover":"#ffffff","headerNavigationBorderColor":"#057AFF","headerMastheadBackgroundColor":"#002D72″,"buttonSpotlightBackgroundColor":"#333333″,"buttonSpotlightBackgroundColorHover":"lighten","buttonSpotlightTextColor":"#ffffff","buttonSpotlightTextColorHover":"#ffffff","footerBackgroundColor":"#333″,"footerBorderColor":"#f3f3f3″,"footerLinkColorActive":"#fff","footerLinkColor":"#ffffff","footerLinkColorHover":"#147CD1″,"footerTextColor":"#d2d2d2″,"__typename":"CF_Palette"},"contextUrlPrefix":"","env":"production","footerState":{"clubId":"mlb","deviceProperties":{},"footerData":{"instanceId":"db2f8fb2-78c8-4d3c-a328-9e91c349dfee","name":"global-footer","variables":[],"menuItems":[{"itemId":"aec375d3-3afa-4491-ab28-60b736f38982″,"text":"Terms of Use","properties":{"link":"/official-information/terms-of-use","target":"_blank"},"menuItems":[]},{"itemId":"debe8dbf-de27-4eae-b7ec-adae43fc4642″,"text":"Privacy Policy","properties":{"link":"/official-information/privacy-policy"},"menuItems":[]},{"itemId":"345a1847-cac1-43a4-91bf-70c21ecee681″,"text":"Legal Notices","properties":{"link":"/official-information/legal-notices"},"menuItems":[]},{"itemId":"34014aad-1069-4bba-b22e-4b287a4f7df1″,"text":"Contact Us","properties":{"link":"/official-information/contact"},"menuItems":[]},{"itemId":"65e06970-7f8e-4328-ad82-9d90df0f3e87″,"text":"Do Not Sell My Personal Data","properties":{"link":"https://privacyportal.onetrust.com/webform/53a301ae-6882-46f9-af93-24f64f792aee/3251a424-8286-4725-9313-603f12c85a49″,"target":"_blank"},"menuItems":[]},{"itemId":"dd307e97-49c6-4f80-aff3-89a59696fb80″,"text":"Official Information","properties":{},"menuItems":[{"itemId":"bdf571d3-e8bb-403b-bb5f-7f28a7127c74″,"text":"Official Info","properties":{"link":"/official-information"},"menuItems":[]},{"itemId":"ecfd4d42-aa8d-4872-80a5-869c6b493018″,"text":"About MLB","properties":{"link":"/official-information/about-mlb"},"menuItems":[]},{"itemId":"bb62de22-5c84-4cab-b9fb-5429ea9d647c","text":"Team Information","properties":{"link":"https://www.mlb.com/team"},"menuItems":[]},{"itemId":"7cc37e2a-667c-4405-bd1f-87ad88bc4d9e","text":"Official Rules","properties":{"link":"https://img.mlbstatic.com/mlb-images/image/upload/mlb/atcjzj9j7wrgvsm8wnjq.pdf"},"menuItems":[]},{"itemId":"e658056b-608b-4eee-a04a-43772f9e6bb4″,"text":"Replay Review Regulations","properties":{"link":"/glossary/rules/replay-review"},"menuItems":[]},{"itemId":"0b3fc77c-c7d1-4584-a184-90fd8c4959e9″,"text":"Umpires","properties":{"link":"/official-information/umpires"},"menuItems":[]},{"itemId":"23dde9d7-6aba-4bec-a449-b1b4d5a5767c","text":"Advertise with Us","properties":{"link":"/sponsorship"},"menuItems":[]},{"itemId":"ca43b715-5423-4314-ac5a-f9229bee6fb6″,"text":"Press Releases","properties":{"link":"/news/topic/mlb-press-releases"},"menuItems":[]}]},{"itemId":"7a60a8fc-0c3c-4c87-b04b-2b57b6c9894c","text":"Help/Contact Us","properties":{},"menuItems":[{"itemId":"efb27376-accc-4ca4-9017-c3309ee122d3″,"text":"Accessibility Information","properties":{"link":"/official-information/accessibility"},"menuItems":[]},{"itemId":"cf3490fc-f093-4457-99a7-d2bc3f4d4cef","text":"Auctions Customer Service","properties":{"link":"http://auctions.mlb.com/iSynApp/manageUserEmail!showEmailContactUsForm.action?sid=1101001″},"menuItems":[]},{"itemId":"c6867706-11b7-4634-a78e-b5d513948f43″,"text":"Harassment Policy","properties":{"link":"/official-information/harassment-policy"},"menuItems":[]},{"itemId":"0e3932c9-beec-43f2-b712-66879a51ab63″,"text":"Help/Contact Us","properties":{"link":"/official-information/contact"},"menuItems":[]},{"itemId":"6d4ebef1-3168-4b79-a237-9f36931d3a2c","text":"MLB App FAQs","properties":{"link":"https://www.mlb.com/apps/mlb-app/faq-apple"},"menuItems":[]},{"itemId":"4b3c6ee8-d4ae-4265-a7e7-7e5bea8cde28″,"text":"MLB.com Account Information","properties":{"link":"/official-information/faqs"},"menuItems":[]},{"itemId":"4d33a7c1-38d5-4b3b-a999-53377f55738d","text":"MLB.TV Help Center","properties":{"link":"/live-stream-games/help-center"},"menuItems":[]},{"itemId":"36f01834-7979-4a42-aa12-52439c2e320b","text":"Shop Help","properties":{"link":"https://help-mlb.custhelp.com/"},"menuItems":[]},{"itemId":"bb6e7a31-4b7d-4e49-8c2e-00dda9e237ab","text":"Ticket Information","properties":{"link":"/official-information/ticket-faqs"},"menuItems":[]}]},{"itemId":"6ca8b189-8c54-428f-9f79-3c357ef18469″,"text":"More MLB Sites & Affiliates","properties":{},"menuItems":[{"itemId":"becc9309-94fc-491b-ad15-45f7c17f85a9″,"text":"MLB Players Alumni Association","properties":{"link":"/mlbpaa","target":""},"menuItems":[]},{"itemId":"9ff49c09-8a0d-41e6-b8b0-14f37f8e7f52″,"text":"MLB Players Association","properties":{"link":"http://www.mlbplayers.com/"},"menuItems":[]},{"itemId":"022ec2ca-bb20-4543-9cdc-95ba3a4443ca","text":"Minor League Baseball","properties":{"link":"https://www.milb.com/"},"menuItems":[]},{"itemId":"c6f9948e-3521-4788-83ed-b568f39e86aa","text":"MLB Network","properties":{"link":"https://www.mlb.com/network"},"menuItems":[]},{"itemId":"de2ea389-0a29-4600-8048-b4261916183d","text":"Baseball Assistance Team","properties":{"link":"/baseball-assistance-team"},"menuItems":[]},{"itemId":"e1a2af1c-ee36-4672-935b-17e62d0b4ddc","text":"Player Resource Center","properties":{"link":"/player-resource-center","target":""},"menuItems":[]},{"itemId":"75f0b763-612d-4557-ae38-227fb5b3b7f1″,"text":"Tickets.com","properties":{"link":"http://www.tickets.com/"},"menuItems":[]},{"itemId":"f8599d26-5069-4417-8c26-0965dd8d9435″,"text":"YES Network","properties":{"link":"https://www.yesnetwork.com/"},"menuItems":[]},{"itemId":"5c8f6196-a4d5-4ed5-b830-189580691d3e","text":"Australian Baseball League","properties":{"link":"https://theabl.com.au/"},"menuItems":[]},{"itemId":"ab6fc805-0bb7-439b-8c3c-92c61b035387″,"text":"World Baseball Classic","properties":{"link":"https://www.worldbaseballclassic.com/"},"menuItems":[]},{"itemId":"e218ed4d-89f9-4f7d-87e7-c05a3559cd74″,"text":"sabr.org","properties":{"link":"http://sabr.org/"},"menuItems":[]},{"itemId":"158a95a6-bd4f-4654-b57f-465d3c356a55″,"text":"College Baseball Hall of Fame","properties":{"link":"https://www.mlb.com/college-baseball-hall-of-fame"},"menuItems":[]},{"itemId":"5e602a1a-e518-455b-ac5f-5c0e80430e38″,"text":"Golden Spikes Award","properties":{"link":"https://www.usabaseball.com/golden-spikes-award"},"menuItems":[]},{"itemId":"ccd9020d-c619-45d2-bc1f-ef80ae2cd651″,"text":"USA Baseball","properties":{"link":"https://www.usabaseball.com"},"menuItems":[]},{"itemId":"75512a93-d52d-4d71-a6d3-70d6b44dfa0f","text":"LasMayores.com","properties":{"link":"https://www.mlb.com/es"},"menuItems":[]},{"itemId":"3b7bbad3-1ed5-468d-8703-205519315e04″,"text":"MLBCommunity.org","properties":{"link":"/mlb-community"},"menuItems":[]},{"itemId":"f8058121-3606-4ff2-be8a-d1a3d47642db","text":"AllStarGame.com","properties":{"link":"https://www.mlb.com/all-star"},"menuItems":[]},{"itemId":"a624b4e5-c8d8-44b9-9084-7522ed0cee59″,"text":"MLB.com/Kids","properties":{"link":"https://www.mlb.com/fans/kids"},"menuItems":[]},{"itemId":"43c6bc47-f7d9-445a-85a1-10b3cdc02ee0″,"text":"MLB Photostore","properties":{"link":"https://photostore.mlb.com/"},"menuItems":[]},{"itemId":"d9f4ea22-70a7-4085-a16e-83f70a5711b2″,"text":"Offseason Leagues","properties":{"link":"http://mlb.mlb.com/mlb/events/winterleagues/"},"menuItems":[]},{"itemId":"c574a4a2-45ec-47fe-8ca3-b5b99d1cb443″,"text":"PlayBall.org","properties":{"link":"https://www.playball.org"},"menuItems":[]},{"itemId":"517cf98f-063c-486a-a725-5380e1ae063f","text":"MLB Educators","properties":{"link":"/mlb-educators"},"menuItems":[]}]},{"itemId":"e3a86593-6da0-4d00-a512-0b8c78c9b8a5″,"text":"Careers","properties":{"link":""},"menuItems":[{"itemId":"35caab61-51c7-4b17-a9b8-e9ecd201058a","text":"Careers Home","properties":{"link":"/careers/home"},"menuItems":[]}]}]},"headerData":{"instanceId":"fbde1dcd-c837-4740-991c-1087d1db26d1″,"name":"global-nav","variables":[],"menuItems":[{"itemId":"tickets","text":"Tickets","properties":{"link":"https://www.mlb.com/tickets","customProperties":"align:right;"},"menuItems":[{"itemId":"764d21d8-0f58-4d63-b57c-035ec47d193c","text":"General Ticket Information","properties":{"link":"https://www.mlb.com/tickets","customProperties":"","visible":"false"},"menuItems":[]},{"itemId":"4e45f354-0ccd-4c89-ac5e-12f16dd11f3a","text":"Season Tickets","properties":{"link":"/tickets/season-tickets","customProperties":"","visible":"false"},"menuItems":[]},{"itemId":"020f5910-a69a-443a-b5a3-37b7664d8a4f","text":"Spring Training","properties":{"link":"/tickets/spring-training","visible":"false"},"menuItems":[]},{"itemId":"0a8ddc10-4b69-4a97-a677-6301ac30971b","text":"Fan Value","properties":{"link":"/tickets/fan-value","customProperties":"","visible":"false"},"menuItems":[]},{"itemId":"417de43e-baa5-4ca1-802d-c0814be88688″,"text":"Ballpark Tours","properties":{"link":"/tickets/ballpark-tours","visible":"false"},"menuItems":[]},{"itemId":"dc1ab63d-4195-4a41-8248-cfa5513a66e9″,"text":"StubHub.com","properties":{"link":"https://www.stubhub.com/mlb-tickets/grouping/81/?gcid=C12289x371″,"customProperties":""},"menuItems":[]},{"itemId":"a1fd4bc8-d136-4d65-a0cd-393f31e0e14e","text":"All-Star Game","properties":{"link":"/all-star/tickets","customProperties":"expires:1626228000″},"menuItems":[]},{"itemId":"92c55e19-5b07-4d4f-8bfe-ee6a86e64c8a","text":"World Baseball Classic","properties":{"link":"https://www.mlb.com/world-baseball-classic/newsletter"},"menuItems":[]},{"itemId":"5d7d5f77-3b9d-4d21-bece-8b3245b7bf2a","text":"International Events","properties":{"link":"https://www.mlb.com/international"},"menuItems":[]},{"itemId":"797c376f-524a-4e12-b431-1994c1d9127d","text":"Vaccinate at the Plate Ticket Offer","properties":{"link":"/tickets/vaccinate-ticket-offer","customProperties":"expires:1625112000″},"menuItems":[]},{"itemId":"5e7b162c-c994-4bad-89b3-0a1b2746710d","text":"Ticket Terms & Conditions","properties":{"link":"https://www.mlb.com/tickets/terms-and-conditions"},"menuItems":[]}]},{"itemId":"7b24aad4-85fb-4206-b915-85dc84bf8046″,"text":"MLB.TV","properties":{"link":"https://www.mlb.com/tv?&affiliateId=mlbMENU","customProperties":"amp:true;align:right;","icon":"watch"},"menuItems":[{"itemId":"6e4bf96d-d9e2-4c33-8d42-3e94aae42607″,"text":"Buy MLB.TV","properties":{"link":"https://www.mlb.com/live-stream-games/subscribe?&affiliateId=mlbMENU"},"menuItems":[]},{"itemId":"f33ef990-5609-45cd-be24-0e40cb0a5368″,"text":"Buy MLB Audio","properties":{"link":"https://www.mlb.com/live-stream-games/subscribe/mlb-audio?&affiliateId=mlbMENU"},"menuItems":[]},{"itemId":"993d3d74-7886-48fd-9d9f-12d189ed5630″,"text":"Watch MLB.TV","properties":{"link":"/live-stream-games?&affiliateId=mlbMENU","customProperties":""},"menuItems":[]},{"itemId":"ce445ca6-9a97-4b82-a6c9-d94f34579dd2″,"text":"Free MLB.TV For College Students","properties":{"link":"https://www.mlb.com/live-stream-games/students?&affiliateId=mlbMENU"},"menuItems":[]},{"itemId":"d7847412-c970-4b0a-b17e-61fded27c46a","text":"MLB Big Inning","properties":{"link":"https://www.mlb.com/live-stream-games/big-inning?&affiliateId=mlbMENU"},"menuItems":[]},{"itemId":"c2596a4c-2d08-459e-9173-2d799f070637″,"text":"MLB.TV Gift Giving","properties":{"link":"https://www.mlb.com/live-stream-games/subscribe/gift-giving"},"menuItems":[]},{"itemId":"05b81a24-a196-4ee9-86f6-443cc7ce6934″,"text":"MLB.TV with Extra Innings","properties":{"link":"https://www.mlb.com/live-stream-games/third-party?&affiliateId=mlbMENU"},"menuItems":[]},{"itemId":"00132689-c7ce-46b0-bfac-228fa9f70a22″,"text":"Watch MLB.TV Docs & Features","properties":{"link":"https://www.mlb.com/tv/featured?&affiliateId=mlbMENU"},"menuItems":[]},{"itemId":"68b755ed-4f9d-4c0a-96ea-ffafb22ca5c5″,"text":"MLB.TV Help Center","properties":{"link":"/live-stream-games/help-center?&affiliateId=mlbMENU","customProperties":""},"menuItems":[]}]},{"itemId":"6bfaf88e-891c-4e05-a935-8a32bd23086a","text":"Shop","properties":{"link":"https://www.mlbshop.com/?_s=bm-mlbcom-hp","customProperties":"align:right;","icon":"shopping-cart"},"menuItems":[{"itemId":"d7b3c8e0-42c4-45c5-8278-c51adb21b47f","text":"Auction","properties":{"link":"http://auction.mlb.com/"},"menuItems":[]},{"itemId":"216d4562-456b-442d-b078-9e9be9b35b20″,"text":"Authentication","properties":{"link":"https://www.mlb.com/authentication"},"menuItems":[]},{"itemId":"20f4725a-5dc1-4543-a153-7795cd789463″,"text":"Autographed","properties":{"link":"http://auctions.mlb.com/iSynApp/allAuction.action?sid=1101001&rc=25&selectedCatId=17342&sort=timeleft_asc&pgmode2=catpage"},"menuItems":[]},{"itemId":"f4f69cd4-2549-45f2-ba63-d97ddb0b564c","text":"Jerseys","properties":{"link":"https://www.mlbshop.com/jerseys/d-1250336792+z-990485-1677480024?_s=bm-mlbcom-hp","customProperties":""},"menuItems":[]},{"itemId":"a67b9b28-c511-47a8-87e6-594cb719c787″,"text":"Caps","properties":{"link":"https://www.mlbshop.com/caps/d-3494554436+z-921549-1032840697?_s=bm-mlbcom-hp","customProperties":""},"menuItems":[]},{"itemId":"f5b9b657-5322-40c1-b2e8-1bd31e27abf6″,"text":"Men's","properties":{"link":"https://www.mlbshop.com/men/ga-12+z-9112397524-3608394688?_s=bm-mlbcom-hp","customProperties":""},"menuItems":[]},{"itemId":"dfa13a6f-17fd-4a4a-9963-f3e3734e28bf","text":"Women's","properties":{"link":"https://www.mlbshop.com/women/ga-57+z-822989763-3950492570?_s=bm-mlbcom-hp","customProperties":""},"menuItems":[]},{"itemId":"c2bf810b-0d1f-4135-b7f8-919c53fc8cc2″,"text":"Kids","properties":{"link":"https://www.mlbshop.com/kids/ga-36+z-861270405-1171990865?_s=bm-mlbcom-hp","customProperties":""},"menuItems":[]},{"itemId":"1b321c96-eb8a-4077-9868-9420205878bc","text":"Collectibles & Memorabilia","properties":{"link":"https://www.mlbshop.com/collectibles-and-memorabilia/d-7883550038+z-87646-4052890706?_s=bm-mlbcom-hp","customProperties":""},"menuItems":[]},{"itemId":"91dcfa1d-f4de-4bf9-93f8-8f91f4069272″,"text":"Home & Office","properties":{"link":"https://www.mlbshop.com/home-and-office/d-3449556733+z-992406-855732365?_s=bm-mlbcom-hp","customProperties":""},"menuItems":[]},{"itemId":"c69e35fc-900e-4fcc-9348-085aa0febeab","text":"Gift Certificates","properties":{"link":"https://www.mlbshop.com/gift-cards/x-462351+z-94899005-3509039474?_s=bm-mlbcom-Home","customProperties":""},"menuItems":[]},{"itemId":"7423a9ca-3a6f-42fe-8d6e-9459bed284c7″,"text":"NYC Retail Store","properties":{"link":"https://www.mlb.com/shop/nyc-retail-store"},"menuItems":[]},{"itemId":"44958e84-599e-44b1-96b4-44f38a477942″,"text":"European Shop","properties":{"link":"http://www.mlbshopeurope.com/stores/mlb/en?portal=MLTS66FS&CMP=PSC-MLTS66FS","customProperties":""},"menuItems":[]},{"itemId":"51d3278e-90fd-4462-aec0-7cfd8de1cb79″,"text":"Photo Store","properties":{"link":"https://photostore.mlb.com/"},"menuItems":[]}]},{"itemId":"5052bac6-3f1d-4847-8739-42021d7cfc2d","text":"News","properties":{"link":"https://www.mlb.com/news","customProperties":"amp:true;"},"menuItems":[{"itemId":"7b725a20-961b-4511-bd88-20600551baf2″,"text":"In this section","properties":{"visible":"true"},"menuItems":[{"itemId":"82d45c9a-d055-4ab4-b785-576d982a2077″,"text":"Probable Pitchers","properties":{"link":"https://www.mlb.com/probable-pitchers","visible":"true","enabled":"true"},"menuItems":[]},{"itemId":"4bfdb502-31e4-49dd-bae1-89a4772d0739″,"text":"Prospect Rankings","properties":{"link":"https://www.mlb.com/prospects"},"menuItems":[]},{"itemId":"831050d9-d4d2-427f-85a3-fe56aad2682a","text":"Injury Report","properties":{"link":"https://www.mlb.com/injury-report"},"menuItems":[]},{"itemId":"02f947b5-cc72-40f9-9f37-a97b37dcaef3″,"text":"Transactions","properties":{"link":"http://mlb.mlb.com/mlb/transactions/?tcid=mm_mlb_news"},"menuItems":[]},{"itemId":"f499f46a-a51b-443e-82aa-3b6006f9b306″,"text":"Starting Lineups","properties":{"link":"https://www.mlb.com/starting-lineups"},"menuItems":[]},{"itemId":"53776d17-03af-4b04-8840-45b6c624df6b","text":"Hall of Fame","properties":{"link":"https://www.mlb.com/hall-of-fame"},"menuItems":[]},{"itemId":"6ee1c331-faa0-4865-a062-1c98a2f67c0d","text":"Longform","properties":{"link":"https://www.mlb.com/news/topic/longform"},"menuItems":[]},{"itemId":"844e328c-713f-46da-8183-965d19eb7dd8″,"text":"Awards","properties":{"link":"https://www.mlb.com/awards"},"menuItems":[]},{"itemId":"c1ac7886-1d18-4ad8-9fc4-326ab4753144″,"text":"MLB Draft","properties":{"link":"https://www.mlb.com/draft/2021″},"menuItems":[]}]},{"itemId":"dc121961-fe11-49ac-92b5-a8797acafa7c","text":"Featured","properties":{},"menuItems":[{"itemId":"230d1ec0-9d0a-4a3f-a04c-3cf16474390f","text":"Pipeline","properties":{"link":"https://www.mlb.com/pipeline"},"menuItems":[]},{"itemId":"216ae480-9b79-4faa-a748-98a8604e5cde","text":"Play Ball","properties":{"link":"https://www.mlb.com/play-ball"},"menuItems":[]},{"itemId":"c2182d4d-c537-410e-a63d-267e593fbb74″,"text":"Gaming","properties":{"link":"https://www.mlb.com/news/topic/gaming","enabled":"true","visible":"true"},"menuItems":[]},{"itemId":"d7d653b8-5585-44b7-b94f-226b51681ed8″,"text":"MLB Photos","properties":{"link":"https://www.mlb.com/photos/home"},"menuItems":[]},{"itemId":"eb4bceb4-bb14-4a84-8b60-12e51dab40f8″,"text":"Offbeat","properties":{"link":"https://www.mlb.com/news/topic/offbeat"},"menuItems":[]},{"itemId":"28a2e573-86ba-4cdc-a924-86d3b6500979″,"text":"Glossary","properties":{"link":"https://www.mlb.com/glossary"},"menuItems":[]},{"itemId":"7e424446-ea76-4b0d-8dc0-e7ee108993ef","text":"Rare Feats","properties":{"link":"https://www.mlb.com/news/topic/rare-feats"},"menuItems":[]},{"itemId":"38b78c07-c2e2-40be-9172-fb2ddc1d1817″,"text":"Baseball Cards","properties":{"link":"https://www.mlb.com/news/topic/baseball-cards"},"menuItems":[]},{"itemId":"7e316d55-5379-4151-a0e5-828b6b4f8ba8″,"text":"All-Star Game","properties":{"link":"https://www.mlb.com/all-star"},"menuItems":[]}]}]},{"itemId":"86b4ade1-0488-40d3-8472-b1e323f23914″,"text":"Video","properties":{"link":"https://www.mlb.com/video","customProperties":"mobile:true;amp:true;"},"menuItems":[{"itemId":"bbddb943-54df-4d88-a3ee-14265e727677″,"text":"In this section","properties":{"customProperties":""},"menuItems":[{"itemId":"d6f95b2e-b8ee-41f0-a313-e74537eff685″,"text":"Film Room","properties":{"link":"https://www.mlb.com/video/search"},"menuItems":[]},{"itemId":"a24a8e9d-471b-4626-9535-28e1b8f62bad","text":"Watch Live Games","properties":{"link":"https://www.mlb.com/live-stream-games?affiliateId=mlbMENU"},"menuItems":[]},{"itemId":"830b3ff1-c650-48a0-b8ee-6c910acc0204″,"text":"Game Stories","properties":{"link":"https://www.mlb.com/game-stories"},"menuItems":[]},{"itemId":"fb982f48-2253-46ec-84f2-ec3282782fb8″,"text":"Condensed Games","properties":{"link":"https://www.mlb.com/video/topic/condensed-games"},"menuItems":[]},{"itemId":"0f387774-edb6-4e09-84c1-3b6f9a8c65d5″,"text":"Game Recaps","properties":{"link":"https://www.mlb.com/video/topic/daily-recaps","enabled":"true"},"menuItems":[]},{"itemId":"3dcbafe8-f9f6-4a32-8534-7a00b6b07f4c","text":"Daily FastCast","properties":{"link":"https://www.mlb.com/video/topic/fastcast"},"menuItems":[]},{"itemId":"286ad1ca-abe4-4d67-b80a-9020e756750e","text":"MLB Network","properties":{"link":"https://www.mlb.com/network"},"menuItems":[]},{"itemId":"948d378c-7d73-49b1-b5ba-8729c59bca9a","text":"Podcasts","properties":{"link":"https://www.mlb.com/podcasts"},"menuItems":[]},{"itemId":"c3c36a7f-ac1d-4433-8ecb-b8689de715e5″,"text":"Front Office Focus","properties":{"link":"https://www.mlb.com/video/topic/front-office-focus"},"menuItems":[]},{"itemId":"e95e19ff-2024-4d84-b9e5-d5f0d1831e5b","text":"Business of Baseball","properties":{"link":"https://www.mlb.com/video/topic/business-of-baseball"},"menuItems":[]},{"itemId":"bf659638-4fb7-4c46-be4c-49b736c0fd69″,"text":"Untouchable Pitches","properties":{"link":"https://www.mlb.com/video/topic/untouchable-pitches-cristal-products"},"menuItems":[]},{"itemId":"0b56e21d-9a66-4fd0-99d6-59faf9805120″,"text":"Rapid Plays","properties":{"link":"https://www.mlb.com/video/topic/rapid-plays"},"menuItems":[]}]},{"itemId":"74f35bdb-7baf-4fa5-abb5-3c3613fa00fe","text":"Featured","properties":{"customProperties":""},"menuItems":[{"itemId":"d87342bf-bac9-4811-9863-4a5d7ddabe94″,"text":"Most Popular","properties":{"link":"https://www.mlb.com/video"},"menuItems":[]},{"itemId":"b4deff8a-ac2f-46bd-924a-108c63e6d4a6″,"text":"Home Runs","properties":{"link":"https://www.mlb.com/video/topic/home-runs"},"menuItems":[]},{"itemId":"d2add1e4-7ad6-417b-a04d-ffb83aa63332″,"text":"MLB Draft","properties":{"link":"https://www.mlb.com/video/topic/mlb-draft"},"menuItems":[]},{"itemId":"6a7e200b-2443-4e01-b95a-16bf6326a089″,"text":"Walk-Offs","properties":{"link":"https://www.mlb.com/video/topic/walk-offs"},"menuItems":[]},{"itemId":"cb8372c5-4ebe-44db-8b4b-de7364b80ec9″,"text":"Go Yard","properties":{"link":"https://www.mlb.com/video/topic/leadoff-home-runs"},"menuItems":[]},{"itemId":"e9fc5098-1904-4089-8fa2-c4b3d9a0feaf","text":"Top Defensive Plays","properties":{"link":"https://www.mlb.com/video/topic/top-defensive-plays"},"menuItems":[]},{"itemId":"d1a89b62-ed0e-4df5-a65d-9471b06eb3ad","text":"Grand Slams","properties":{"link":"https://www.mlb.com/video/topic/grand-slams"},"menuItems":[]},{"itemId":"c19fb88b-a3c7-4141-a616-0299dc17e774″,"text":"Best of Statcast","properties":{"link":"https://www.mlb.com/video/topic/statcast"},"menuItems":[]},{"itemId":"4cdb4f64-f058-43e3-a0f3-a078c3701cc9″,"text":"Extra Innings","properties":{"link":"https://www.mlb.com/video/topic/extra-innings"},"menuItems":[]},{"itemId":"3d4947a4-61d9-4ce6-9bec-5ef974a5aff1″,"text":"Curtain Calls","properties":{"link":"https://www.mlb.com/video/topic/curtain-calls"},"menuItems":[]},{"itemId":"ea8c81d8-3594-4318-b95e-7d7c4c92c1db","text":"Legendary Moments","properties":{"link":"https://www.mlb.com/video/topic/key-moments"},"menuItems":[]},{"itemId":"550155b7-3825-4c73-bf84-0250dec41903″,"text":"Carry the Freight","properties":{"link":"https://www.mlb.com/video/topic/carry-the-freight"},"menuItems":[]}]}]},{"itemId":"7c68f445-5095-46cc-bab3-73af6c921597″,"text":"Scores","properties":{"link":"https://www.mlb.com/scores","customProperties":"mobile:true;amp:true;","visible":"true"},"menuItems":[]},{"itemId":"9efaf5e3-6a93-4e4f-b8af-1219110ecb30″,"text":"Stats","properties":{"link":"https://www.mlb.com/stats","customProperties":"mobile:true;amp:true;"},"menuItems":[{"itemId":"f31b263b-34d4-46ab-aa46-9796e93b048b","text":"2021 Regular Season Stats","properties":{"link":"https://www.mlb.com/stats/2021″},"menuItems":[]},{"itemId":"62c5195b-2630-4d9e-9896-6aee0709aeee","text":"2021 Sortable Team Stats","properties":{"link":"https://www.mlb.com/stats/team/2021″},"menuItems":[]},{"itemId":"c26bdb6a-e2f7-48dc-bd44-39e522f7b5ca","text":"2021 Spring Training Stats","properties":{"link":"https://www.mlb.com/stats/2021/spring-training"},"menuItems":[]},{"itemId":"41566816-1cb8-421f-9a4a-9ccdefa7ed69″,"text":"Statcast Leaders","properties":{"link":"https://baseballsavant.mlb.com/statcast_leaderboard"},"menuItems":[]},{"itemId":"2d0a2684-64c6-4d9f-87a1-a7cf9f661e2f","text":"Baseball Savant","properties":{"link":"https://baseballsavant.mlb.com/"},"menuItems":[]},{"itemId":"b9d0ae31-f31d-449b-82fb-5a77f59293ba","text":"Top Prospect Stats","properties":{"link":"/prospects/stats/top-prospects?type=all&dateRange=Year2019&minPA=1″},"menuItems":[]},{"itemId":"2ae90479-df9d-458e-a47e-7acf851728e7″,"text":"Offseason Leagues","properties":{"link":"http://mlb.mlb.com/milb/stats/?tcid=mm_mlb_stats","customProperties":""},"menuItems":[]},{"itemId":"cf9eab1e-1dba-458c-949b-8db03f86d49e","text":"Glossary","properties":{"link":"http://m.mlb.com/glossary"},"menuItems":[]}]},{"itemId":"6af88ec1-9bfe-4494-abc0-898dc919a081″,"text":"Standings","properties":{"link":"https://www.mlb.com/standings","customProperties":"mobile:true;amp:true;"},"menuItems":[{"itemId":"121a61dc-a81a-45af-abbe-8230aee19b5e","text":"2021 Regular Season Standings","properties":{"link":"https://www.mlb.com/standings"},"menuItems":[]},{"itemId":"a9713ec1-4849-41b5-8f0b-fa0746a205e4″,"text":"2021 Spring Training Standings","properties":{"link":"https://www.mlb.com/standings/spring-training/2021″,"customProperties":""},"menuItems":[]},{"itemId":"4c250046-6a0d-4352-b3f2-3059a5881c2a","text":"2020 Regular Season Standings","properties":{"link":"https://www.mlb.com/standings/regular-season/2020″},"menuItems":[]},{"itemId":"a84f52a4-d7d4-4661-b193-8c81901e8e7e","text":"2020 Advanced Standings","properties":{"link":"https://www.mlb.com/standings/regular-season/advanced-splits/2020″},"menuItems":[]}]},{"itemId":"248fea7e-1d19-452a-bb5c-999e1a09b7cd","text":"Schedule","properties":{"link":"https://www.mlb.com/schedule","customProperties":"amp:true;"},"menuItems":[{"itemId":"12fd9194-8902-43f1-9686-f9f321c90450″,"text":"2021 Regular Season","properties":{"link":"https://www.mlb.com/schedule"},"menuItems":[]},{"itemId":"a29c951d-7d72-49b7-b290-35b5c261fa94″,"text":"2021 Postseason","properties":{"link":"https://www.mlb.com/news/2021-mlb-playoff-and-world-series-schedule"},"menuItems":[]},{"itemId":"f4010b7a-902c-41e0-b405-e0fa695b5c64″,"text":"2022 Regular Season","properties":{"link":"https://www.mlb.com/schedule/2022-03-31″},"menuItems":[]},{"itemId":"74ae0fd1-28f5-41ab-8861-23d056482243″,"text":"2022 Spring Training","properties":{"link":"https://www.mlb.com/schedule/2022-02-26″},"menuItems":[]},{"itemId":"94c9d7e4-3477-4217-87f3-008d2290b9ee","text":"Important Dates","properties":{"link":"https://www.mlb.com/schedule/events#important-dates"},"menuItems":[]},{"itemId":"d3566c69-34a7-4e6c-b2bb-28203c847f9e","text":"Probable Pitchers","properties":{"link":"https://www.mlb.com/probable-pitchers"},"menuItems":[]},{"itemId":"3747c1bc-9b3d-43f5-bd04-d1274c59c02a","text":"Team by Team Schedule","properties":{"link":"https://www.mlb.com/schedule/team-by-team"},"menuItems":[]},{"itemId":"e75ecc62-7e72-4b53-9705-a23e2b511f83″,"text":"National Broadcasts","properties":{"link":"http://mlb.mlb.com/mlb/official_info/broadcasts/national.jsp?tcid=mm_mlb_schedule"},"menuItems":[]},{"itemId":"bce30443-7f92-4c61-979f-058e5e6ebe17″,"text":"Sunday Night Broadcasts","properties":{"link":"http://m.mlb.com/promo/sunday-night-broadcasts"},"menuItems":[]}]},{"itemId":"8c842eeb-dedd-430c-a452-57a740d5c3df","text":"Players","properties":{"link":"https://www.mlb.com/players","customProperties":"","icon":"group"},"menuItems":[{"itemId":"650da3ef-b96d-4a7d-bf4b-47a55b2e6cb3″,"text":"Players A to Z","properties":{"link":"https://www.mlb.com/players"},"menuItems":[]},{"itemId":"b971e11e-c0ea-4f42-a693-a9e18e15447f","text":"Injury Updates","properties":{"link":"https://www.mlb.com/injury-report"},"menuItems":[]},{"itemId":"76a61c3c-c73a-497a-9d6f-f762ad0fdecd","text":"Depth Charts","properties":{"link":"https://www.mlb.com/team/roster/depth-chart"},"menuItems":[]},{"itemId":"b30fe902-714f-4f74-a901-d2397c750dab","text":"Transactions","properties":{"link":"http://mlb.mlb.com/mlb/transactions/?tcid=mm_mlb_players"},"menuItems":[]},{"itemId":"3e585331-af20-4e73-8419-2067bed2677c","text":"Starting Lineups","properties":{"link":"https://www.mlb.com/starting-lineups"},"menuItems":[]},{"itemId":"a327060e-962d-428e-91ee-40522edcda03″,"text":"Prospect Rankings","properties":{"link":"https://www.mlb.com/prospects"},"menuItems":[]},{"itemId":"a30f9694-b2cd-4a2a-9118-d3c7f00b39b1″,"text":"Mobile Player Alerts","properties":{"link":"http://mlb.mlb.com/mobile/text.jsp?tcid=mm_mlb_players","visible":"false"},"menuItems":[]},{"itemId":"f45e2471-de5a-4a07-b035-43f1b405f296″,"text":"MLB Players Association","properties":{"link":"https://www.mlbplayers.com"},"menuItems":[]},{"itemId":"6e855928-8a3d-41b6-8adc-71fe99a9508b","text":"Probable Pitchers","properties":{"link":"https://www.mlb.com/probable-pitchers"},"menuItems":[]},{"itemId":"e7ba059f-ad80-486d-bf9f-3992d718f129″,"text":"Negro Leagues","properties":{"link":"https://www.mlb.com/history/negro-leagues"},"menuItems":[]}]},{"itemId":"781f2bb2-a66a-44be-8fee-b0a0250d60e6″,"text":"Play Ball","properties":{"link":"https://www.mlb.com/play-ball","target":"_blank","customProperties":"topNav:false;","icon":"baseball"},"menuItems":[{"itemId":"2a74747c-e482-42f5-b750-ce710dea6568″,"text":"PlayBall.org","properties":{"link":"https://www.mlb.com/play-ball","target":"_blank"},"menuItems":[]},{"itemId":"9f5ab700-d2c0-43be-a398-6926ceef9e1c","text":"Hank Aaron Invitational","properties":{"link":"https://www.mlb.com/hank-aaron-invitational"},"menuItems":[]},{"itemId":"d7c7e170-573e-45c1-a1ab-b1bd3aec819f","text":"Videos","properties":{"link":"https://www.mlb.com/video/topic/play-ball"},"menuItems":[]},{"itemId":"5be26d3e-4ff2-4a84-8ea5-92aef9d759b2″,"text":"Photos","properties":{"link":"https://www.playball.org/photos","visible":"false"},"menuItems":[]},{"itemId":"14d9fdc8-ba24-44cf-9a77-7a867852f418″,"text":"News","properties":{"link":"https://www.mlb.com/news/topic/youth-baseball"},"menuItems":[]},{"itemId":"4c876067-e576-4874-b914-d86fe7f4a538″,"text":"Pitch Smart","properties":{"link":"https://www.mlb.com/pitch-smart"},"menuItems":[]},{"itemId":"6996ed01-d31d-4fc4-8d0d-a5baf177f69a","text":"Play Ball Near You","properties":{"link":"https://www.mlb.com/play-ball/play-ball-near-you"},"menuItems":[]},{"itemId":"4e66a4b2-0f27-483c-81d4-f27b0b630eac","text":"States Play","properties":{"link":"https://www.mlb.com/states-play"},"menuItems":[]},{"itemId":"aed729a5-4ff6-45cc-868c-f90b9b9190af","text":"MLB TOUR","properties":{"link":"https://www.mlb.com/mlb-tour"},"menuItems":[]},{"itemId":"28d79b33-aebd-4685-9cc9-c4ccce1262f8″,"text":"RBI","properties":{"link":"https://www.mlb.com/rbi"},"menuItems":[]},{"itemId":"18001329-d9d0-47b9-b2e0-5043b69cee9e","text":"Pitch, Hit & Run","properties":{"link":"https://www.mlb.com/pitch-hit-and-run"},"menuItems":[]},{"itemId":"df867e3c-db53-4d4f-9958-e10cb0939c8a","text":"Jr. Home Run Derby","properties":{"link":"https://www.mlb.com/junior-home-run-derby"},"menuItems":[]},{"itemId":"6af5ec56-5e26-45b3-93d6-2f79d929c046″,"text":"MLB Pipeline","properties":{"link":"https://www.mlb.com/pipeline"},"menuItems":[]},{"itemId":"bc715814-2692-4bde-9b1d-99cbd9ada5dc","text":"Youth Academies","properties":{"link":"https://www.mlb.com/mlb-youth-academy"},"menuItems":[]},{"itemId":"26715913-0ae8-4106-baa4-3d914b0a33b0″,"text":"Breakthrough Series","properties":{"link":"https://www.mlb.com/breakthrough-series"},"menuItems":[]},{"itemId":"56cb414b-eb00-4632-8acc-81d74ee4745e","text":"Elite Development Invitational","properties":{"link":"https://www.mlb.com/elite-development-invitational"},"menuItems":[]},{"itemId":"04697c74-2811-4d84-8150-aa1016aa6272″,"text":"USA Baseball","properties":{"link":"https://www.usabaseball.com/","target":"_blank"},"menuItems":[]},{"itemId":"ae77ea02-173a-4439-be6c-9ee75225bd50″,"text":"USA Softball","properties":{"link":"http://www.teamusa.org/USA-Softball","target":"_blank"},"menuItems":[]},{"itemId":"c293b7e0-f056-4102-89cd-d20649d4eff0″,"text":"Dream Series","properties":{"link":"https://www.mlb.com/dream-series"},"menuItems":[]},{"itemId":"181a47ba-9ea0-4a7a-8924-ccedef1cd372″,"text":"Trailblazer Series","properties":{"link":"https://www.mlb.com/trailblazer-series"},"menuItems":[]}]},{"itemId":"mlb-fans","text":"Fans","properties":{"link":"https://www.mlb.com/fans"},"menuItems":[{"itemId":"25c7540a-c3a3-42e8-a8f8-1e3be9f5d4fe","text":"MLB Kids","properties":{"link":"https://www.mlb.com/fans/kids"},"menuItems":[]},{"itemId":"8ee0a750-a1d7-4c8f-80ee-cb7beb4268ff","text":"MLB International","properties":{"link":"https://www.mlb.com/international"},"menuItems":[]},{"itemId":"841025ef-a361-46e1-b5d0-c963c1a42827″,"text":"Postseason Publications","properties":{"link":"https://www.mlb.com/postseason/publications"},"menuItems":[]},{"itemId":"59ffbbaf-a56c-4cb4-b874-d5a5ce36c9f1″,"text":"MLB Newsletters","properties":{"link":"https://www.mlb.com/fans/newsletters"},"menuItems":[]},{"itemId":"9e37a80a-34da-4e92-ae40-8462146aef1c","text":"Virtual Backgrounds","properties":{"link":"https://www.mlb.com/fans/virtual-backgrounds"},"menuItems":[]},{"itemId":"ef7c9f4a-5e11-4700-aad3-b29a8c5acc4c","text":"Podcasts","properties":{"link":"https://www.mlb.com/fans/podcasts"},"menuItems":[]},{"itemId":"fcc0e750-dbe2-47b3-b681-0e3e379390c8″,"text":"Walk-Up Music","properties":{"link":"https://www.mlb.com/fans/music"},"menuItems":[]},{"itemId":"ad51f9be-9a3e-41d5-83aa-27d4351d583f","text":"Connect with MLB","properties":{"link":"https://www.mlb.com/social"},"menuItems":[]},{"itemId":"5d6dbbbf-fdff-41e7-b187-793bdb998ec8″,"text":"MLB Photos","properties":{"link":"https://www.mlb.com/photos/home"},"menuItems":[]}]},{"itemId":"832ad058-32b1-4fbd-940d-a68456ad3c25″,"text":"Fantasy","properties":{"link":"https://www.mlb.com/fantasy","customProperties":""},"menuItems":[{"itemId":"ee7dde99-2f2c-49e4-a5df-b319f51afa21″,"text":"Yahoo Fantasy Baseball","properties":{"target":"","link":"http://yhoo.it/3aK5QQw"},"menuItems":[]},{"itemId":"82ecd1d5-6055-4846-99de-2e5d99461009″,"text":"MLB Rally","properties":{"link":"https://www.mlb.com/apps/rally","visible":"true"},"menuItems":[]},{"itemId":"82b08ad3-ff33-4c90-8303-277dbf8190a3″,"text":"MLB Quick Pick","properties":{"link":"https://www.mlb.com/apps/rally/quickpick"},"menuItems":[]},{"itemId":"4e35b374-27ca-40c1-8f4b-d0e861496179″,"text":"MLB Beat the Streak","properties":{"link":"https://www.mlb.com/apps/beat-the-streak"},"menuItems":[]},{"itemId":"4b2c552e-94c1-49f6-8e5e-5f947f0d683c","text":"MLB MOONBLASTS Pick 'Em","properties":{"link":"/sponsorship/ftx-moonblasts-pick-em","customProperties":"expires:1627754400″},"menuItems":[]},{"itemId":"fa818f3d-e28a-4dce-8ed8-928d7000a1f6″,"text":"The Vault","properties":{"link":"https://www.mlb.com/the-vault"},"menuItems":[]},{"itemId":"5342efbb-aee3-4b7a-bd6b-da451509d65b","text":"Yahoo Fantasy Baseball","properties":{"link":"https://yhoo.it/2w7w4vr","visible":"false"},"menuItems":[]},{"itemId":"36bd3b31-a5df-4061-9abb-33d42ffa1818″,"text":"R.B.I. Baseball 21″,"properties":{"link":"https://www.rbigame.com"},"menuItems":[]},{"itemId":"3dab9102-cd2d-442e-ab8a-ad07d7b159f4″,"text":"MLB Home Run Derby","properties":{"link":"https://www.mlb.com/fantasy/home-run-derby"},"menuItems":[]},{"itemId":"a3152a55-11b7-4772-86e0-58d7982a1c76″,"text":"Season Pick 'Em","properties":{"link":"/opening-day-pick-em?affiliateId=spe-fantasynav-mlb-2021″,"visible":"false"},"menuItems":[]},{"itemId":"7f0d66f2-44a0-4594-b5f9-db2c84c09356″,"text":"MLB Pre-Pick (AUS)","properties":{"link":"https://www.mlb.com/pre-pick/tab"},"menuItems":[]},{"itemId":"7af822e8-dc82-4b7e-818a-97080c0938f2″,"text":"Closer Report","properties":{"link":"/closer-report","visible":"false"},"menuItems":[]},{"itemId":"c2b4eeef-ec9c-4c5b-831c-1edca0316768″,"text":"Prospect Rankings","properties":{"link":"https://www.mlb.com/prospects"},"menuItems":[]},{"itemId":"3b212a3b-4687-4ea7-a276-3e780e18210c","text":"MLB Champions","properties":{"link":"https://www.mlbc-app.com/?ref=mlbcom"},"menuItems":[]}]},{"itemId":"f857d698-35a3-4b1b-8e88-d92056ca5507″,"text":"Apps","properties":{"link":"https://www.mlb.com/apps","customProperties":"topNav:false;","data":"Apps"},"menuItems":[{"itemId":"c974a38d-8537-4d03-9dfa-681ac5bd0f08″,"text":"MLB","properties":{"link":"https://www.mlb.com/apps/mlb-app"},"menuItems":[]},{"itemId":"13d77816-460d-4783-8ed7-f1ff1d3a97ed","text":"MLB Rally","properties":{"link":"https://www.mlb.com/apps/rally","visible":"true"},"menuItems":[]},{"itemId":"f2626a2d-160d-4682-96c6-bfe391c16398″,"text":"MLB Beat the Streak","properties":{"link":"https://www.mlb.com/apps/beat-the-streak"},"menuItems":[]},{"itemId":"89f7398c-7a79-46e4-a8cd-843a44ceee13″,"text":"MLB Ballpark","properties":{"link":"https://www.mlb.com/apps/ballpark"},"menuItems":[]},{"itemId":"03c8451e-6437-4aa6-8b5d-50c3fedad25e","text":"MiLB First Pitch","properties":{"link":"https://www.milb.com/about/first-pitch"},"menuItems":[]},{"itemId":"5d19666b-0c26-48ad-8465-09ed9f28dfc2″,"text":"R.B.I. Baseball 21″,"properties":{"link":"https://www.rbigame.com"},"menuItems":[]},{"itemId":"94808840-9046-445e-9a6a-83016bdadb72″,"text":"MLB Home Run Derby","properties":{"link":"https://www.mlb.com/fantasy/home-run-derby"},"menuItems":[]},{"itemId":"fbe4d233-e766-4207-8886-55a2fc1f7f74″,"text":"MLB FAQs","properties":{"link":"https://www.mlb.com/apps/mlb-app/faq-apple"},"menuItems":[]},{"itemId":"34d7bc2e-a216-4956-8105-b42f2ba4bea3″,"text":"MLB Ballpark FAQs","properties":{"link":"https://www.mlb.com/apps/ballpark/faq-apple"},"menuItems":[]},{"itemId":"c081befb-bde5-446d-a4d4-c9292d29d525″,"text":"MLB Rally FAQs","properties":{"link":"/apps/rally/faq-apple","visible":"true"},"menuItems":[]}]},{"itemId":"ba2b8aec-0e14-429e-ac96-dbb1f04edaf8″,"text":"Vote","properties":{"link":"https://www.mlb.com/all-star/ballot?affiliateId=asb-topnav-mlb-2021″,"customProperties":"appears:1622736000;expires:1625162400;","visible":"false"},"menuItems":[]},{"itemId":"57ec62ff-6517-49b7-8bef-7a3edc6874cb","text":"Auction","properties":{"link":"http://auction.mlb.com/","visible":"false","customProperties":"topNav:false;"},"menuItems":[{"itemId":"3ea7f7ac-0734-47d9-8804-967eba72da0e","text":"Authentication","properties":{"link":"https://www.mlb.com/authentication"},"menuItems":[]},{"itemId":"e3e18801-29de-4b11-86ac-a475342dff41″,"text":"Autographed","properties":{"link":"http://auctions.mlb.com/iSynApp/allAuction.action?sid=1101001&rc=25&selectedCatId=17342&sort=timeleft_asc&pgmode2=catpage"},"menuItems":[]},{"itemId":"f4c0200f-4437-47c0-8c15-1a54c26d22c0″,"text":"Baseball Cards","properties":{"link":"http://www.baseballcards.mlb.com/"},"menuItems":[]},{"itemId":"21b7a4a2-6c76-47b5-af79-51dc0334f2c9″,"text":"Baseballs","properties":{"link":"http://auctions.mlb.com/iSynApp/allAuction.action?sid=1101001&rc=25&selectedCatId=13020&sort=timeleft_asc&pgmode2=catpage"},"menuItems":[]},{"itemId":"6b056370-0888-43e4-9f8c-8100e2ee7653″,"text":"Bats","properties":{"link":"http://auctions.mlb.com/iSynApp/allAuction.action?sid=1101001&rc=25&selectedCatId=13041&sort=timeleft_asc&pgmode2=catpage"},"menuItems":[]},{"itemId":"1b036e35-5977-4af1-9cb0-736c76d18ec4″,"text":"Caps","properties":{"link":"http://auctions.mlb.com/iSynApp/allAuction.action?sid=1101001&rc=25&selectedCatId=13021&sort=timeleft_asc&pgmode2=catpage"},"menuItems":[]},{"itemId":"74ae99a1-5ed5-44e4-842c-b49dc99e982d","text":"Experiences","properties":{"link":"http://auctions.mlb.com/iSynApp/allAuction.action?sid=1101001&rc=25&selectedCatId=13060&sort=timeleft_asc&pgmode2=catpage"},"menuItems":[]},{"itemId":"d41a4007-2f65-4b0f-a0a8-7df58870e507″,"text":"Game-Used","properties":{"link":"http://auctions.mlb.com/iSynApp/allAuction.action?sid=1101001&rc=25&selectedCatId=13022&sort=timeleft_asc&pgmode2=catpage"},"menuItems":[]},{"itemId":"aafaf49c-cfb9-432d-9119-f86a64fdbb27″,"text":"Jerseys","properties":{"link":"http://auctions.mlb.com/iSynApp/allAuction.action?sid=1101001&rc=25&selectedCatId=13062&sort=timeleft_asc&pgmode2=catpage"},"menuItems":[]},{"itemId":"c0be3bdb-025a-42ac-b09d-c391d058342b","text":"Photos","properties":{"link":"http://auctions.mlb.com/iSynApp/allAuction.action?sid=1101001&rc=25&selectedCatId=13024&sort=timeleft_asc&pgmode2=catpage"},"menuItems":[]}]},{"itemId":"98430c25-7924-4112-a70f-0b32fd31594f","text":"Teams","properties":{"link":"https://www.mlb.com/team","customProperties":"amp:true;module:teammodule;align:right;"},"menuItems":[{"itemId":"9191834c-54c4-40a7-8aac-9745d3666084″,"text":"Team Module","properties":{"customProperties":"module:teammodule;"},"menuItems":[]}]},{"itemId":"397b9e10-6d65-4fc0-bbe6-8d07f5e8d3a8″,"text":"ES","properties":{"link":"https://www.mlb.com/es","customProperties":"align:right;","toolTip":"Español"},"menuItems":[{"itemId":"ceb83c80-eaf2-4dd4-bdc6-e23b1e11ae60″,"text":"日本語","properties":{"link":"http://www.mlb.jp/","customProperties":"lang:ja"},"menuItems":[]},{"itemId":"27ac6728-00c1-4965-963b-05d33268fb50″,"text":"한국어","properties":{"link":"https://www.mlbkor.com/","customProperties":"lang:ko"},"menuItems":[]}]}]},"locale":"en","reqPath":"/news/roberto-clemente-day-celebrated-2021″,"sharedNav":{"instanceId":"6c265854-d856-4f92-aea1-07dfe5cda020″,"name":"shared-nav","variables":[],"menuItems":[{"itemId":"93b3e9b2-65a9-4585-9185-03e255cb523c","text":"MLB.TV","properties":{"link":"https://www.mlb.com/tv?&affiliateId=clubMENU","icon":"watch","customProperties":"align:right;"},"menuItems":[{"itemId":"162f5687-7f5b-4422-a782-133dc3db8aa0″,"text":"Buy MLB.TV","properties":{"link":"https://www.mlb.com/live-stream-games/subscribe?&affiliateId=clubMENU"},"menuItems":[]},{"itemId":"f75d3e53-5cc5-4eb5-b64d-7e72c3f601b9″,"text":"Buy MLB Audio","properties":{"link":"https://www.mlb.com/live-stream-games/subscribe/mlb-audio?&affiliateId=clubMENU"},"menuItems":[]},{"itemId":"d54a2b21-9db9-4252-9ebe-e3a4b2a3cf83″,"text":"Watch MLB.TV","properties":{"link":"https://www.mlb.com/live-stream-games?&affiliateId=clubMENU"},"menuItems":[]},{"itemId":"dcd7d391-b324-4b75-81cd-47e27639771a","text":"Free MLB.TV For College Students","properties":{"link":"https://www.mlb.com/live-stream-games/students?&affiliateId=clubMENU"},"menuItems":[]},{"itemId":"28f71773-a34e-46c5-bdbc-ac6476c5fc7a","text":"MLB Big Inning","properties":{"link":"https://www.mlb.com/live-stream-games/big-inning"},"menuItems":[]},{"itemId":"703b5c44-a9b4-46a2-bc2e-33112a413980″,"text":"MLB.TV Gift Giving","properties":{"link":"https://www.mlb.com/live-stream-games/subscribe/gift-giving"},"menuItems":[]},{"itemId":"2d8d6ad8-dc2a-4971-9b12-f1853530c5d3″,"text":"Watch MLB.TV Docs & Features","properties":{"link":"https://www.mlb.com/tv/featured?&affiliateId=clubMENU"},"menuItems":[]},{"itemId":"6254640c-2069-4447-822f-084d0a38f161″,"text":"MLB.TV Help Center","properties":{"link":"https://www.mlb.com/live-stream-games/help-center?&affiliateId=clubMENU"},"menuItems":[]},{"itemId":"6d167d3d-4063-43ae-b13c-283e83c0e91c","text":"MLB.TV with Extra Innings","properties":{"link":"https://www.mlb.com/live-stream-games/third-party?&affiliateId=clubMENU"},"menuItems":[]}]},{"itemId":"d54d0be0-f610-4f8b-90ac-c246c361e2e2″,"text":"Fantasy","properties":{"link":"https://www.mlb.com/fantasy"},"menuItems":[{"itemId":"5ec4bde4-6bc1-412b-a92b-6b7cb3b2f07c","text":"Yahoo Fantasy Baseball","properties":{"link":"http://yhoo.it/3aK5QQw","visible":"true"},"menuItems":[]},{"itemId":"b2a63b51-03fc-423d-971e-1e566f6008f4″,"text":"MLB Rally","properties":{"link":"https://www.mlb.com/apps/rally","visible":"true"},"menuItems":[]},{"itemId":"f6929b88-632d-4a6f-ba73-8a64fccba1b0″,"text":"MLB Quick Pick","properties":{"link":"https://www.mlb.com/apps/rally/quickpick"},"menuItems":[]},{"itemId":"0ebe9e5d-3fc7-48d2-acb1-c33eb931b911″,"text":"MLB Beat the Streak","properties":{"link":"https://www.mlb.com/apps/beat-the-streak","visible":"true"},"menuItems":[]},{"itemId":"086bd307-a929-4414-9dd7-09bdac8d3f2e","text":"MLB MOONBLASTS Pick 'Em","properties":{"link":"https://www.mlb.com/sponsorship/ftx-moonblasts-pick-em","customProperties":"expires:1627754400″},"menuItems":[]},{"itemId":"14aa1d4b-0193-4670-a1fc-b4386d4977e8″,"text":"The Vault","properties":{"link":"https://www.mlb.com/the-vault"},"menuItems":[]},{"itemId":"1543c12c-66d1-4033-9e05-c025fcb71a6a","text":"R.B.I. Baseball 21″,"properties":{"link":"https://www.rbigame.com"},"menuItems":[]},{"itemId":"4e0abdd4-8a0f-4bc5-838f-91dd2796041e","text":"MLB Home Run Derby","properties":{"link":"https://www.mlb.com/fantasy/home-run-derby"},"menuItems":[]},{"itemId":"7d8dfda7-345a-46fa-82dc-105068ba223e","text":"Season Pick 'Em","properties":{"link":"https://www.mlb.com/season-pick-em?affiliateId=spe-fantasynav-club-2021″,"visible":"false"},"menuItems":[]},{"itemId":"6eda396d-199b-4772-b3c9-c0b032513b6c","text":"MLB Pre-Pick (AUS)","properties":{"customProperties":"","link":"https://www.mlb.com/pre-pick/tab"},"menuItems":[]},{"itemId":"9f1ff266-0ed8-4adb-ba77-428d1871b237″,"text":"Closer Report","properties":{"link":"https://www.mlb.com/closer-report","visible":"false"},"menuItems":[]},{"itemId":"4c4f57bd-e31a-46c9-8f73-0fa2227451d3″,"text":"Prospect Rankings","properties":{"link":"https://www.mlb.com/prospects"},"menuItems":[]},{"itemId":"1ebe4dc3-2c6a-469f-be59-474fe14dbbd7″,"text":"MLB Champions","properties":{"link":"https://www.mlbc-app.com/?ref=mlbcom"},"menuItems":[]}]},{"itemId":"d1f61f89-9fd0-4f03-be17-2c5e128711a4″,"text":"Apps","properties":{"link":"https://www.mlb.com/apps"},"menuItems":[{"itemId":"83ac2ddf-414b-47d1-afec-ffacd068ab57″,"text":"MLB","properties":{"link":"https://www.mlb.com/apps/mlb-app"},"menuItems":[]},{"itemId":"83dbba73-02ac-4ba0-bebf-2c62ef04c19e","text":"MLB Rally","properties":{"link":"https://www.mlb.com/apps/rally","visible":"true"},"menuItems":[]},{"itemId":"26fda476-348c-4f42-aa7c-92d1f9b1bf5c","text":"MLB Beat the Streak","properties":{"link":"https://www.mlb.com/apps/beat-the-streak"},"menuItems":[]},{"itemId":"e09e6978-fcf7-4c2f-8387-59d83b7be38e","text":"MLB Ballpark","properties":{"link":"https://www.mlb.com/apps/ballpark"},"menuItems":[]},{"itemId":"5e7b8019-9484-4872-abd7-8b963cd5969e","text":"MiLB First Pitch","properties":{"link":"https://www.milb.com/about/first-pitch"},"menuItems":[]},{"itemId":"e3a0183d-1b5f-4e56-9b81-02632ba4ec60″,"text":"R.B.I. Baseball 21″,"properties":{"link":"https://www.rbigame.com"},"menuItems":[]},{"itemId":"4fd8c1f8-a753-4501-916c-663390f1a566″,"text":"MLB Home Run Derby","properties":{"link":"https://www.mlb.com/fantasy/home-run-derby"},"menuItems":[]},{"itemId":"9d8dfe8b-be1a-4ebf-9509-6bd0165a868e","text":"MLB FAQs","properties":{"link":"https://www.mlb.com/apps/mlb-app/faq-apple"},"menuItems":[]},{"itemId":"df4e8527-e357-4272-bcf7-61876ed9455d","text":"MLB Ballpark FAQs","properties":{"link":"https://www.mlb.com/apps/ballpark/faq-apple","visible":"true"},"menuItems":[]},{"itemId":"c2943c65-a843-437a-9ef4-4ccfe5be088f","text":"MLB Rally FAQs","properties":{"link":"https://www.mlb.com/apps/rally/faq-apple","visible":"true"},"menuItems":[]}]}]},"styleProps":{},"teamNameSlug":"","teamsData":[{"id":133,"name":"Oakland Athletics","link":"/api/v1/teams/133″,"season":2021,"venue":{"id":10,"name":"Oakland Coliseum","link":"/api/v1/venues/10″,"location":{"address1″:"7000 Coliseum Way","city":"Oakland","state":"California","stateAbbrev":"CA","postalCode":"94621″,"defaultCoordinates":{"latitude":37.751511,"longitude":-122.200698},"country":"USA","phone":"(510) 638-4900″},"timeZone":{"id":"America/Los_Angeles","offset":-7,"tz":"PDT"},"active":true},"springVenue":{"id":2507,"link":"/api/v1/venues/2507″},"teamCode":"oak","fileCode":"oak","abbreviation":"OAK","teamName":"Athletics","locationName":"Oakland","firstYearOfPlay":"1901″,"league":{"id":103,"name":"American League","link":"/api/v1/league/103″},"division":{"id":200,"name":"American League West","link":"/api/v1/divisions/200″},"sport":{"id":1,"link":"/api/v1/sports/1″,"name":"Major League Baseball"},"shortName":"Oakland","franchiseName":"Oakland","clubName":"Athletics","springLeague":{"id":114,"name":"Cactus League","link":"/api/v1/league/114″,"abbreviation":"CL"},"allStarStatus":"N","active":true},{"id":134,"name":"Pittsburgh Pirates","link":"/api/v1/teams/134″,"season":2021,"venue":{"id":31,"name":"PNC Park","link":"/api/v1/venues/31″,"location":{"address1″:"115 Federal Street","city":"Pittsburgh","state":"Pennsylvania","stateAbbrev":"PA","postalCode":"15212″,"defaultCoordinates":{"latitude":40.446904,"longitude":-80.005753},"country":"USA","phone":"(412) 323-5000″},"timeZone":{"id":"America/New_York","offset":-4,"tz":"EDT"},"active":true},"springVenue":{"id":2526,"link":"/api/v1/venues/2526″},"teamCode":"pit","fileCode":"pit","abbreviation":"PIT","teamName":"Pirates","locationName":"Pittsburgh","firstYearOfPlay":"1882″,"league":{"id":104,"name":"National League","link":"/api/v1/league/104″},"division":{"id":205,"name":"National League Central","link":"/api/v1/divisions/205″},"sport":{"id":1,"link":"/api/v1/sports/1″,"name":"Major League Baseball"},"shortName":"Pittsburgh","franchiseName":"Pittsburgh","clubName":"Pirates","springLeague":{"id":115,"name":"Grapefruit League","link":"/api/v1/league/115″,"abbreviation":"GL"},"allStarStatus":"N","active":true},{"id":135,"name":"San Diego Padres","link":"/api/v1/teams/135″,"season":2021,"venue":{"id":2680,"name":"Petco Park","link":"/api/v1/venues/2680″,"location":{"address1″:"100 Park Boulevard","city":"San Diego","state":"California","stateAbbrev":"CA","postalCode":"92101″,"defaultCoordinates":{"latitude":32.707861,"longitude":-117.157278},"country":"USA","phone":"(619) 795-5000″},"timeZone":{"id":"America/Los_Angeles","offset":-7,"tz":"PDT"},"active":true},"springVenue":{"id":2530,"link":"/api/v1/venues/2530″},"teamCode":"sdn","fileCode":"sd","abbreviation":"SD","teamName":"Padres","locationName":"San Diego","firstYearOfPlay":"1968″,"league":{"id":104,"name":"National League","link":"/api/v1/league/104″},"division":{"id":203,"name":"National League West","link":"/api/v1/divisions/203″},"sport":{"id":1,"link":"/api/v1/sports/1″,"name":"Major League Baseball"},"shortName":"San Diego","franchiseName":"San Diego","clubName":"Padres","springLeague":{"id":114,"name":"Cactus League","link":"/api/v1/league/114″,"abbreviation":"CL"},"allStarStatus":"N","active":true},{"id":136,"name":"Seattle Mariners","link":"/api/v1/teams/136″,"season":2021,"venue":{"id":680,"name":"T-Mobile Park","link":"/api/v1/venues/680″,"location":{"address1″:"P.O. Box 4100″,"city":"Seattle","state":"Washington","stateAbbrev":"WA","postalCode":"98104″,"defaultCoordinates":{"latitude":47.591333,"longitude":-122.33251},"country":"USA","phone":"(206) 346-4000″},"timeZone":{"id":"America/Los_Angeles","offset":-7,"tz":"PDT"},"active":true},"springVenue":{"id":2530,"link":"/api/v1/venues/2530″},"teamCode":"sea","fileCode":"sea","abbreviation":"SEA","teamName":"Mariners","locationName":"Seattle","firstYearOfPlay":"1977″,"league":{"id":103,"name":"American League","link":"/api/v1/league/103″},"division":{"id":200,"name":"American League West","link":"/api/v1/divisions/200″},"sport":{"id":1,"link":"/api/v1/sports/1″,"name":"Major League Baseball"},"shortName":"Seattle","franchiseName":"Seattle","clubName":"Mariners","springLeague":{"id":114,"name":"Cactus League","link":"/api/v1/league/114″,"abbreviation":"CL"},"allStarStatus":"N","active":true},{"id":137,"name":"San Francisco Giants","link":"/api/v1/teams/137″,"season":2021,"venue":{"id":2395,"name":"Oracle Park","link":"/api/v1/venues/2395″,"location":{"address1″:"24 Willie Mays Plaza","city":"San Francisco","state":"California","stateAbbrev":"CA","postalCode":"94107″,"defaultCoordinates":{"latitude":37.778383,"longitude":-122.389448},"country":"USA","phone":"(415) 972-2000″},"timeZone":{"id":"America/Los_Angeles","offset":-7,"tz":"PDT"},"active":true},"springVenue":{"id":2532,"link":"/api/v1/venues/2532″},"teamCode":"sfn","fileCode":"sf","abbreviation":"SF","teamName":"Giants","locationName":"San Francisco","firstYearOfPlay":"1883″,"league":{"id":104,"name":"National League","link":"/api/v1/league/104″},"division":{"id":203,"name":"National League West","link":"/api/v1/divisions/203″},"sport":{"id":1,"link":"/api/v1/sports/1″,"name":"Major League Baseball"},"shortName":"San Francisco","franchiseName":"San Francisco","clubName":"Giants","springLeague":{"id":114,"name":"Cactus League","link":"/api/v1/league/114″,"abbreviation":"CL"},"allStarStatus":"N","active":true},{"id":138,"name":"St. Louis Cardinals","link":"/api/v1/teams/138″,"season":2021,"venue":{"id":2889,"name":"Busch Stadium","link":"/api/v1/venues/2889″,"location":{"address1″:"700 Clark Street","city":"St. Louis","state":"Missouri","stateAbbrev":"MO","postalCode":"63102″,"defaultCoordinates":{"latitude":38.62256667,"longitude":-90.19286667},"country":"USA","phone":"(314) 345-9600″},"timeZone":{"id":"America/Chicago","offset":-5,"tz":"CDT"},"active":true},"springVenue":{"id":2520,"link":"/api/v1/venues/2520″},"teamCode":"sln","fileCode":"stl","abbreviation":"STL","teamName":"Cardinals","locationName":"St. Louis","firstYearOfPlay":"1892″,"league":{"id":104,"name":"National League","link":"/api/v1/league/104″},"division":{"id":205,"name":"National League Central","link":"/api/v1/divisions/205″},"sport":{"id":1,"link":"/api/v1/sports/1″,"name":"Major League Baseball"},"shortName":"St. Louis","franchiseName":"St. Louis","clubName":"Cardinals","springLeague":{"id":115,"name":"Grapefruit League","link":"/api/v1/league/115″,"abbreviation":"GL"},"allStarStatus":"N","active":true},{"id":139,"name":"Tampa Bay Rays","link":"/api/v1/teams/139″,"season":2021,"venue":{"id":12,"name":"Tropicana Field","link":"/api/v1/venues/12″,"location":{"address1″:"One Tropicana Drive","city":"St. Petersburg","state":"Florida","stateAbbrev":"FL","postalCode":"33705″,"defaultCoordinates":{"latitude":27.767778,"longitude":-82.6525},"country":"USA","phone":"(727) 825-3137″},"timeZone":{"id":"America/New_York","offset":-4,"tz":"EDT"},"active":true},"springVenue":{"id":2534,"link":"/api/v1/venues/2534″},"teamCode":"tba","fileCode":"tb","abbreviation":"TB","teamName":"Rays","locationName":"St. Petersburg","firstYearOfPlay":"1996″,"league":{"id":103,"name":"American League","link":"/api/v1/league/103″},"division":{"id":201,"name":"American League East","link":"/api/v1/divisions/201″},"sport":{"id":1,"link":"/api/v1/sports/1″,"name":"Major League Baseball"},"shortName":"Tampa Bay","franchiseName":"Tampa Bay","clubName":"Rays","springLeague":{"id":115,"name":"Grapefruit League","link":"/api/v1/league/115″,"abbreviation":"GL"},"allStarStatus":"N","active":true},{"id":140,"name":"Texas Rangers","link":"/api/v1/teams/140″,"season":2021,"venue":{"id":5325,"name":"Globe Life Field","link":"/api/v1/venues/5325″,"location":{"address1″:"734 Stadium Drive","city":"Arlington","state":"Texas","stateAbbrev":"TX","postalCode":"76011″,"defaultCoordinates":{"latitude":32.747299,"longitude":-97.081818},"country":"USA","phone":"(817) 533-1972″},"timeZone":{"id":"America/Chicago","offset":-5,"tz":"CDT"},"active":true},"springVenue":{"id":2603,"link":"/api/v1/venues/2603″},"teamCode":"tex","fileCode":"tex","abbreviation":"TEX","teamName":"Rangers","locationName":"Arlington","firstYearOfPlay":"1961″,"league":{"id":103,"name":"American League","link":"/api/v1/league/103″},"division":{"id":200,"name":"American League West","link":"/api/v1/divisions/200″},"sport":{"id":1,"link":"/api/v1/sports/1″,"name":"Major League Baseball"},"shortName":"Texas","franchiseName":"Texas","clubName":"Rangers","springLeague":{"id":114,"name":"Cactus League","link":"/api/v1/league/114″,"abbreviation":"CL"},"allStarStatus":"N","active":true},{"id":141,"name":"Toronto Blue Jays","link":"/api/v1/teams/141″,"season":2021,"venue":{"id":14,"name":"Rogers Centre","link":"/api/v1/venues/14″,"location":{"address1″:"1 Blue Jays Way, Suite 3200″,"city":"Toronto","state":"Ontario","stateAbbrev":"ON","postalCode":"M5V1J1″,"defaultCoordinates":{"latitude":43.64155,"longitude":-79.38915},"country":"Canada","phone":"(416) 341-1000″},"timeZone":{"id":"America/Toronto","offset":-4,"tz":"EDT"},"active":true},"springVenue":{"id":2536,"link":"/api/v1/venues/2536″},"teamCode":"tor","fileCode":"tor","abbreviation":"TOR","teamName":"Blue Jays","locationName":"Toronto","firstYearOfPlay":"1977″,"league":{"id":103,"name":"American League","link":"/api/v1/league/103″},"division":{"id":201,"name":"American League East","link":"/api/v1/divisions/201″},"sport":{"id":1,"link":"/api/v1/sports/1″,"name":"Major League Baseball"},"shortName":"Toronto","franchiseName":"Toronto","clubName":"Blue Jays","springLeague":{"id":115,"name":"Grapefruit League","link":"/api/v1/league/115″,"abbreviation":"GL"},"allStarStatus":"N","active":true},{"id":142,"name":"Minnesota Twins","link":"/api/v1/teams/142″,"season":2021,"venue":{"id":3312,"name":"Target Field","link":"/api/v1/venues/3312″,"location":{"address1″:"1 Twins Way","city":"Minneapolis","state":"Minnesota","stateAbbrev":"MN","postalCode":"55403″,"defaultCoordinates":{"latitude":44.981829,"longitude":-93.277891},"country":"USA","phone":"(612) 659-3400″},"timeZone":{"id":"America/Chicago","offset":-5,"tz":"CDT"},"active":true},"springVenue":{"id":2862,"link":"/api/v1/venues/2862″},"teamCode":"min","fileCode":"min","abbreviation":"MIN","teamName":"Twins","locationName":"Minneapolis","firstYearOfPlay":"1901″,"league":{"id":103,"name":"American League","link":"/api/v1/league/103″},"division":{"id":202,"name":"American League Central","link":"/api/v1/divisions/202″},"sport":{"id":1,"link":"/api/v1/sports/1″,"name":"Major League Baseball"},"shortName":"Minnesota","franchiseName":"Minnesota","clubName":"Twins","springLeague":{"id":115,"name":"Grapefruit League","link":"/api/v1/league/115″,"abbreviation":"GL"},"allStarStatus":"N","active":true},{"id":143,"name":"Philadelphia Phillies","link":"/api/v1/teams/143″,"season":2021,"venue":{"id":2681,"name":"Citizens Bank Park","link":"/api/v1/venues/2681″,"location":{"address1″:"One Citizens Bank Way","city":"Philadelphia","state":"Pennsylvania","stateAbbrev":"PA","postalCode":"19148″,"defaultCoordinates":{"latitude":39.90539086,"longitude":-75.16716957},"country":"USA","phone":"(215) 463-6000″},"timeZone":{"id":"America/New_York","offset":-4,"tz":"EDT"},"active":true},"springVenue":{"id":2700,"link":"/api/v1/venues/2700″},"teamCode":"phi","fileCode":"phi","abbreviation":"PHI","teamName":"Phillies","locationName":"Philadelphia","firstYearOfPlay":"1883″,"league":{"id":104,"name":"National League","link":"/api/v1/league/104″},"division":{"id":204,"name":"National League East","link":"/api/v1/divisions/204″},"sport":{"id":1,"link":"/api/v1/sports/1″,"name":"Major League Baseball"},"shortName":"Philadelphia","franchiseName":"Philadelphia","clubName":"Phillies","springLeague":{"id":115,"name":"Grapefruit League","link":"/api/v1/league/115″,"abbreviation":"GL"},"allStarStatus":"N","active":true},{"id":144,"name":"Atlanta Braves","link":"/api/v1/teams/144″,"season":2021,"venue":{"id":4705,"name":"Truist Park","link":"/api/v1/venues/4705″,"location":{"address1″:"755 Battery Avenue","city":"Atlanta","state":"Georgia","stateAbbrev":"GA","postalCode":"30339″,"defaultCoordinates":{"latitude":33.890672,"longitude":-84.467641},"country":"USA"},"timeZone":{"id":"America/New_York","offset":-4,"tz":"EDT"},"active":true},"springVenue":{"id":5380,"link":"/api/v1/venues/5380″},"teamCode":"atl","fileCode":"atl","abbreviation":"ATL","teamName":"Braves","locationName":"Atlanta","firstYearOfPlay":"1871″,"league":{"id":104,"name":"National League","link":"/api/v1/league/104″},"division":{"id":204,"name":"National League East","link":"/api/v1/divisions/204″},"sport":{"id":1,"link":"/api/v1/sports/1″,"name":"Major League Baseball"},"shortName":"Atlanta","franchiseName":"Atlanta","clubName":"Braves","springLeague":{"id":115,"name":"Grapefruit League","link":"/api/v1/league/115″,"abbreviation":"GL"},"allStarStatus":"N","active":true},{"id":145,"name":"Chicago White Sox","link":"/api/v1/teams/145″,"season":2021,"venue":{"id":4,"name":"Guaranteed Rate Field","link":"/api/v1/venues/4″,"location":{"address1″:"333 West 35th Street","city":"Chicago","state":"Illinois","stateAbbrev":"IL","postalCode":"60616″,"defaultCoordinates":{"latitude":41.83,"longitude":-87.634167},"country":"USA","phone":"(312) 674-1000″},"timeZone":{"id":"America/Chicago","offset":-5,"tz":"CDT"},"active":true},"springVenue":{"id":3809,"link":"/api/v1/venues/3809″},"teamCode":"cha","fileCode":"cws","abbreviation":"CWS","teamName":"White Sox","locationName":"Chicago","firstYearOfPlay":"1901″,"league":{"id":103,"name":"American League","link":"/api/v1/league/103″},"division":{"id":202,"name":"American League Central","link":"/api/v1/divisions/202″},"sport":{"id":1,"link":"/api/v1/sports/1″,"name":"Major League Baseball"},"shortName":"Chi White Sox","franchiseName":"Chicago","clubName":"White Sox","springLeague":{"id":114,"name":"Cactus League","link":"/api/v1/league/114″,"abbreviation":"CL"},"allStarStatus":"N","active":true},{"id":146,"name":"Miami Marlins","link":"/api/v1/teams/146″,"season":2021,"venue":{"id":4169,"name":"loanDepot park","link":"/api/v1/venues/4169″,"location":{"address1″:"501 Marlins Way","city":"Miami","state":"Florida","stateAbbrev":"FL","postalCode":"33125″,"defaultCoordinates":{"latitude":25.77796236,"longitude":-80.21951795},"country":"USA"},"timeZone":{"id":"America/New_York","offset":-4,"tz":"EDT"},"active":true},"springVenue":{"id":2520,"link":"/api/v1/venues/2520″},"teamCode":"mia","fileCode":"mia","abbreviation":"MIA","teamName":"Marlins","locationName":"Miami","firstYearOfPlay":"1991″,"league":{"id":104,"name":"National League","link":"/api/v1/league/104″},"division":{"id":204,"name":"National League East","link":"/api/v1/divisions/204″},"sport":{"id":1,"link":"/api/v1/sports/1″,"name":"Major League Baseball"},"shortName":"Miami","franchiseName":"Miami","clubName":"Marlins","springLeague":{"id":115,"name":"Grapefruit League","link":"/api/v1/league/115″,"abbreviation":"GL"},"allStarStatus":"N","active":true},{"id":147,"name":"New York Yankees","link":"/api/v1/teams/147″,"season":2021,"venue":{"id":3313,"name":"Yankee Stadium","link":"/api/v1/venues/3313″,"location":{"address1″:"One East 161st Street","city":"Bronx","state":"New York","stateAbbrev":"NY","postalCode":"10451″,"defaultCoordinates":{"latitude":40.82919482,"longitude":-73.9264977},"country":"USA","phone":"(718) 293-4300″},"timeZone":{"id":"America/New_York","offset":-4,"tz":"EDT"},"active":true},"springVenue":{"id":2523,"link":"/api/v1/venues/2523″},"teamCode":"nya","fileCode":"nyy","abbreviation":"NYY","teamName":"Yankees","locationName":"Bronx","firstYearOfPlay":"1903″,"league":{"id":103,"name":"American League","link":"/api/v1/league/103″},"division":{"id":201,"name":"American League East","link":"/api/v1/divisions/201″},"sport":{"id":1,"link":"/api/v1/sports/1″,"name":"Major League Baseball"},"shortName":"NY Yankees","franchiseName":"New York","clubName":"Yankees","springLeague":{"id":115,"name":"Grapefruit League","link":"/api/v1/league/115″,"abbreviation":"GL"},"allStarStatus":"N","active":true},{"id":158,"name":"Milwaukee Brewers","link":"/api/v1/teams/158″,"season":2021,"venue":{"id":32,"name":"American Family Field","link":"/api/v1/venues/32″,"location":{"address1″:"One Brewers Way","city":"Milwaukee","state":"Wisconsin","stateAbbrev":"WI","postalCode":"53214″,"defaultCoordinates":{"latitude":43.02838,"longitude":-87.97099},"country":"USA","phone":"(414) 902-4400″},"timeZone":{"id":"America/Chicago","offset":-5,"tz":"CDT"},"active":true},"springVenue":{"id":2518,"link":"/api/v1/venues/2518″},"teamCode":"mil","fileCode":"mil","abbreviation":"MIL","teamName":"Brewers","locationName":"Milwaukee","firstYearOfPlay":"1968″,"league":{"id":104,"name":"National League","link":"/api/v1/league/104″},"division":{"id":205,"name":"National League Central","link":"/api/v1/divisions/205″},"sport":{"id":1,"link":"/api/v1/sports/1″,"name":"Major League Baseball"},"shortName":"Milwaukee","franchiseName":"Milwaukee","clubName":"Brewers","springLeague":{"id":114,"name":"Cactus League","link":"/api/v1/league/114″,"abbreviation":"CL"},"allStarStatus":"N","active":true},{"id":108,"name":"Los Angeles Angels","link":"/api/v1/teams/108″,"season":2021,"venue":{"id":1,"name":"Angel Stadium","link":"/api/v1/venues/1″,"location":{"address1″:"2000 Gene Autry Way","city":"Anaheim","state":"California","stateAbbrev":"CA","postalCode":"92806″,"defaultCoordinates":{"latitude":33.80019044,"longitude":-117.8823996},"country":"USA","phone":"(714) 940-2000″},"timeZone":{"id":"America/Los_Angeles","offset":-7,"tz":"PDT"},"active":true},"springVenue":{"id":2500,"link":"/api/v1/venues/2500″},"teamCode":"ana","fileCode":"ana","abbreviation":"LAA","teamName":"Angels","locationName":"Anaheim","firstYearOfPlay":"1961″,"league":{"id":103,"name":"American League","link":"/api/v1/league/103″},"division":{"id":200,"name":"American League West","link":"/api/v1/divisions/200″},"sport":{"id":1,"link":"/api/v1/sports/1″,"name":"Major League Baseball"},"shortName":"LA Angels","franchiseName":"Los Angeles","clubName":"Angels","springLeague":{"id":114,"name":"Cactus League","link":"/api/v1/league/114″,"abbreviation":"CL"},"allStarStatus":"N","active":true},{"id":109,"name":"Arizona Diamondbacks","link":"/api/v1/teams/109″,"season":2021,"venue":{"id":15,"name":"Chase Field","link":"/api/v1/venues/15″,"location":{"address1″:"401 East Jefferson Street","city":"Phoenix","state":"Arizona","stateAbbrev":"AZ","postalCode":"85004″,"defaultCoordinates":{"latitude":33.445302,"longitude":-112.066687},"country":"USA","phone":"(602) 462-6500″},"timeZone":{"id":"America/Phoenix","offset":-7,"tz":"MST"},"active":true},"springVenue":{"id":4249,"link":"/api/v1/venues/4249″},"teamCode":"ari","fileCode":"ari","abbreviation":"ARI","teamName":"D-backs","locationName":"Phoenix","firstYearOfPlay":"1996″,"league":{"id":104,"name":"National League","link":"/api/v1/league/104″},"division":{"id":203,"name":"National League West","link":"/api/v1/divisions/203″},"sport":{"id":1,"link":"/api/v1/sports/1″,"name":"Major League Baseball"},"shortName":"Arizona","franchiseName":"Arizona","clubName":"Diamondbacks","springLeague":{"id":114,"name":"Cactus League","link":"/api/v1/league/114″,"abbreviation":"CL"},"allStarStatus":"N","active":true},{"id":110,"name":"Baltimore Orioles","link":"/api/v1/teams/110″,"season":2021,"venue":{"id":2,"name":"Oriole Park at Camden Yards","link":"/api/v1/venues/2″,"location":{"address1″:"333 West Camden Street","city":"Baltimore","state":"Maryland","stateAbbrev":"MD","postalCode":"21201″,"defaultCoordinates":{"latitude":39.283787,"longitude":-76.621689},"country":"USA","phone":"(410) 685-9800″},"timeZone":{"id":"America/New_York","offset":-4,"tz":"EDT"},"active":true},"springVenue":{"id":2508,"link":"/api/v1/venues/2508″},"teamCode":"bal","fileCode":"bal","abbreviation":"BAL","teamName":"Orioles","locationName":"Baltimore","firstYearOfPlay":"1901″,"league":{"id":103,"name":"American League","link":"/api/v1/league/103″},"division":{"id":201,"name":"American League East","link":"/api/v1/divisions/201″},"sport":{"id":1,"link":"/api/v1/sports/1″,"name":"Major League Baseball"},"shortName":"Baltimore","franchiseName":"Baltimore","clubName":"Orioles","springLeague":{"id":115,"name":"Grapefruit League","link":"/api/v1/league/115″,"abbreviation":"GL"},"allStarStatus":"N","active":true},{"id":111,"name":"Boston Red Sox","link":"/api/v1/teams/111″,"season":2021,"venue":{"id":3,"name":"Fenway Park","link":"/api/v1/venues/3″,"location":{"address1″:"4 Yawkey Way","city":"Boston","state":"Massachusetts","stateAbbrev":"MA","postalCode":"2215″,"defaultCoordinates":{"latitude":42.346456,"longitude":-71.097441},"country":"USA","phone":"(617) 267-9440″},"timeZone":{"id":"America/New_York","offset":-4,"tz":"EDT"},"active":true},"springVenue":{"id":4309,"link":"/api/v1/venues/4309″},"teamCode":"bos","fileCode":"bos","abbreviation":"BOS","teamName":"Red Sox","locationName":"Boston","firstYearOfPlay":"1901″,"league":{"id":103,"name":"American League","link":"/api/v1/league/103″},"division":{"id":201,"name":"American League East","link":"/api/v1/divisions/201″},"sport":{"id":1,"link":"/api/v1/sports/1″,"name":"Major League Baseball"},"shortName":"Boston","franchiseName":"Boston","clubName":"Red Sox","springLeague":{"id":115,"name":"Grapefruit League","link":"/api/v1/league/115″,"abbreviation":"GL"},"allStarStatus":"N","active":true},{"id":112,"name":"Chicago Cubs","link":"/api/v1/teams/112″,"season":2021,"venue":{"id":17,"name":"Wrigley Field","link":"/api/v1/venues/17″,"location":{"address1″:"1060 West Addison","city":"Chicago","state":"Illinois","stateAbbrev":"IL","postalCode":"60613-4397″,"defaultCoordinates":{"latitude":41.948171,"longitude":-87.655503},"country":"USA","phone":"(773) 404-2827″},"timeZone":{"id":"America/Chicago","offset":-5,"tz":"CDT"},"active":true},"springVenue":{"id":4629,"link":"/api/v1/venues/4629″},"teamCode":"chn","fileCode":"chc","abbreviation":"CHC","teamName":"Cubs","locationName":"Chicago","firstYearOfPlay":"1874″,"league":{"id":104,"name":"National League","link":"/api/v1/league/104″},"division":{"id":205,"name":"National League Central","link":"/api/v1/divisions/205″},"sport":{"id":1,"link":"/api/v1/sports/1″,"name":"Major League Baseball"},"shortName":"Chi Cubs","franchiseName":"Chicago","clubName":"Cubs","springLeague":{"id":114,"name":"Cactus League","link":"/api/v1/league/114″,"abbreviation":"CL"},"allStarStatus":"N","active":true},{"id":113,"name":"Cincinnati Reds","link":"/api/v1/teams/113″,"season":2021,"venue":{"id":2602,"name":"Great American Ball Park","link":"/api/v1/venues/2602″,"location":{"address1″:"100 Main Street","city":"Cincinnati","state":"Ohio","stateAbbrev":"OH","postalCode":"45202-4109″,"defaultCoordinates":{"latitude":39.097389,"longitude":-84.506611},"country":"USA","phone":"(513) 765-7000″},"timeZone":{"id":"America/New_York","offset":-4,"tz":"EDT"},"active":true},"springVenue":{"id":3834,"link":"/api/v1/venues/3834″},"teamCode":"cin","fileCode":"cin","abbreviation":"CIN","teamName":"Reds","locationName":"Cincinnati","firstYearOfPlay":"1882″,"league":{"id":104,"name":"National League","link":"/api/v1/league/104″},"division":{"id":205,"name":"National League Central","link":"/api/v1/divisions/205″},"sport":{"id":1,"link":"/api/v1/sports/1″,"name":"Major League Baseball"},"shortName":"Cincinnati","franchiseName":"Cincinnati","clubName":"Reds","springLeague":{"id":114,"name":"Cactus League","link":"/api/v1/league/114″,"abbreviation":"CL"},"allStarStatus":"N","active":true},{"id":114,"name":"Cleveland Indians","link":"/api/v1/teams/114″,"season":2021,"venue":{"id":5,"name":"Progressive Field","link":"/api/v1/venues/5″,"location":{"address1″:"2401 Ontario Street","city":"Cleveland","state":"Ohio","stateAbbrev":"OH","postalCode":"44115″,"defaultCoordinates":{"latitude":41.495861,"longitude":-81.685255},"country":"USA","phone":"(216) 420-4200″},"timeZone":{"id":"America/New_York","offset":-4,"tz":"EDT"},"active":true},"springVenue":{"id":3834,"link":"/api/v1/venues/3834″},"teamCode":"cle","fileCode":"cle","abbreviation":"CLE","teamName":"Indians","locationName":"Cleveland","firstYearOfPlay":"1901″,"league":{"id":103,"name":"American League","link":"/api/v1/league/103″},"division":{"id":202,"name":"American League Central","link":"/api/v1/divisions/202″},"sport":{"id":1,"link":"/api/v1/sports/1″,"name":"Major League Baseball"},"shortName":"Cleveland","franchiseName":"Cleveland","clubName":"Indians","springLeague":{"id":114,"name":"Cactus League","link":"/api/v1/league/114″,"abbreviation":"CL"},"allStarStatus":"N","active":true},{"id":115,"name":"Colorado Rockies","link":"/api/v1/teams/115″,"season":2021,"venue":{"id":19,"name":"Coors Field","link":"/api/v1/venues/19″,"location":{"address1″:"2001 Blake Street","city":"Denver","state":"Colorado","stateAbbrev":"CO","postalCode":"80205-2000″,"defaultCoordinates":{"latitude":39.756042,"longitude":-104.994136},"country":"USA","phone":"(303) 292-0200″},"timeZone":{"id":"America/Denver","offset":-6,"tz":"MDT"},"active":true},"springVenue":{"id":4249,"link":"/api/v1/venues/4249″},"teamCode":"col","fileCode":"col","abbreviation":"COL","teamName":"Rockies","locationName":"Denver","firstYearOfPlay":"1992″,"league":{"id":104,"name":"National League","link":"/api/v1/league/104″},"division":{"id":203,"name":"National League West","link":"/api/v1/divisions/203″},"sport":{"id":1,"link":"/api/v1/sports/1″,"name":"Major League Baseball"},"shortName":"Colorado","franchiseName":"Colorado","clubName":"Rockies","springLeague":{"id":114,"name":"Cactus League","link":"/api/v1/league/114″,"abbreviation":"CL"},"allStarStatus":"N","active":true},{"id":116,"name":"Detroit Tigers","link":"/api/v1/teams/116″,"season":2021,"venue":{"id":2394,"name":"Comerica Park","link":"/api/v1/venues/2394″,"location":{"address1″:"2100 Woodward Avenue","city":"Detroit","state":"Michigan","stateAbbrev":"MI","postalCode":"48201″,"defaultCoordinates":{"latitude":42.3391151,"longitude":-83.048695},"country":"USA","phone":"(313) 471-2000″},"timeZone":{"id":"America/Detroit","offset":-4,"tz":"EDT"},"active":true},"springVenue":{"id":2511,"link":"/api/v1/venues/2511″},"teamCode":"det","fileCode":"det","abbreviation":"DET","teamName":"Tigers","locationName":"Detroit","firstYearOfPlay":"1901″,"league":{"id":103,"name":"American League","link":"/api/v1/league/103″},"division":{"id":202,"name":"American League Central","link":"/api/v1/divisions/202″},"sport":{"id":1,"link":"/api/v1/sports/1″,"name":"Major League Baseball"},"shortName":"Detroit","franchiseName":"Detroit","clubName":"Tigers","springLeague":{"id":115,"name":"Grapefruit League","link":"/api/v1/league/115″,"abbreviation":"GL"},"allStarStatus":"N","active":true},{"id":117,"name":"Houston Astros","link":"/api/v1/teams/117″,"season":2021,"venue":{"id":2392,"name":"Minute Maid Park","link":"/api/v1/venues/2392″,"location":{"address1″:"501 Crawford Street","city":"Houston","state":"Texas","stateAbbrev":"TX","postalCode":"77002″,"defaultCoordinates":{"latitude":29.756967,"longitude":-95.355509},"country":"USA","phone":"(713) 259-8000″},"timeZone":{"id":"America/Chicago","offset":-5,"tz":"CDT"},"active":true},"springVenue":{"id":5000,"link":"/api/v1/venues/5000″},"teamCode":"hou","fileCode":"hou","abbreviation":"HOU","teamName":"Astros","locationName":"Houston","firstYearOfPlay":"1962″,"league":{"id":103,"name":"American League","link":"/api/v1/league/103″},"division":{"id":200,"name":"American League West","link":"/api/v1/divisions/200″},"sport":{"id":1,"link":"/api/v1/sports/1″,"name":"Major League Baseball"},"shortName":"Houston","franchiseName":"Houston","clubName":"Astros","springLeague":{"id":115,"name":"Grapefruit League","link":"/api/v1/league/115″,"abbreviation":"GL"},"allStarStatus":"N","active":true},{"id":118,"name":"Kansas City Royals","link":"/api/v1/teams/118″,"season":2021,"venue":{"id":7,"name":"Kauffman Stadium","link":"/api/v1/venues/7″,"location":{"address1″:"One Royal Way","city":"Kansas City","state":"Missouri","stateAbbrev":"MO","postalCode":"64129″,"defaultCoordinates":{"latitude":39.051567,"longitude":-94.480483},"country":"USA","phone":"(816) 921-8000″},"timeZone":{"id":"America/Chicago","offset":-5,"tz":"CDT"},"active":true},"springVenue":{"id":2603,"link":"/api/v1/venues/2603″},"teamCode":"kca","fileCode":"kc","abbreviation":"KC","teamName":"Royals","locationName":"Kansas City","firstYearOfPlay":"1968″,"league":{"id":103,"name":"American League","link":"/api/v1/league/103″},"division":{"id":202,"name":"American League Central","link":"/api/v1/divisions/202″},"sport":{"id":1,"link":"/api/v1/sports/1″,"name":"Major League Baseball"},"shortName":"Kansas City","franchiseName":"Kansas City","clubName":"Royals","springLeague":{"id":114,"name":"Cactus League","link":"/api/v1/league/114″,"abbreviation":"CL"},"allStarStatus":"N","active":true},{"id":119,"name":"Los Angeles Dodgers","link":"/api/v1/teams/119″,"season":2021,"venue":{"id":22,"name":"Dodger Stadium","link":"/api/v1/venues/22″,"location":{"address1″:"1000 Vin Scully Avenue","city":"Los Angeles","state":"California","stateAbbrev":"CA","postalCode":"90012-1199″,"defaultCoordinates":{"latitude":34.07368,"longitude":-118.24053},"country":"USA","phone":"(323) 224-1500″},"timeZone":{"id":"America/Los_Angeles","offset":-7,"tz":"PDT"},"active":true},"springVenue":{"id":3809,"link":"/api/v1/venues/3809″},"teamCode":"lan","fileCode":"la","abbreviation":"LAD","teamName":"Dodgers","locationName":"Los Angeles","firstYearOfPlay":"1884″,"league":{"id":104,"name":"National League","link":"/api/v1/league/104″},"division":{"id":203,"name":"National League West","link":"/api/v1/divisions/203″},"sport":{"id":1,"link":"/api/v1/sports/1″,"name":"Major League Baseball"},"shortName":"LA Dodgers","franchiseName":"Los Angeles","clubName":"Dodgers","springLeague":{"id":114,"name":"Cactus League","link":"/api/v1/league/114″,"abbreviation":"CL"},"allStarStatus":"N","active":true},{"id":120,"name":"Washington Nationals","link":"/api/v1/teams/120″,"season":2021,"venue":{"id":3309,"name":"Nationals Park","link":"/api/v1/venues/3309″,"location":{"address1″:"1500 South Capitol Street, SE","city":"Washington","state":"District of Columbia","stateAbbrev":"DC","postalCode":"20003-1507″,"defaultCoordinates":{"latitude":38.872861,"longitude":-77.007501},"country":"USA","phone":"(202) 349-0400″},"timeZone":{"id":"America/New_York","offset":-4,"tz":"EDT"},"active":true},"springVenue":{"id":5000,"link":"/api/v1/venues/5000″},"teamCode":"was","fileCode":"was","abbreviation":"WSH","teamName":"Nationals","locationName":"Washington","firstYearOfPlay":"1968″,"league":{"id":104,"name":"National League","link":"/api/v1/league/104″},"division":{"id":204,"name":"National League East","link":"/api/v1/divisions/204″},"sport":{"id":1,"link":"/api/v1/sports/1″,"name":"Major League Baseball"},"shortName":"Washington","franchiseName":"Washington","clubName":"Nationals","springLeague":{"id":115,"name":"Grapefruit League","link":"/api/v1/league/115″,"abbreviation":"GL"},"allStarStatus":"N","active":true},{"id":121,"name":"New York Mets","link":"/api/v1/teams/121″,"season":2021,"venue":{"id":3289,"name":"Citi Field","link":"/api/v1/venues/3289″,"location":{"address1″:"Citi Field","city":"Flushing","state":"New York","stateAbbrev":"NY","postalCode":"11368″,"defaultCoordinates":{"latitude":40.75753012,"longitude":-73.84559155},"country":"USA","phone":"(718) 507-6387″},"timeZone":{"id":"America/New_York","offset":-4,"tz":"EDT"},"active":true},"springVenue":{"id":2856,"link":"/api/v1/venues/2856″},"teamCode":"nyn","fileCode":"nym","abbreviation":"NYM","teamName":"Mets","locationName":"Flushing","firstYearOfPlay":"1962″,"league":{"id":104,"name":"National League","link":"/api/v1/league/104″},"division":{"id":204,"name":"National League East","link":"/api/v1/divisions/204″},"sport":{"id":1,"link":"/api/v1/sports/1″,"name":"Major League Baseball"},"shortName":"NY Mets","franchiseName":"New York","clubName":"Mets","springLeague":{"id":115,"name":"Grapefruit League","link":"/api/v1/league/115″,"abbreviation":"GL"},"allStarStatus":"N","active":true}]},"graphqlVariables":{"getInitialData":{"contentfulLocale":"en-US","forgeLocale":"en-us","isApp":false,"preview":false,"storySlug":"roberto-clemente-day-celebrated-2021″,"teamId":"mlb","teamPropertiesId":"mlb-global-properties","teamPaletteId":"mlb-base-palette"},"getRelatedContent":{"slug":"roberto-clemente-day-celebrated-2021″,"options":{"locale":"en-us","teamId":"mlb","topicSlug":""}},"getTopic":{"forgeLocale":"en-us","topicSlug":""}},"headerState":{"clubId":"mlb","deviceProperties":{},"footerData":{"instanceId":"db2f8fb2-78c8-4d3c-a328-9e91c349dfee","name":"global-footer","variables":[],"menuItems":[{"itemId":"aec375d3-3afa-4491-ab28-60b736f38982″,"text":"Terms of Use","properties":{"link":"/official-information/terms-of-use","target":"_blank"},"menuItems":[]},{"itemId":"debe8dbf-de27-4eae-b7ec-adae43fc4642″,"text":"Privacy Policy","properties":{"link":"/official-information/privacy-policy"},"menuItems":[]},{"itemId":"345a1847-cac1-43a4-91bf-70c21ecee681″,"text":"Legal Notices","properties":{"link":"/official-information/legal-notices"},"menuItems":[]},{"itemId":"34014aad-1069-4bba-b22e-4b287a4f7df1″,"text":"Contact Us","properties":{"link":"/official-information/contact"},"menuItems":[]},{"itemId":"65e06970-7f8e-4328-ad82-9d90df0f3e87″,"text":"Do Not Sell My Personal Data","properties":{"link":"https://privacyportal.onetrust.com/webform/53a301ae-6882-46f9-af93-24f64f792aee/3251a424-8286-4725-9313-603f12c85a49″,"target":"_blank"},"menuItems":[]},{"itemId":"dd307e97-49c6-4f80-aff3-89a59696fb80″,"text":"Official Information","properties":{},"menuItems":[{"itemId":"bdf571d3-e8bb-403b-bb5f-7f28a7127c74″,"text":"Official Info","properties":{"link":"/official-information"},"menuItems":[]},{"itemId":"ecfd4d42-aa8d-4872-80a5-869c6b493018″,"text":"About MLB","properties":{"link":"/official-information/about-mlb"},"menuItems":[]},{"itemId":"bb62de22-5c84-4cab-b9fb-5429ea9d647c","text":"Team Information","properties":{"link":"https://www.mlb.com/team"},"menuItems":[]},{"itemId":"7cc37e2a-667c-4405-bd1f-87ad88bc4d9e","text":"Official Rules","properties":{"link":"https://img.mlbstatic.com/mlb-images/image/upload/mlb/atcjzj9j7wrgvsm8wnjq.pdf"},"menuItems":[]},{"itemId":"e658056b-608b-4eee-a04a-43772f9e6bb4″,"text":"Replay Review Regulations","properties":{"link":"/glossary/rules/replay-review"},"menuItems":[]},{"itemId":"0b3fc77c-c7d1-4584-a184-90fd8c4959e9″,"text":"Umpires","properties":{"link":"/official-information/umpires"},"menuItems":[]},{"itemId":"23dde9d7-6aba-4bec-a449-b1b4d5a5767c","text":"Advertise with Us","properties":{"link":"/sponsorship"},"menuItems":[]},{"itemId":"ca43b715-5423-4314-ac5a-f9229bee6fb6″,"text":"Press Releases","properties":{"link":"/news/topic/mlb-press-releases"},"menuItems":[]}]},{"itemId":"7a60a8fc-0c3c-4c87-b04b-2b57b6c9894c","text":"Help/Contact Us","properties":{},"menuItems":[{"itemId":"efb27376-accc-4ca4-9017-c3309ee122d3″,"text":"Accessibility Information","properties":{"link":"/official-information/accessibility"},"menuItems":[]},{"itemId":"cf3490fc-f093-4457-99a7-d2bc3f4d4cef","text":"Auctions Customer Service","properties":{"link":"http://auctions.mlb.com/iSynApp/manageUserEmail!showEmailContactUsForm.action?sid=1101001″},"menuItems":[]},{"itemId":"c6867706-11b7-4634-a78e-b5d513948f43″,"text":"Harassment Policy","properties":{"link":"/official-information/harassment-policy"},"menuItems":[]},{"itemId":"0e3932c9-beec-43f2-b712-66879a51ab63″,"text":"Help/Contact Us","properties":{"link":"/official-information/contact"},"menuItems":[]},{"itemId":"6d4ebef1-3168-4b79-a237-9f36931d3a2c","text":"MLB App FAQs","properties":{"link":"https://www.mlb.com/apps/mlb-app/faq-apple"},"menuItems":[]},{"itemId":"4b3c6ee8-d4ae-4265-a7e7-7e5bea8cde28″,"text":"MLB.com Account Information","properties":{"link":"/official-information/faqs"},"menuItems":[]},{"itemId":"4d33a7c1-38d5-4b3b-a999-53377f55738d","text":"MLB.TV Help Center","properties":{"link":"/live-stream-games/help-center"},"menuItems":[]},{"itemId":"36f01834-7979-4a42-aa12-52439c2e320b","text":"Shop Help","properties":{"link":"https://help-mlb.custhelp.com/"},"menuItems":[]},{"itemId":"bb6e7a31-4b7d-4e49-8c2e-00dda9e237ab","text":"Ticket Information","properties":{"link":"/official-information/ticket-faqs"},"menuItems":[]}]},{"itemId":"6ca8b189-8c54-428f-9f79-3c357ef18469″,"text":"More MLB Sites & Affiliates","properties":{},"menuItems":[{"itemId":"becc9309-94fc-491b-ad15-45f7c17f85a9″,"text":"MLB Players Alumni Association","properties":{"link":"/mlbpaa","target":""},"menuItems":[]},{"itemId":"9ff49c09-8a0d-41e6-b8b0-14f37f8e7f52″,"text":"MLB Players Association","properties":{"link":"http://www.mlbplayers.com/"},"menuItems":[]},{"itemId":"022ec2ca-bb20-4543-9cdc-95ba3a4443ca","text":"Minor League Baseball","properties":{"link":"https://www.milb.com/"},"menuItems":[]},{"itemId":"c6f9948e-3521-4788-83ed-b568f39e86aa","text":"MLB Network","properties":{"link":"https://www.mlb.com/network"},"menuItems":[]},{"itemId":"de2ea389-0a29-4600-8048-b4261916183d","text":"Baseball Assistance Team","properties":{"link":"/baseball-assistance-team"},"menuItems":[]},{"itemId":"e1a2af1c-ee36-4672-935b-17e62d0b4ddc","text":"Player Resource Center","properties":{"link":"/player-resource-center","target":""},"menuItems":[]},{"itemId":"75f0b763-612d-4557-ae38-227fb5b3b7f1″,"text":"Tickets.com","properties":{"link":"http://www.tickets.com/"},"menuItems":[]},{"itemId":"f8599d26-5069-4417-8c26-0965dd8d9435″,"text":"YES Network","properties":{"link":"https://www.yesnetwork.com/"},"menuItems":[]},{"itemId":"5c8f6196-a4d5-4ed5-b830-189580691d3e","text":"Australian Baseball League","properties":{"link":"https://theabl.com.au/"},"menuItems":[]},{"itemId":"ab6fc805-0bb7-439b-8c3c-92c61b035387″,"text":"World Baseball Classic","properties":{"link":"https://www.worldbaseballclassic.com/"},"menuItems":[]},{"itemId":"e218ed4d-89f9-4f7d-87e7-c05a3559cd74″,"text":"sabr.org","properties":{"link":"http://sabr.org/"},"menuItems":[]},{"itemId":"158a95a6-bd4f-4654-b57f-465d3c356a55″,"text":"College Baseball Hall of Fame","properties":{"link":"https://www.mlb.com/college-baseball-hall-of-fame"},"menuItems":[]},{"itemId":"5e602a1a-e518-455b-ac5f-5c0e80430e38″,"text":"Golden Spikes Award","properties":{"link":"https://www.usabaseball.com/golden-spikes-award"},"menuItems":[]},{"itemId":"ccd9020d-c619-45d2-bc1f-ef80ae2cd651″,"text":"USA Baseball","properties":{"link":"https://www.usabaseball.com"},"menuItems":[]},{"itemId":"75512a93-d52d-4d71-a6d3-70d6b44dfa0f","text":"LasMayores.com","properties":{"link":"https://www.mlb.com/es"},"menuItems":[]},{"itemId":"3b7bbad3-1ed5-468d-8703-205519315e04″,"text":"MLBCommunity.org","properties":{"link":"/mlb-community"},"menuItems":[]},{"itemId":"f8058121-3606-4ff2-be8a-d1a3d47642db","text":"AllStarGame.com","properties":{"link":"https://www.mlb.com/all-star"},"menuItems":[]},{"itemId":"a624b4e5-c8d8-44b9-9084-7522ed0cee59″,"text":"MLB.com/Kids","properties":{"link":"https://www.mlb.com/fans/kids"},"menuItems":[]},{"itemId":"43c6bc47-f7d9-445a-85a1-10b3cdc02ee0″,"text":"MLB Photostore","properties":{"link":"https://photostore.mlb.com/"},"menuItems":[]},{"itemId":"d9f4ea22-70a7-4085-a16e-83f70a5711b2″,"text":"Offseason Leagues","properties":{"link":"http://mlb.mlb.com/mlb/events/winterleagues/"},"menuItems":[]},{"itemId":"c574a4a2-45ec-47fe-8ca3-b5b99d1cb443″,"text":"PlayBall.org","properties":{"link":"https://www.playball.org"},"menuItems":[]},{"itemId":"517cf98f-063c-486a-a725-5380e1ae063f","text":"MLB Educators","properties":{"link":"/mlb-educators"},"menuItems":[]}]},{"itemId":"e3a86593-6da0-4d00-a512-0b8c78c9b8a5″,"text":"Careers","properties":{"link":""},"menuItems":[{"itemId":"35caab61-51c7-4b17-a9b8-e9ecd201058a","text":"Careers Home","properties":{"link":"/careers/home"},"menuItems":[]}]}]},"headerData":{"instanceId":"fbde1dcd-c837-4740-991c-1087d1db26d1″,"name":"global-nav","variables":[],"menuItems":[{"itemId":"tickets","text":"Tickets","properties":{"link":"https://www.mlb.com/tickets","customProperties":"align:right;"},"menuItems":[{"itemId":"764d21d8-0f58-4d63-b57c-035ec47d193c","text":"General Ticket Information","properties":{"link":"https://www.mlb.com/tickets","customProperties":"","visible":"false"},"menuItems":[]},{"itemId":"4e45f354-0ccd-4c89-ac5e-12f16dd11f3a","text":"Season Tickets","properties":{"link":"/tickets/season-tickets","customProperties":"","visible":"false"},"menuItems":[]},{"itemId":"020f5910-a69a-443a-b5a3-37b7664d8a4f","text":"Spring Training","properties":{"link":"/tickets/spring-training","visible":"false"},"menuItems":[]},{"itemId":"0a8ddc10-4b69-4a97-a677-6301ac30971b","text":"Fan Value","properties":{"link":"/tickets/fan-value","customProperties":"","visible":"false"},"menuItems":[]},{"itemId":"417de43e-baa5-4ca1-802d-c0814be88688″,"text":"Ballpark Tours","properties":{"link":"/tickets/ballpark-tours","visible":"false"},"menuItems":[]},{"itemId":"dc1ab63d-4195-4a41-8248-cfa5513a66e9″,"text":"StubHub.com","properties":{"link":"https://www.stubhub.com/mlb-tickets/grouping/81/?gcid=C12289x371″,"customProperties":""},"menuItems":[]},{"itemId":"a1fd4bc8-d136-4d65-a0cd-393f31e0e14e","text":"All-Star Game","properties":{"link":"/all-star/tickets","customProperties":"expires:1626228000″},"menuItems":[]},{"itemId":"92c55e19-5b07-4d4f-8bfe-ee6a86e64c8a","text":"World Baseball Classic","properties":{"link":"https://www.mlb.com/world-baseball-classic/newsletter"},"menuItems":[]},{"itemId":"5d7d5f77-3b9d-4d21-bece-8b3245b7bf2a","text":"International Events","properties":{"link":"https://www.mlb.com/international"},"menuItems":[]},{"itemId":"797c376f-524a-4e12-b431-1994c1d9127d","text":"Vaccinate at the Plate Ticket Offer","properties":{"link":"/tickets/vaccinate-ticket-offer","customProperties":"expires:1625112000″},"menuItems":[]},{"itemId":"5e7b162c-c994-4bad-89b3-0a1b2746710d","text":"Ticket Terms & Conditions","properties":{"link":"https://www.mlb.com/tickets/terms-and-conditions"},"menuItems":[]}]},{"itemId":"7b24aad4-85fb-4206-b915-85dc84bf8046″,"text":"MLB.TV","properties":{"link":"https://www.mlb.com/tv?&affiliateId=mlbMENU","customProperties":"amp:true;align:right;","icon":"watch"},"menuItems":[{"itemId":"6e4bf96d-d9e2-4c33-8d42-3e94aae42607″,"text":"Buy MLB.TV","properties":{"link":"https://www.mlb.com/live-stream-games/subscribe?&affiliateId=mlbMENU"},"menuItems":[]},{"itemId":"f33ef990-5609-45cd-be24-0e40cb0a5368″,"text":"Buy MLB Audio","properties":{"link":"https://www.mlb.com/live-stream-games/subscribe/mlb-audio?&affiliateId=mlbMENU"},"menuItems":[]},{"itemId":"993d3d74-7886-48fd-9d9f-12d189ed5630″,"text":"Watch MLB.TV","properties":{"link":"/live-stream-games?&affiliateId=mlbMENU","customProperties":""},"menuItems":[]},{"itemId":"ce445ca6-9a97-4b82-a6c9-d94f34579dd2″,"text":"Free MLB.TV For College Students","properties":{"link":"https://www.mlb.com/live-stream-games/students?&affiliateId=mlbMENU"},"menuItems":[]},{"itemId":"d7847412-c970-4b0a-b17e-61fded27c46a","text":"MLB Big Inning","properties":{"link":"https://www.mlb.com/live-stream-games/big-inning?&affiliateId=mlbMENU"},"menuItems":[]},{"itemId":"c2596a4c-2d08-459e-9173-2d799f070637″,"text":"MLB.TV Gift Giving","properties":{"link":"https://www.mlb.com/live-stream-games/subscribe/gift-giving"},"menuItems":[]},{"itemId":"05b81a24-a196-4ee9-86f6-443cc7ce6934″,"text":"MLB.TV with Extra Innings","properties":{"link":"https://www.mlb.com/live-stream-games/third-party?&affiliateId=mlbMENU"},"menuItems":[]},{"itemId":"00132689-c7ce-46b0-bfac-228fa9f70a22″,"text":"Watch MLB.TV Docs & Features","properties":{"link":"https://www.mlb.com/tv/featured?&affiliateId=mlbMENU"},"menuItems":[]},{"itemId":"68b755ed-4f9d-4c0a-96ea-ffafb22ca5c5″,"text":"MLB.TV Help Center","properties":{"link":"/live-stream-games/help-center?&affiliateId=mlbMENU","customProperties":""},"menuItems":[]}]},{"itemId":"6bfaf88e-891c-4e05-a935-8a32bd23086a","text":"Shop","properties":{"link":"https://www.mlbshop.com/?_s=bm-mlbcom-hp","customProperties":"align:right;","icon":"shopping-cart"},"menuItems":[{"itemId":"d7b3c8e0-42c4-45c5-8278-c51adb21b47f","text":"Auction","properties":{"link":"http://auction.mlb.com/"},"menuItems":[]},{"itemId":"216d4562-456b-442d-b078-9e9be9b35b20″,"text":"Authentication","properties":{"link":"https://www.mlb.com/authentication"},"menuItems":[]},{"itemId":"20f4725a-5dc1-4543-a153-7795cd789463″,"text":"Autographed","properties":{"link":"http://auctions.mlb.com/iSynApp/allAuction.action?sid=1101001&rc=25&selectedCatId=17342&sort=timeleft_asc&pgmode2=catpage"},"menuItems":[]},{"itemId":"f4f69cd4-2549-45f2-ba63-d97ddb0b564c","text":"Jerseys","properties":{"link":"https://www.mlbshop.com/jerseys/d-1250336792+z-990485-1677480024?_s=bm-mlbcom-hp","customProperties":""},"menuItems":[]},{"itemId":"a67b9b28-c511-47a8-87e6-594cb719c787″,"text":"Caps","properties":{"link":"https://www.mlbshop.com/caps/d-3494554436+z-921549-1032840697?_s=bm-mlbcom-hp","customProperties":""},"menuItems":[]},{"itemId":"f5b9b657-5322-40c1-b2e8-1bd31e27abf6″,"text":"Men's","properties":{"link":"https://www.mlbshop.com/men/ga-12+z-9112397524-3608394688?_s=bm-mlbcom-hp","customProperties":""},"menuItems":[]},{"itemId":"dfa13a6f-17fd-4a4a-9963-f3e3734e28bf","text":"Women's","properties":{"link":"https://www.mlbshop.com/women/ga-57+z-822989763-3950492570?_s=bm-mlbcom-hp","customProperties":""},"menuItems":[]},{"itemId":"c2bf810b-0d1f-4135-b7f8-919c53fc8cc2″,"text":"Kids","properties":{"link":"https://www.mlbshop.com/kids/ga-36+z-861270405-1171990865?_s=bm-mlbcom-hp","customProperties":""},"menuItems":[]},{"itemId":"1b321c96-eb8a-4077-9868-9420205878bc","text":"Collectibles & Memorabilia","properties":{"link":"https://www.mlbshop.com/collectibles-and-memorabilia/d-7883550038+z-87646-4052890706?_s=bm-mlbcom-hp","customProperties":""},"menuItems":[]},{"itemId":"91dcfa1d-f4de-4bf9-93f8-8f91f4069272″,"text":"Home & Office","properties":{"link":"https://www.mlbshop.com/home-and-office/d-3449556733+z-992406-855732365?_s=bm-mlbcom-hp","customProperties":""},"menuItems":[]},{"itemId":"c69e35fc-900e-4fcc-9348-085aa0febeab","text":"Gift Certificates","properties":{"link":"https://www.mlbshop.com/gift-cards/x-462351+z-94899005-3509039474?_s=bm-mlbcom-Home","customProperties":""},"menuItems":[]},{"itemId":"7423a9ca-3a6f-42fe-8d6e-9459bed284c7″,"text":"NYC Retail Store","properties":{"link":"https://www.mlb.com/shop/nyc-retail-store"},"menuItems":[]},{"itemId":"44958e84-599e-44b1-96b4-44f38a477942″,"text":"European Shop","properties":{"link":"http://www.mlbshopeurope.com/stores/mlb/en?portal=MLTS66FS&CMP=PSC-MLTS66FS","customProperties":""},"menuItems":[]},{"itemId":"51d3278e-90fd-4462-aec0-7cfd8de1cb79″,"text":"Photo Store","properties":{"link":"https://photostore.mlb.com/"},"menuItems":[]}]},{"itemId":"5052bac6-3f1d-4847-8739-42021d7cfc2d","text":"News","properties":{"link":"https://www.mlb.com/news","customProperties":"amp:true;"},"menuItems":[{"itemId":"7b725a20-961b-4511-bd88-20600551baf2″,"text":"In this section","properties":{"visible":"true"},"menuItems":[{"itemId":"82d45c9a-d055-4ab4-b785-576d982a2077″,"text":"Probable Pitchers","properties":{"link":"https://www.mlb.com/probable-pitchers","visible":"true","enabled":"true"},"menuItems":[]},{"itemId":"4bfdb502-31e4-49dd-bae1-89a4772d0739″,"text":"Prospect Rankings","properties":{"link":"https://www.mlb.com/prospects"},"menuItems":[]},{"itemId":"831050d9-d4d2-427f-85a3-fe56aad2682a","text":"Injury Report","properties":{"link":"https://www.mlb.com/injury-report"},"menuItems":[]},{"itemId":"02f947b5-cc72-40f9-9f37-a97b37dcaef3″,"text":"Transactions","properties":{"link":"http://mlb.mlb.com/mlb/transactions/?tcid=mm_mlb_news"},"menuItems":[]},{"itemId":"f499f46a-a51b-443e-82aa-3b6006f9b306″,"text":"Starting Lineups","properties":{"link":"https://www.mlb.com/starting-lineups"},"menuItems":[]},{"itemId":"53776d17-03af-4b04-8840-45b6c624df6b","text":"Hall of Fame","properties":{"link":"https://www.mlb.com/hall-of-fame"},"menuItems":[]},{"itemId":"6ee1c331-faa0-4865-a062-1c98a2f67c0d","text":"Longform","properties":{"link":"https://www.mlb.com/news/topic/longform"},"menuItems":[]},{"itemId":"844e328c-713f-46da-8183-965d19eb7dd8″,"text":"Awards","properties":{"link":"https://www.mlb.com/awards"},"menuItems":[]},{"itemId":"c1ac7886-1d18-4ad8-9fc4-326ab4753144″,"text":"MLB Draft","properties":{"link":"https://www.mlb.com/draft/2021″},"menuItems":[]}]},{"itemId":"dc121961-fe11-49ac-92b5-a8797acafa7c","text":"Featured","properties":{},"menuItems":[{"itemId":"230d1ec0-9d0a-4a3f-a04c-3cf16474390f","text":"Pipeline","properties":{"link":"https://www.mlb.com/pipeline"},"menuItems":[]},{"itemId":"216ae480-9b79-4faa-a748-98a8604e5cde","text":"Play Ball","properties":{"link":"https://www.mlb.com/play-ball"},"menuItems":[]},{"itemId":"c2182d4d-c537-410e-a63d-267e593fbb74″,"text":"Gaming","properties":{"link":"https://www.mlb.com/news/topic/gaming","enabled":"true","visible":"true"},"menuItems":[]},{"itemId":"d7d653b8-5585-44b7-b94f-226b51681ed8″,"text":"MLB Photos","properties":{"link":"https://www.mlb.com/photos/home"},"menuItems":[]},{"itemId":"eb4bceb4-bb14-4a84-8b60-12e51dab40f8″,"text":"Offbeat","properties":{"link":"https://www.mlb.com/news/topic/offbeat"},"menuItems":[]},{"itemId":"28a2e573-86ba-4cdc-a924-86d3b6500979″,"text":"Glossary","properties":{"link":"https://www.mlb.com/glossary"},"menuItems":[]},{"itemId":"7e424446-ea76-4b0d-8dc0-e7ee108993ef","text":"Rare Feats","properties":{"link":"https://www.mlb.com/news/topic/rare-feats"},"menuItems":[]},{"itemId":"38b78c07-c2e2-40be-9172-fb2ddc1d1817″,"text":"Baseball Cards","properties":{"link":"https://www.mlb.com/news/topic/baseball-cards"},"menuItems":[]},{"itemId":"7e316d55-5379-4151-a0e5-828b6b4f8ba8″,"text":"All-Star Game","properties":{"link":"https://www.mlb.com/all-star"},"menuItems":[]}]}]},{"itemId":"86b4ade1-0488-40d3-8472-b1e323f23914″,"text":"Video","properties":{"link":"https://www.mlb.com/video","customProperties":"mobile:true;amp:true;"},"menuItems":[{"itemId":"bbddb943-54df-4d88-a3ee-14265e727677″,"text":"In this section","properties":{"customProperties":""},"menuItems":[{"itemId":"d6f95b2e-b8ee-41f0-a313-e74537eff685″,"text":"Film Room","properties":{"link":"https://www.mlb.com/video/search"},"menuItems":[]},{"itemId":"a24a8e9d-471b-4626-9535-28e1b8f62bad","text":"Watch Live Games","properties":{"link":"https://www.mlb.com/live-stream-games?affiliateId=mlbMENU"},"menuItems":[]},{"itemId":"830b3ff1-c650-48a0-b8ee-6c910acc0204″,"text":"Game Stories","properties":{"link":"https://www.mlb.com/game-stories"},"menuItems":[]},{"itemId":"fb982f48-2253-46ec-84f2-ec3282782fb8″,"text":"Condensed Games","properties":{"link":"https://www.mlb.com/video/topic/condensed-games"},"menuItems":[]},{"itemId":"0f387774-edb6-4e09-84c1-3b6f9a8c65d5″,"text":"Game Recaps","properties":{"link":"https://www.mlb.com/video/topic/daily-recaps","enabled":"true"},"menuItems":[]},{"itemId":"3dcbafe8-f9f6-4a32-8534-7a00b6b07f4c","text":"Daily FastCast","properties":{"link":"https://www.mlb.com/video/topic/fastcast"},"menuItems":[]},{"itemId":"286ad1ca-abe4-4d67-b80a-9020e756750e","text":"MLB Network","properties":{"link":"https://www.mlb.com/network"},"menuItems":[]},{"itemId":"948d378c-7d73-49b1-b5ba-8729c59bca9a","text":"Podcasts","properties":{"link":"https://www.mlb.com/podcasts"},"menuItems":[]},{"itemId":"c3c36a7f-ac1d-4433-8ecb-b8689de715e5″,"text":"Front Office Focus","properties":{"link":"https://www.mlb.com/video/topic/front-office-focus"},"menuItems":[]},{"itemId":"e95e19ff-2024-4d84-b9e5-d5f0d1831e5b","text":"Business of Baseball","properties":{"link":"https://www.mlb.com/video/topic/business-of-baseball"},"menuItems":[]},{"itemId":"bf659638-4fb7-4c46-be4c-49b736c0fd69″,"text":"Untouchable Pitches","properties":{"link":"https://www.mlb.com/video/topic/untouchable-pitches-cristal-products"},"menuItems":[]},{"itemId":"0b56e21d-9a66-4fd0-99d6-59faf9805120″,"text":"Rapid Plays","properties":{"link":"https://www.mlb.com/video/topic/rapid-plays"},"menuItems":[]}]},{"itemId":"74f35bdb-7baf-4fa5-abb5-3c3613fa00fe","text":"Featured","properties":{"customProperties":""},"menuItems":[{"itemId":"d87342bf-bac9-4811-9863-4a5d7ddabe94″,"text":"Most Popular","properties":{"link":"https://www.mlb.com/video"},"menuItems":[]},{"itemId":"b4deff8a-ac2f-46bd-924a-108c63e6d4a6″,"text":"Home Runs","properties":{"link":"https://www.mlb.com/video/topic/home-runs"},"menuItems":[]},{"itemId":"d2add1e4-7ad6-417b-a04d-ffb83aa63332″,"text":"MLB Draft","properties":{"link":"https://www.mlb.com/video/topic/mlb-draft"},"menuItems":[]},{"itemId":"6a7e200b-2443-4e01-b95a-16bf6326a089″,"text":"Walk-Offs","properties":{"link":"https://www.mlb.com/video/topic/walk-offs"},"menuItems":[]},{"itemId":"cb8372c5-4ebe-44db-8b4b-de7364b80ec9″,"text":"Go Yard","properties":{"link":"https://www.mlb.com/video/topic/leadoff-home-runs"},"menuItems":[]},{"itemId":"e9fc5098-1904-4089-8fa2-c4b3d9a0feaf","text":"Top Defensive Plays","properties":{"link":"https://www.mlb.com/video/topic/top-defensive-plays"},"menuItems":[]},{"itemId":"d1a89b62-ed0e-4df5-a65d-9471b06eb3ad","text":"Grand Slams","properties":{"link":"https://www.mlb.com/video/topic/grand-slams"},"menuItems":[]},{"itemId":"c19fb88b-a3c7-4141-a616-0299dc17e774″,"text":"Best of Statcast","properties":{"link":"https://www.mlb.com/video/topic/statcast"},"menuItems":[]},{"itemId":"4cdb4f64-f058-43e3-a0f3-a078c3701cc9″,"text":"Extra Innings","properties":{"link":"https://www.mlb.com/video/topic/extra-innings"},"menuItems":[]},{"itemId":"3d4947a4-61d9-4ce6-9bec-5ef974a5aff1″,"text":"Curtain Calls","properties":{"link":"https://www.mlb.com/video/topic/curtain-calls"},"menuItems":[]},{"itemId":"ea8c81d8-3594-4318-b95e-7d7c4c92c1db","text":"Legendary Moments","properties":{"link":"https://www.mlb.com/video/topic/key-moments"},"menuItems":[]},{"itemId":"550155b7-3825-4c73-bf84-0250dec41903″,"text":"Carry the Freight","properties":{"link":"https://www.mlb.com/video/topic/carry-the-freight"},"menuItems":[]}]}]},{"itemId":"7c68f445-5095-46cc-bab3-73af6c921597″,"text":"Scores","properties":{"link":"https://www.mlb.com/scores","customProperties":"mobile:true;amp:true;","visible":"true"},"menuItems":[]},{"itemId":"9efaf5e3-6a93-4e4f-b8af-1219110ecb30″,"text":"Stats","properties":{"link":"https://www.mlb.com/stats","customProperties":"mobile:true;amp:true;"},"menuItems":[{"itemId":"f31b263b-34d4-46ab-aa46-9796e93b048b","text":"2021 Regular Season Stats","properties":{"link":"https://www.mlb.com/stats/2021″},"menuItems":[]},{"itemId":"62c5195b-2630-4d9e-9896-6aee0709aeee","text":"2021 Sortable Team Stats","properties":{"link":"https://www.mlb.com/stats/team/2021″},"menuItems":[]},{"itemId":"c26bdb6a-e2f7-48dc-bd44-39e522f7b5ca","text":"2021 Spring Training Stats","properties":{"link":"https://www.mlb.com/stats/2021/spring-training"},"menuItems":[]},{"itemId":"41566816-1cb8-421f-9a4a-9ccdefa7ed69″,"text":"Statcast Leaders","properties":{"link":"https://baseballsavant.mlb.com/statcast_leaderboard"},"menuItems":[]},{"itemId":"2d0a2684-64c6-4d9f-87a1-a7cf9f661e2f","text":"Baseball Savant","properties":{"link":"https://baseballsavant.mlb.com/"},"menuItems":[]},{"itemId":"b9d0ae31-f31d-449b-82fb-5a77f59293ba","text":"Top Prospect Stats","properties":{"link":"/prospects/stats/top-prospects?type=all&dateRange=Year2019&minPA=1″},"menuItems":[]},{"itemId":"2ae90479-df9d-458e-a47e-7acf851728e7″,"text":"Offseason Leagues","properties":{"link":"http://mlb.mlb.com/milb/stats/?tcid=mm_mlb_stats","customProperties":""},"menuItems":[]},{"itemId":"cf9eab1e-1dba-458c-949b-8db03f86d49e","text":"Glossary","properties":{"link":"http://m.mlb.com/glossary"},"menuItems":[]}]},{"itemId":"6af88ec1-9bfe-4494-abc0-898dc919a081″,"text":"Standings","properties":{"link":"https://www.mlb.com/standings","customProperties":"mobile:true;amp:true;"},"menuItems":[{"itemId":"121a61dc-a81a-45af-abbe-8230aee19b5e","text":"2021 Regular Season Standings","properties":{"link":"https://www.mlb.com/standings"},"menuItems":[]},{"itemId":"a9713ec1-4849-41b5-8f0b-fa0746a205e4″,"text":"2021 Spring Training Standings","properties":{"link":"https://www.mlb.com/standings/spring-training/2021″,"customProperties":""},"menuItems":[]},{"itemId":"4c250046-6a0d-4352-b3f2-3059a5881c2a","text":"2020 Regular Season Standings","properties":{"link":"https://www.mlb.com/standings/regular-season/2020″},"menuItems":[]},{"itemId":"a84f52a4-d7d4-4661-b193-8c81901e8e7e","text":"2020 Advanced Standings","properties":{"link":"https://www.mlb.com/standings/regular-season/advanced-splits/2020″},"menuItems":[]}]},{"itemId":"248fea7e-1d19-452a-bb5c-999e1a09b7cd","text":"Schedule","properties":{"link":"https://www.mlb.com/schedule","customProperties":"amp:true;"},"menuItems":[{"itemId":"12fd9194-8902-43f1-9686-f9f321c90450″,"text":"2021 Regular Season","properties":{"link":"https://www.mlb.com/schedule"},"menuItems":[]},{"itemId":"a29c951d-7d72-49b7-b290-35b5c261fa94″,"text":"2021 Postseason","properties":{"link":"https://www.mlb.com/news/2021-mlb-playoff-and-world-series-schedule"},"menuItems":[]},{"itemId":"f4010b7a-902c-41e0-b405-e0fa695b5c64″,"text":"2022 Regular Season","properties":{"link":"https://www.mlb.com/schedule/2022-03-31″},"menuItems":[]},{"itemId":"74ae0fd1-28f5-41ab-8861-23d056482243″,"text":"2022 Spring Training","properties":{"link":"https://www.mlb.com/schedule/2022-02-26″},"menuItems":[]},{"itemId":"94c9d7e4-3477-4217-87f3-008d2290b9ee","text":"Important Dates","properties":{"link":"https://www.mlb.com/schedule/events#important-dates"},"menuItems":[]},{"itemId":"d3566c69-34a7-4e6c-b2bb-28203c847f9e","text":"Probable Pitchers","properties":{"link":"https://www.mlb.com/probable-pitchers"},"menuItems":[]},{"itemId":"3747c1bc-9b3d-43f5-bd04-d1274c59c02a","text":"Team by Team Schedule","properties":{"link":"https://www.mlb.com/schedule/team-by-team"},"menuItems":[]},{"itemId":"e75ecc62-7e72-4b53-9705-a23e2b511f83″,"text":"National Broadcasts","properties":{"link":"http://mlb.mlb.com/mlb/official_info/broadcasts/national.jsp?tcid=mm_mlb_schedule"},"menuItems":[]},{"itemId":"bce30443-7f92-4c61-979f-058e5e6ebe17″,"text":"Sunday Night Broadcasts","properties":{"link":"http://m.mlb.com/promo/sunday-night-broadcasts"},"menuItems":[]}]},{"itemId":"8c842eeb-dedd-430c-a452-57a740d5c3df","text":"Players","properties":{"link":"https://www.mlb.com/players","customProperties":"","icon":"group"},"menuItems":[{"itemId":"650da3ef-b96d-4a7d-bf4b-47a55b2e6cb3″,"text":"Players A to Z","properties":{"link":"https://www.mlb.com/players"},"menuItems":[]},{"itemId":"b971e11e-c0ea-4f42-a693-a9e18e15447f","text":"Injury Updates","properties":{"link":"https://www.mlb.com/injury-report"},"menuItems":[]},{"itemId":"76a61c3c-c73a-497a-9d6f-f762ad0fdecd","text":"Depth Charts","properties":{"link":"https://www.mlb.com/team/roster/depth-chart"},"menuItems":[]},{"itemId":"b30fe902-714f-4f74-a901-d2397c750dab","text":"Transactions","properties":{"link":"http://mlb.mlb.com/mlb/transactions/?tcid=mm_mlb_players"},"menuItems":[]},{"itemId":"3e585331-af20-4e73-8419-2067bed2677c","text":"Starting Lineups","properties":{"link":"https://www.mlb.com/starting-lineups"},"menuItems":[]},{"itemId":"a327060e-962d-428e-91ee-40522edcda03″,"text":"Prospect Rankings","properties":{"link":"https://www.mlb.com/prospects"},"menuItems":[]},{"itemId":"a30f9694-b2cd-4a2a-9118-d3c7f00b39b1″,"text":"Mobile Player Alerts","properties":{"link":"http://mlb.mlb.com/mobile/text.jsp?tcid=mm_mlb_players","visible":"false"},"menuItems":[]},{"itemId":"f45e2471-de5a-4a07-b035-43f1b405f296″,"text":"MLB Players Association","properties":{"link":"https://www.mlbplayers.com"},"menuItems":[]},{"itemId":"6e855928-8a3d-41b6-8adc-71fe99a9508b","text":"Probable Pitchers","properties":{"link":"https://www.mlb.com/probable-pitchers"},"menuItems":[]},{"itemId":"e7ba059f-ad80-486d-bf9f-3992d718f129″,"text":"Negro Leagues","properties":{"link":"https://www.mlb.com/history/negro-leagues"},"menuItems":[]}]},{"itemId":"781f2bb2-a66a-44be-8fee-b0a0250d60e6″,"text":"Play Ball","properties":{"link":"https://www.mlb.com/play-ball","target":"_blank","customProperties":"topNav:false;","icon":"baseball"},"menuItems":[{"itemId":"2a74747c-e482-42f5-b750-ce710dea6568″,"text":"PlayBall.org","properties":{"link":"https://www.mlb.com/play-ball","target":"_blank"},"menuItems":[]},{"itemId":"9f5ab700-d2c0-43be-a398-6926ceef9e1c","text":"Hank Aaron Invitational","properties":{"link":"https://www.mlb.com/hank-aaron-invitational"},"menuItems":[]},{"itemId":"d7c7e170-573e-45c1-a1ab-b1bd3aec819f","text":"Videos","properties":{"link":"https://www.mlb.com/video/topic/play-ball"},"menuItems":[]},{"itemId":"5be26d3e-4ff2-4a84-8ea5-92aef9d759b2″,"text":"Photos","properties":{"link":"https://www.playball.org/photos","visible":"false"},"menuItems":[]},{"itemId":"14d9fdc8-ba24-44cf-9a77-7a867852f418″,"text":"News","properties":{"link":"https://www.mlb.com/news/topic/youth-baseball"},"menuItems":[]},{"itemId":"4c876067-e576-4874-b914-d86fe7f4a538″,"text":"Pitch Smart","properties":{"link":"https://www.mlb.com/pitch-smart"},"menuItems":[]},{"itemId":"6996ed01-d31d-4fc4-8d0d-a5baf177f69a","text":"Play Ball Near You","properties":{"link":"https://www.mlb.com/play-ball/play-ball-near-you"},"menuItems":[]},{"itemId":"4e66a4b2-0f27-483c-81d4-f27b0b630eac","text":"States Play","properties":{"link":"https://www.mlb.com/states-play"},"menuItems":[]},{"itemId":"aed729a5-4ff6-45cc-868c-f90b9b9190af","text":"MLB TOUR","properties":{"link":"https://www.mlb.com/mlb-tour"},"menuItems":[]},{"itemId":"28d79b33-aebd-4685-9cc9-c4ccce1262f8″,"text":"RBI","properties":{"link":"https://www.mlb.com/rbi"},"menuItems":[]},{"itemId":"18001329-d9d0-47b9-b2e0-5043b69cee9e","text":"Pitch, Hit & Run","properties":{"link":"https://www.mlb.com/pitch-hit-and-run"},"menuItems":[]},{"itemId":"df867e3c-db53-4d4f-9958-e10cb0939c8a","text":"Jr. Home Run Derby","properties":{"link":"https://www.mlb.com/junior-home-run-derby"},"menuItems":[]},{"itemId":"6af5ec56-5e26-45b3-93d6-2f79d929c046″,"text":"MLB Pipeline","properties":{"link":"https://www.mlb.com/pipeline"},"menuItems":[]},{"itemId":"bc715814-2692-4bde-9b1d-99cbd9ada5dc","text":"Youth Academies","properties":{"link":"https://www.mlb.com/mlb-youth-academy"},"menuItems":[]},{"itemId":"26715913-0ae8-4106-baa4-3d914b0a33b0″,"text":"Breakthrough Series","properties":{"link":"https://www.mlb.com/breakthrough-series"},"menuItems":[]},{"itemId":"56cb414b-eb00-4632-8acc-81d74ee4745e","text":"Elite Development Invitational","properties":{"link":"https://www.mlb.com/elite-development-invitational"},"menuItems":[]},{"itemId":"04697c74-2811-4d84-8150-aa1016aa6272″,"text":"USA Baseball","properties":{"link":"https://www.usabaseball.com/","target":"_blank"},"menuItems":[]},{"itemId":"ae77ea02-173a-4439-be6c-9ee75225bd50″,"text":"USA Softball","properties":{"link":"http://www.teamusa.org/USA-Softball","target":"_blank"},"menuItems":[]},{"itemId":"c293b7e0-f056-4102-89cd-d20649d4eff0″,"text":"Dream Series","properties":{"link":"https://www.mlb.com/dream-series"},"menuItems":[]},{"itemId":"181a47ba-9ea0-4a7a-8924-ccedef1cd372″,"text":"Trailblazer Series","properties":{"link":"https://www.mlb.com/trailblazer-series"},"menuItems":[]}]},{"itemId":"mlb-fans","text":"Fans","properties":{"link":"https://www.mlb.com/fans"},"menuItems":[{"itemId":"25c7540a-c3a3-42e8-a8f8-1e3be9f5d4fe","text":"MLB Kids","properties":{"link":"https://www.mlb.com/fans/kids"},"menuItems":[]},{"itemId":"8ee0a750-a1d7-4c8f-80ee-cb7beb4268ff","text":"MLB International","properties":{"link":"https://www.mlb.com/international"},"menuItems":[]},{"itemId":"841025ef-a361-46e1-b5d0-c963c1a42827″,"text":"Postseason Publications","properties":{"link":"https://www.mlb.com/postseason/publications"},"menuItems":[]},{"itemId":"59ffbbaf-a56c-4cb4-b874-d5a5ce36c9f1″,"text":"MLB Newsletters","properties":{"link":"https://www.mlb.com/fans/newsletters"},"menuItems":[]},{"itemId":"9e37a80a-34da-4e92-ae40-8462146aef1c","text":"Virtual Backgrounds","properties":{"link":"https://www.mlb.com/fans/virtual-backgrounds"},"menuItems":[]},{"itemId":"ef7c9f4a-5e11-4700-aad3-b29a8c5acc4c","text":"Podcasts","properties":{"link":"https://www.mlb.com/fans/podcasts"},"menuItems":[]},{"itemId":"fcc0e750-dbe2-47b3-b681-0e3e379390c8″,"text":"Walk-Up Music","properties":{"link":"https://www.mlb.com/fans/music"},"menuItems":[]},{"itemId":"ad51f9be-9a3e-41d5-83aa-27d4351d583f","text":"Connect with MLB","properties":{"link":"https://www.mlb.com/social"},"menuItems":[]},{"itemId":"5d6dbbbf-fdff-41e7-b187-793bdb998ec8″,"text":"MLB Photos","properties":{"link":"https://www.mlb.com/photos/home"},"menuItems":[]}]},{"itemId":"832ad058-32b1-4fbd-940d-a68456ad3c25″,"text":"Fantasy","properties":{"link":"https://www.mlb.com/fantasy","customProperties":""},"menuItems":[{"itemId":"ee7dde99-2f2c-49e4-a5df-b319f51afa21″,"text":"Yahoo Fantasy Baseball","properties":{"target":"","link":"http://yhoo.it/3aK5QQw"},"menuItems":[]},{"itemId":"82ecd1d5-6055-4846-99de-2e5d99461009″,"text":"MLB Rally","properties":{"link":"https://www.mlb.com/apps/rally","visible":"true"},"menuItems":[]},{"itemId":"82b08ad3-ff33-4c90-8303-277dbf8190a3″,"text":"MLB Quick Pick","properties":{"link":"https://www.mlb.com/apps/rally/quickpick"},"menuItems":[]},{"itemId":"4e35b374-27ca-40c1-8f4b-d0e861496179″,"text":"MLB Beat the Streak","properties":{"link":"https://www.mlb.com/apps/beat-the-streak"},"menuItems":[]},{"itemId":"4b2c552e-94c1-49f6-8e5e-5f947f0d683c","text":"MLB MOONBLASTS Pick 'Em","properties":{"link":"/sponsorship/ftx-moonblasts-pick-em","customProperties":"expires:1627754400″},"menuItems":[]},{"itemId":"fa818f3d-e28a-4dce-8ed8-928d7000a1f6″,"text":"The Vault","properties":{"link":"https://www.mlb.com/the-vault"},"menuItems":[]},{"itemId":"5342efbb-aee3-4b7a-bd6b-da451509d65b","text":"Yahoo Fantasy Baseball","properties":{"link":"https://yhoo.it/2w7w4vr","visible":"false"},"menuItems":[]},{"itemId":"36bd3b31-a5df-4061-9abb-33d42ffa1818″,"text":"R.B.I. Baseball 21″,"properties":{"link":"https://www.rbigame.com"},"menuItems":[]},{"itemId":"3dab9102-cd2d-442e-ab8a-ad07d7b159f4″,"text":"MLB Home Run Derby","properties":{"link":"https://www.mlb.com/fantasy/home-run-derby"},"menuItems":[]},{"itemId":"a3152a55-11b7-4772-86e0-58d7982a1c76″,"text":"Season Pick 'Em","properties":{"link":"/opening-day-pick-em?affiliateId=spe-fantasynav-mlb-2021″,"visible":"false"},"menuItems":[]},{"itemId":"7f0d66f2-44a0-4594-b5f9-db2c84c09356″,"text":"MLB Pre-Pick (AUS)","properties":{"link":"https://www.mlb.com/pre-pick/tab"},"menuItems":[]},{"itemId":"7af822e8-dc82-4b7e-818a-97080c0938f2″,"text":"Closer Report","properties":{"link":"/closer-report","visible":"false"},"menuItems":[]},{"itemId":"c2b4eeef-ec9c-4c5b-831c-1edca0316768″,"text":"Prospect Rankings","properties":{"link":"https://www.mlb.com/prospects"},"menuItems":[]},{"itemId":"3b212a3b-4687-4ea7-a276-3e780e18210c","text":"MLB Champions","properties":{"link":"https://www.mlbc-app.com/?ref=mlbcom"},"menuItems":[]}]},{"itemId":"f857d698-35a3-4b1b-8e88-d92056ca5507″,"text":"Apps","properties":{"link":"https://www.mlb.com/apps","customProperties":"topNav:false;","data":"Apps"},"menuItems":[{"itemId":"c974a38d-8537-4d03-9dfa-681ac5bd0f08″,"text":"MLB","properties":{"link":"https://www.mlb.com/apps/mlb-app"},"menuItems":[]},{"itemId":"13d77816-460d-4783-8ed7-f1ff1d3a97ed","text":"MLB Rally","properties":{"link":"https://www.mlb.com/apps/rally","visible":"true"},"menuItems":[]},{"itemId":"f2626a2d-160d-4682-96c6-bfe391c16398″,"text":"MLB Beat the Streak","properties":{"link":"https://www.mlb.com/apps/beat-the-streak"},"menuItems":[]},{"itemId":"89f7398c-7a79-46e4-a8cd-843a44ceee13″,"text":"MLB Ballpark","properties":{"link":"https://www.mlb.com/apps/ballpark"},"menuItems":[]},{"itemId":"03c8451e-6437-4aa6-8b5d-50c3fedad25e","text":"MiLB First Pitch","properties":{"link":"https://www.milb.com/about/first-pitch"},"menuItems":[]},{"itemId":"5d19666b-0c26-48ad-8465-09ed9f28dfc2″,"text":"R.B.I. Baseball 21″,"properties":{"link":"https://www.rbigame.com"},"menuItems":[]},{"itemId":"94808840-9046-445e-9a6a-83016bdadb72″,"text":"MLB Home Run Derby","properties":{"link":"https://www.mlb.com/fantasy/home-run-derby"},"menuItems":[]},{"itemId":"fbe4d233-e766-4207-8886-55a2fc1f7f74″,"text":"MLB FAQs","properties":{"link":"https://www.mlb.com/apps/mlb-app/faq-apple"},"menuItems":[]},{"itemId":"34d7bc2e-a216-4956-8105-b42f2ba4bea3″,"text":"MLB Ballpark FAQs","properties":{"link":"https://www.mlb.com/apps/ballpark/faq-apple"},"menuItems":[]},{"itemId":"c081befb-bde5-446d-a4d4-c9292d29d525″,"text":"MLB Rally FAQs","properties":{"link":"/apps/rally/faq-apple","visible":"true"},"menuItems":[]}]},{"itemId":"ba2b8aec-0e14-429e-ac96-dbb1f04edaf8″,"text":"Vote","properties":{"link":"https://www.mlb.com/all-star/ballot?affiliateId=asb-topnav-mlb-2021″,"customProperties":"appears:1622736000;expires:1625162400;","visible":"false"},"menuItems":[]},{"itemId":"57ec62ff-6517-49b7-8bef-7a3edc6874cb","text":"Auction","properties":{"link":"http://auction.mlb.com/","visible":"false","customProperties":"topNav:false;"},"menuItems":[{"itemId":"3ea7f7ac-0734-47d9-8804-967eba72da0e","text":"Authentication","properties":{"link":"https://www.mlb.com/authentication"},"menuItems":[]},{"itemId":"e3e18801-29de-4b11-86ac-a475342dff41″,"text":"Autographed","properties":{"link":"http://auctions.mlb.com/iSynApp/allAuction.action?sid=1101001&rc=25&selectedCatId=17342&sort=timeleft_asc&pgmode2=catpage"},"menuItems":[]},{"itemId":"f4c0200f-4437-47c0-8c15-1a54c26d22c0″,"text":"Baseball Cards","properties":{"link":"http://www.baseballcards.mlb.com/"},"menuItems":[]},{"itemId":"21b7a4a2-6c76-47b5-af79-51dc0334f2c9″,"text":"Baseballs","properties":{"link":"http://auctions.mlb.com/iSynApp/allAuction.action?sid=1101001&rc=25&selectedCatId=13020&sort=timeleft_asc&pgmode2=catpage"},"menuItems":[]},{"itemId":"6b056370-0888-43e4-9f8c-8100e2ee7653″,"text":"Bats","properties":{"link":"http://auctions.mlb.com/iSynApp/allAuction.action?sid=1101001&rc=25&selectedCatId=13041&sort=timeleft_asc&pgmode2=catpage"},"menuItems":[]},{"itemId":"1b036e35-5977-4af1-9cb0-736c76d18ec4″,"text":"Caps","properties":{"link":"http://auctions.mlb.com/iSynApp/allAuction.action?sid=1101001&rc=25&selectedCatId=13021&sort=timeleft_asc&pgmode2=catpage"},"menuItems":[]},{"itemId":"74ae99a1-5ed5-44e4-842c-b49dc99e982d","text":"Experiences","properties":{"link":"http://auctions.mlb.com/iSynApp/allAuction.action?sid=1101001&rc=25&selectedCatId=13060&sort=timeleft_asc&pgmode2=catpage"},"menuItems":[]},{"itemId":"d41a4007-2f65-4b0f-a0a8-7df58870e507″,"text":"Game-Used","properties":{"link":"http://auctions.mlb.com/iSynApp/allAuction.action?sid=1101001&rc=25&selectedCatId=13022&sort=timeleft_asc&pgmode2=catpage"},"menuItems":[]},{"itemId":"aafaf49c-cfb9-432d-9119-f86a64fdbb27″,"text":"Jerseys","properties":{"link":"http://auctions.mlb.com/iSynApp/allAuction.action?sid=1101001&rc=25&selectedCatId=13062&sort=timeleft_asc&pgmode2=catpage"},"menuItems":[]},{"itemId":"c0be3bdb-025a-42ac-b09d-c391d058342b","text":"Photos","properties":{"link":"http://auctions.mlb.com/iSynApp/allAuction.action?sid=1101001&rc=25&selectedCatId=13024&sort=timeleft_asc&pgmode2=catpage"},"menuItems":[]}]},{"itemId":"98430c25-7924-4112-a70f-0b32fd31594f","text":"Teams","properties":{"link":"https://www.mlb.com/team","customProperties":"amp:true;module:teammodule;align:right;"},"menuItems":[{"itemId":"9191834c-54c4-40a7-8aac-9745d3666084″,"text":"Team Module","properties":{"customProperties":"module:teammodule;"},"menuItems":[]}]},{"itemId":"397b9e10-6d65-4fc0-bbe6-8d07f5e8d3a8″,"text":"ES","properties":{"link":"https://www.mlb.com/es","customProperties":"align:right;","toolTip":"Español"},"menuItems":[{"itemId":"ceb83c80-eaf2-4dd4-bdc6-e23b1e11ae60″,"text":"日本語","properties":{"link":"http://www.mlb.jp/","customProperties":"lang:ja"},"menuItems":[]},{"itemId":"27ac6728-00c1-4965-963b-05d33268fb50″,"text":"한국어","properties":{"link":"https://www.mlbkor.com/","customProperties":"lang:ko"},"menuItems":[]}]}]},"locale":"en","reqPath":"/news/roberto-clemente-day-celebrated-2021″,"sharedNav":{"instanceId":"6c265854-d856-4f92-aea1-07dfe5cda020″,"name":"shared-nav","variables":[],"menuItems":[{"itemId":"93b3e9b2-65a9-4585-9185-03e255cb523c","text":"MLB.TV","properties":{"link":"https://www.mlb.com/tv?&affiliateId=clubMENU","icon":"watch","customProperties":"align:right;"},"menuItems":[{"itemId":"162f5687-7f5b-4422-a782-133dc3db8aa0″,"text":"Buy MLB.TV","properties":{"link":"https://www.mlb.com/live-stream-games/subscribe?&affiliateId=clubMENU"},"menuItems":[]},{"itemId":"f75d3e53-5cc5-4eb5-b64d-7e72c3f601b9″,"text":"Buy MLB Audio","properties":{"link":"https://www.mlb.com/live-stream-games/subscribe/mlb-audio?&affiliateId=clubMENU"},"menuItems":[]},{"itemId":"d54a2b21-9db9-4252-9ebe-e3a4b2a3cf83″,"text":"Watch MLB.TV","properties":{"link":"https://www.mlb.com/live-stream-games?&affiliateId=clubMENU"},"menuItems":[]},{"itemId":"dcd7d391-b324-4b75-81cd-47e27639771a","text":"Free MLB.TV For College Students","properties":{"link":"https://www.mlb.com/live-stream-games/students?&affiliateId=clubMENU"},"menuItems":[]},{"itemId":"28f71773-a34e-46c5-bdbc-ac6476c5fc7a","text":"MLB Big Inning","properties":{"link":"https://www.mlb.com/live-stream-games/big-inning"},"menuItems":[]},{"itemId":"703b5c44-a9b4-46a2-bc2e-33112a413980″,"text":"MLB.TV Gift Giving","properties":{"link":"https://www.mlb.com/live-stream-games/subscribe/gift-giving"},"menuItems":[]},{"itemId":"2d8d6ad8-dc2a-4971-9b12-f1853530c5d3″,"text":"Watch MLB.TV Docs & Features","properties":{"link":"https://www.mlb.com/tv/featured?&affiliateId=clubMENU"},"menuItems":[]},{"itemId":"6254640c-2069-4447-822f-084d0a38f161″,"text":"MLB.TV Help Center","properties":{"link":"https://www.mlb.com/live-stream-games/help-center?&affiliateId=clubMENU"},"menuItems":[]},{"itemId":"6d167d3d-4063-43ae-b13c-283e83c0e91c","text":"MLB.TV with Extra Innings","properties":{"link":"https://www.mlb.com/live-stream-games/third-party?&affiliateId=clubMENU"},"menuItems":[]}]},{"itemId":"d54d0be0-f610-4f8b-90ac-c246c361e2e2″,"text":"Fantasy","properties":{"link":"https://www.mlb.com/fantasy"},"menuItems":[{"itemId":"5ec4bde4-6bc1-412b-a92b-6b7cb3b2f07c","text":"Yahoo Fantasy Baseball","properties":{"link":"http://yhoo.it/3aK5QQw","visible":"true"},"menuItems":[]},{"itemId":"b2a63b51-03fc-423d-971e-1e566f6008f4″,"text":"MLB Rally","properties":{"link":"https://www.mlb.com/apps/rally","visible":"true"},"menuItems":[]},{"itemId":"f6929b88-632d-4a6f-ba73-8a64fccba1b0″,"text":"MLB Quick Pick","properties":{"link":"https://www.mlb.com/apps/rally/quickpick"},"menuItems":[]},{"itemId":"0ebe9e5d-3fc7-48d2-acb1-c33eb931b911″,"text":"MLB Beat the Streak","properties":{"link":"https://www.mlb.com/apps/beat-the-streak","visible":"true"},"menuItems":[]},{"itemId":"086bd307-a929-4414-9dd7-09bdac8d3f2e","text":"MLB MOONBLASTS Pick 'Em","properties":{"link":"https://www.mlb.com/sponsorship/ftx-moonblasts-pick-em","customProperties":"expires:1627754400″},"menuItems":[]},{"itemId":"14aa1d4b-0193-4670-a1fc-b4386d4977e8″,"text":"The Vault","properties":{"link":"https://www.mlb.com/the-vault"},"menuItems":[]},{"itemId":"1543c12c-66d1-4033-9e05-c025fcb71a6a","text":"R.B.I. Baseball 21″,"properties":{"link":"https://www.rbigame.com"},"menuItems":[]},{"itemId":"4e0abdd4-8a0f-4bc5-838f-91dd2796041e","text":"MLB Home Run Derby","properties":{"link":"https://www.mlb.com/fantasy/home-run-derby"},"menuItems":[]},{"itemId":"7d8dfda7-345a-46fa-82dc-105068ba223e","text":"Season Pick 'Em","properties":{"link":"https://www.mlb.com/season-pick-em?affiliateId=spe-fantasynav-club-2021″,"visible":"false"},"menuItems":[]},{"itemId":"6eda396d-199b-4772-b3c9-c0b032513b6c","text":"MLB Pre-Pick (AUS)","properties":{"customProperties":"","link":"https://www.mlb.com/pre-pick/tab"},"menuItems":[]},{"itemId":"9f1ff266-0ed8-4adb-ba77-428d1871b237″,"text":"Closer Report","properties":{"link":"https://www.mlb.com/closer-report","visible":"false"},"menuItems":[]},{"itemId":"4c4f57bd-e31a-46c9-8f73-0fa2227451d3″,"text":"Prospect Rankings","properties":{"link":"https://www.mlb.com/prospects"},"menuItems":[]},{"itemId":"1ebe4dc3-2c6a-469f-be59-474fe14dbbd7″,"text":"MLB Champions","properties":{"link":"https://www.mlbc-app.com/?ref=mlbcom"},"menuItems":[]}]},{"itemId":"d1f61f89-9fd0-4f03-be17-2c5e128711a4″,"text":"Apps","properties":{"link":"https://www.mlb.com/apps"},"menuItems":[{"itemId":"83ac2ddf-414b-47d1-afec-ffacd068ab57″,"text":"MLB","properties":{"link":"https://www.mlb.com/apps/mlb-app"},"menuItems":[]},{"itemId":"83dbba73-02ac-4ba0-bebf-2c62ef04c19e","text":"MLB Rally","properties":{"link":"https://www.mlb.com/apps/rally","visible":"true"},"menuItems":[]},{"itemId":"26fda476-348c-4f42-aa7c-92d1f9b1bf5c","text":"MLB Beat the Streak","properties":{"link":"https://www.mlb.com/apps/beat-the-streak"},"menuItems":[]},{"itemId":"e09e6978-fcf7-4c2f-8387-59d83b7be38e","text":"MLB Ballpark","properties":{"link":"https://www.mlb.com/apps/ballpark"},"menuItems":[]},{"itemId":"5e7b8019-9484-4872-abd7-8b963cd5969e","text":"MiLB First Pitch","properties":{"link":"https://www.milb.com/about/first-pitch"},"menuItems":[]},{"itemId":"e3a0183d-1b5f-4e56-9b81-02632ba4ec60″,"text":"R.B.I. Baseball 21″,"properties":{"link":"https://www.rbigame.com"},"menuItems":[]},{"itemId":"4fd8c1f8-a753-4501-916c-663390f1a566″,"text":"MLB Home Run Derby","properties":{"link":"https://www.mlb.com/fantasy/home-run-derby"},"menuItems":[]},{"itemId":"9d8dfe8b-be1a-4ebf-9509-6bd0165a868e","text":"MLB FAQs","properties":{"link":"https://www.mlb.com/apps/mlb-app/faq-apple"},"menuItems":[]},{"itemId":"df4e8527-e357-4272-bcf7-61876ed9455d","text":"MLB Ballpark FAQs","properties":{"link":"https://www.mlb.com/apps/ballpark/faq-apple","visible":"true"},"menuItems":[]},{"itemId":"c2943c65-a843-437a-9ef4-4ccfe5be088f","text":"MLB Rally FAQs","properties":{"link":"https://www.mlb.com/apps/rally/faq-apple","visible":"true"},"menuItems":[]}]}]},"styleProps":{},"teamNameSlug":"","teamsData":[{"id":133,"name":"Oakland Athletics","link":"/api/v1/teams/133″,"season":2021,"venue":{"id":10,"name":"Oakland Coliseum","link":"/api/v1/venues/10″,"location":{"address1″:"7000 Coliseum Way","city":"Oakland","state":"California","stateAbbrev":"CA","postalCode":"94621″,"defaultCoordinates":{"latitude":37.751511,"longitude":-122.200698},"country":"USA","phone":"(510) 638-4900″},"timeZone":{"id":"America/Los_Angeles","offset":-7,"tz":"PDT"},"active":true},"springVenue":{"id":2507,"link":"/api/v1/venues/2507″},"teamCode":"oak","fileCode":"oak","abbreviation":"OAK","teamName":"Athletics","locationName":"Oakland","firstYearOfPlay":"1901″,"league":{"id":103,"name":"American League","link":"/api/v1/league/103″},"division":{"id":200,"name":"American League West","link":"/api/v1/divisions/200″},"sport":{"id":1,"link":"/api/v1/sports/1″,"name":"Major League Baseball"},"shortName":"Oakland","franchiseName":"Oakland","clubName":"Athletics","springLeague":{"id":114,"name":"Cactus League","link":"/api/v1/league/114″,"abbreviation":"CL"},"allStarStatus":"N","active":true},{"id":134,"name":"Pittsburgh Pirates","link":"/api/v1/teams/134″,"season":2021,"venue":{"id":31,"name":"PNC Park","link":"/api/v1/venues/31″,"location":{"address1″:"115 Federal Street","city":"Pittsburgh","state":"Pennsylvania","stateAbbrev":"PA","postalCode":"15212″,"defaultCoordinates":{"latitude":40.446904,"longitude":-80.005753},"country":"USA","phone":"(412) 323-5000″},"timeZone":{"id":"America/New_York","offset":-4,"tz":"EDT"},"active":true},"springVenue":{"id":2526,"link":"/api/v1/venues/2526″},"teamCode":"pit","fileCode":"pit","abbreviation":"PIT","teamName":"Pirates","locationName":"Pittsburgh","firstYearOfPlay":"1882″,"league":{"id":104,"name":"National League","link":"/api/v1/league/104″},"division":{"id":205,"name":"National League Central","link":"/api/v1/divisions/205″},"sport":{"id":1,"link":"/api/v1/sports/1″,"name":"Major League Baseball"},"shortName":"Pittsburgh","franchiseName":"Pittsburgh","clubName":"Pirates","springLeague":{"id":115,"name":"Grapefruit League","link":"/api/v1/league/115″,"abbreviation":"GL"},"allStarStatus":"N","active":true},{"id":135,"name":"San Diego Padres","link":"/api/v1/teams/135″,"season":2021,"venue":{"id":2680,"name":"Petco Park","link":"/api/v1/venues/2680″,"location":{"address1″:"100 Park Boulevard","city":"San Diego","state":"California","stateAbbrev":"CA","postalCode":"92101″,"defaultCoordinates":{"latitude":32.707861,"longitude":-117.157278},"country":"USA","phone":"(619) 795-5000″},"timeZone":{"id":"America/Los_Angeles","offset":-7,"tz":"PDT"},"active":true},"springVenue":{"id":2530,"link":"/api/v1/venues/2530″},"teamCode":"sdn","fileCode":"sd","abbreviation":"SD","teamName":"Padres","locationName":"San Diego","firstYearOfPlay":"1968″,"league":{"id":104,"name":"National League","link":"/api/v1/league/104″},"division":{"id":203,"name":"National League West","link":"/api/v1/divisions/203″},"sport":{"id":1,"link":"/api/v1/sports/1″,"name":"Major League Baseball"},"shortName":"San Diego","franchiseName":"San Diego","clubName":"Padres","springLeague":{"id":114,"name":"Cactus League","link":"/api/v1/league/114″,"abbreviation":"CL"},"allStarStatus":"N","active":true},{"id":136,"name":"Seattle Mariners","link":"/api/v1/teams/136″,"season":2021,"venue":{"id":680,"name":"T-Mobile Park","link":"/api/v1/venues/680″,"location":{"address1″:"P.O. Box 4100″,"city":"Seattle","state":"Washington","stateAbbrev":"WA","postalCode":"98104″,"defaultCoordinates":{"latitude":47.591333,"longitude":-122.33251},"country":"USA","phone":"(206) 346-4000″},"timeZone":{"id":"America/Los_Angeles","offset":-7,"tz":"PDT"},"active":true},"springVenue":{"id":2530,"link":"/api/v1/venues/2530″},"teamCode":"sea","fileCode":"sea","abbreviation":"SEA","teamName":"Mariners","locationName":"Seattle","firstYearOfPlay":"1977″,"league":{"id":103,"name":"American League","link":"/api/v1/league/103″},"division":{"id":200,"name":"American League West","link":"/api/v1/divisions/200″},"sport":{"id":1,"link":"/api/v1/sports/1″,"name":"Major League Baseball"},"shortName":"Seattle","franchiseName":"Seattle","clubName":"Mariners","springLeague":{"id":114,"name":"Cactus League","link":"/api/v1/league/114″,"abbreviation":"CL"},"allStarStatus":"N","active":true},{"id":137,"name":"San Francisco Giants","link":"/api/v1/teams/137″,"season":2021,"venue":{"id":2395,"name":"Oracle Park","link":"/api/v1/venues/2395″,"location":{"address1″:"24 Willie Mays Plaza","city":"San Francisco","state":"California","stateAbbrev":"CA","postalCode":"94107″,"defaultCoordinates":{"latitude":37.778383,"longitude":-122.389448},"country":"USA","phone":"(415) 972-2000″},"timeZone":{"id":"America/Los_Angeles","offset":-7,"tz":"PDT"},"active":true},"springVenue":{"id":2532,"link":"/api/v1/venues/2532″},"teamCode":"sfn","fileCode":"sf","abbreviation":"SF","teamName":"Giants","locationName":"San Francisco","firstYearOfPlay":"1883″,"league":{"id":104,"name":"National League","link":"/api/v1/league/104″},"division":{"id":203,"name":"National League West","link":"/api/v1/divisions/203″},"sport":{"id":1,"link":"/api/v1/sports/1″,"name":"Major League Baseball"},"shortName":"San Francisco","franchiseName":"San Francisco","clubName":"Giants","springLeague":{"id":114,"name":"Cactus League","link":"/api/v1/league/114″,"abbreviation":"CL"},"allStarStatus":"N","active":true},{"id":138,"name":"St. Louis Cardinals","link":"/api/v1/teams/138″,"season":2021,"venue":{"id":2889,"name":"Busch Stadium","link":"/api/v1/venues/2889″,"location":{"address1″:"700 Clark Street","city":"St. Louis","state":"Missouri","stateAbbrev":"MO","postalCode":"63102″,"defaultCoordinates":{"latitude":38.62256667,"longitude":-90.19286667},"country":"USA","phone":"(314) 345-9600″},"timeZone":{"id":"America/Chicago","offset":-5,"tz":"CDT"},"active":true},"springVenue":{"id":2520,"link":"/api/v1/venues/2520″},"teamCode":"sln","fileCode":"stl","abbreviation":"STL","teamName":"Cardinals","locationName":"St. Louis","firstYearOfPlay":"1892″,"league":{"id":104,"name":"National League","link":"/api/v1/league/104″},"division":{"id":205,"name":"National League Central","link":"/api/v1/divisions/205″},"sport":{"id":1,"link":"/api/v1/sports/1″,"name":"Major League Baseball"},"shortName":"St. Louis","franchiseName":"St. Louis","clubName":"Cardinals","springLeague":{"id":115,"name":"Grapefruit League","link":"/api/v1/league/115″,"abbreviation":"GL"},"allStarStatus":"N","active":true},{"id":139,"name":"Tampa Bay Rays","link":"/api/v1/teams/139″,"season":2021,"venue":{"id":12,"name":"Tropicana Field","link":"/api/v1/venues/12″,"location":{"address1″:"One Tropicana Drive","city":"St. Petersburg","state":"Florida","stateAbbrev":"FL","postalCode":"33705″,"defaultCoordinates":{"latitude":27.767778,"longitude":-82.6525},"country":"USA","phone":"(727) 825-3137″},"timeZone":{"id":"America/New_York","offset":-4,"tz":"EDT"},"active":true},"springVenue":{"id":2534,"link":"/api/v1/venues/2534″},"teamCode":"tba","fileCode":"tb","abbreviation":"TB","teamName":"Rays","locationName":"St. Petersburg","firstYearOfPlay":"1996″,"league":{"id":103,"name":"American League","link":"/api/v1/league/103″},"division":{"id":201,"name":"American League East","link":"/api/v1/divisions/201″},"sport":{"id":1,"link":"/api/v1/sports/1″,"name":"Major League Baseball"},"shortName":"Tampa Bay","franchiseName":"Tampa Bay","clubName":"Rays","springLeague":{"id":115,"name":"Grapefruit League","link":"/api/v1/league/115″,"abbreviation":"GL"},"allStarStatus":"N","active":true},{"id":140,"name":"Texas Rangers","link":"/api/v1/teams/140″,"season":2021,"venue":{"id":5325,"name":"Globe Life Field","link":"/api/v1/venues/5325″,"location":{"address1″:"734 Stadium Drive","city":"Arlington","state":"Texas","stateAbbrev":"TX","postalCode":"76011″,"defaultCoordinates":{"latitude":32.747299,"longitude":-97.081818},"country":"USA","phone":"(817) 533-1972″},"timeZone":{"id":"America/Chicago","offset":-5,"tz":"CDT"},"active":true},"springVenue":{"id":2603,"link":"/api/v1/venues/2603″},"teamCode":"tex","fileCode":"tex","abbreviation":"TEX","teamName":"Rangers","locationName":"Arlington","firstYearOfPlay":"1961″,"league":{"id":103,"name":"American League","link":"/api/v1/league/103″},"division":{"id":200,"name":"American League West","link":"/api/v1/divisions/200″},"sport":{"id":1,"link":"/api/v1/sports/1″,"name":"Major League Baseball"},"shortName":"Texas","franchiseName":"Texas","clubName":"Rangers","springLeague":{"id":114,"name":"Cactus League","link":"/api/v1/league/114″,"abbreviation":"CL"},"allStarStatus":"N","active":true},{"id":141,"name":"Toronto Blue Jays","link":"/api/v1/teams/141″,"season":2021,"venue":{"id":14,"name":"Rogers Centre","link":"/api/v1/venues/14″,"location":{"address1″:"1 Blue Jays Way, Suite 3200″,"city":"Toronto","state":"Ontario","stateAbbrev":"ON","postalCode":"M5V1J1″,"defaultCoordinates":{"latitude":43.64155,"longitude":-79.38915},"country":"Canada","phone":"(416) 341-1000″},"timeZone":{"id":"America/Toronto","offset":-4,"tz":"EDT"},"active":true},"springVenue":{"id":2536,"link":"/api/v1/venues/2536″},"teamCode":"tor","fileCode":"tor","abbreviation":"TOR","teamName":"Blue Jays","locationName":"Toronto","firstYearOfPlay":"1977″,"league":{"id":103,"name":"American League","link":"/api/v1/league/103″},"division":{"id":201,"name":"American League East","link":"/api/v1/divisions/201″},"sport":{"id":1,"link":"/api/v1/sports/1″,"name":"Major League Baseball"},"shortName":"Toronto","franchiseName":"Toronto","clubName":"Blue Jays","springLeague":{"id":115,"name":"Grapefruit League","link":"/api/v1/league/115″,"abbreviation":"GL"},"allStarStatus":"N","active":true},{"id":142,"name":"Minnesota Twins","link":"/api/v1/teams/142″,"season":2021,"venue":{"id":3312,"name":"Target Field","link":"/api/v1/venues/3312″,"location":{"address1″:"1 Twins Way","city":"Minneapolis","state":"Minnesota","stateAbbrev":"MN","postalCode":"55403″,"defaultCoordinates":{"latitude":44.981829,"longitude":-93.277891},"country":"USA","phone":"(612) 659-3400″},"timeZone":{"id":"America/Chicago","offset":-5,"tz":"CDT"},"active":true},"springVenue":{"id":2862,"link":"/api/v1/venues/2862″},"teamCode":"min","fileCode":"min","abbreviation":"MIN","teamName":"Twins","locationName":"Minneapolis","firstYearOfPlay":"1901″,"league":{"id":103,"name":"American League","link":"/api/v1/league/103″},"division":{"id":202,"name":"American League Central","link":"/api/v1/divisions/202″},"sport":{"id":1,"link":"/api/v1/sports/1″,"name":"Major League Baseball"},"shortName":"Minnesota","franchiseName":"Minnesota","clubName":"Twins","springLeague":{"id":115,"name":"Grapefruit League","link":"/api/v1/league/115″,"abbreviation":"GL"},"allStarStatus":"N","active":true},{"id":143,"name":"Philadelphia Phillies","link":"/api/v1/teams/143″,"season":2021,"venue":{"id":2681,"name":"Citizens Bank Park","link":"/api/v1/venues/2681″,"location":{"address1″:"One Citizens Bank Way","city":"Philadelphia","state":"Pennsylvania","stateAbbrev":"PA","postalCode":"19148″,"defaultCoordinates":{"latitude":39.90539086,"longitude":-75.16716957},"country":"USA","phone":"(215) 463-6000″},"timeZone":{"id":"America/New_York","offset":-4,"tz":"EDT"},"active":true},"springVenue":{"id":2700,"link":"/api/v1/venues/2700″},"teamCode":"phi","fileCode":"phi","abbreviation":"PHI","teamName":"Phillies","locationName":"Philadelphia","firstYearOfPlay":"1883″,"league":{"id":104,"name":"National League","link":"/api/v1/league/104″},"division":{"id":204,"name":"National League East","link":"/api/v1/divisions/204″},"sport":{"id":1,"link":"/api/v1/sports/1″,"name":"Major League Baseball"},"shortName":"Philadelphia","franchiseName":"Philadelphia","clubName":"Phillies","springLeague":{"id":115,"name":"Grapefruit League","link":"/api/v1/league/115″,"abbreviation":"GL"},"allStarStatus":"N","active":true},{"id":144,"name":"Atlanta Braves","link":"/api/v1/teams/144″,"season":2021,"venue":{"id":4705,"name":"Truist Park","link":"/api/v1/venues/4705″,"location":{"address1″:"755 Battery Avenue","city":"Atlanta","state":"Georgia","stateAbbrev":"GA","postalCode":"30339″,"defaultCoordinates":{"latitude":33.890672,"longitude":-84.467641},"country":"USA"},"timeZone":{"id":"America/New_York","offset":-4,"tz":"EDT"},"active":true},"springVenue":{"id":5380,"link":"/api/v1/venues/5380″},"teamCode":"atl","fileCode":"atl","abbreviation":"ATL","teamName":"Braves","locationName":"Atlanta","firstYearOfPlay":"1871″,"league":{"id":104,"name":"National League","link":"/api/v1/league/104″},"division":{"id":204,"name":"National League East","link":"/api/v1/divisions/204″},"sport":{"id":1,"link":"/api/v1/sports/1″,"name":"Major League Baseball"},"shortName":"Atlanta","franchiseName":"Atlanta","clubName":"Braves","springLeague":{"id":115,"name":"Grapefruit League","link":"/api/v1/league/115″,"abbreviation":"GL"},"allStarStatus":"N","active":true},{"id":145,"name":"Chicago White Sox","link":"/api/v1/teams/145″,"season":2021,"venue":{"id":4,"name":"Guaranteed Rate Field","link":"/api/v1/venues/4″,"location":{"address1″:"333 West 35th Street","city":"Chicago","state":"Illinois","stateAbbrev":"IL","postalCode":"60616″,"defaultCoordinates":{"latitude":41.83,"longitude":-87.634167},"country":"USA","phone":"(312) 674-1000″},"timeZone":{"id":"America/Chicago","offset":-5,"tz":"CDT"},"active":true},"springVenue":{"id":3809,"link":"/api/v1/venues/3809″},"teamCode":"cha","fileCode":"cws","abbreviation":"CWS","teamName":"White Sox","locationName":"Chicago","firstYearOfPlay":"1901″,"league":{"id":103,"name":"American League","link":"/api/v1/league/103″},"division":{"id":202,"name":"American League Central","link":"/api/v1/divisions/202″},"sport":{"id":1,"link":"/api/v1/sports/1″,"name":"Major League Baseball"},"shortName":"Chi White Sox","franchiseName":"Chicago","clubName":"White Sox","springLeague":{"id":114,"name":"Cactus League","link":"/api/v1/league/114″,"abbreviation":"CL"},"allStarStatus":"N","active":true},{"id":146,"name":"Miami Marlins","link":"/api/v1/teams/146″,"season":2021,"venue":{"id":4169,"name":"loanDepot park","link":"/api/v1/venues/4169″,"location":{"address1″:"501 Marlins Way","city":"Miami","state":"Florida","stateAbbrev":"FL","postalCode":"33125″,"defaultCoordinates":{"latitude":25.77796236,"longitude":-80.21951795},"country":"USA"},"timeZone":{"id":"America/New_York","offset":-4,"tz":"EDT"},"active":true},"springVenue":{"id":2520,"link":"/api/v1/venues/2520″},"teamCode":"mia","fileCode":"mia","abbreviation":"MIA","teamName":"Marlins","locationName":"Miami","firstYearOfPlay":"1991″,"league":{"id":104,"name":"National League","link":"/api/v1/league/104″},"division":{"id":204,"name":"National League East","link":"/api/v1/divisions/204″},"sport":{"id":1,"link":"/api/v1/sports/1″,"name":"Major League Baseball"},"shortName":"Miami","franchiseName":"Miami","clubName":"Marlins","springLeague":{"id":115,"name":"Grapefruit League","link":"/api/v1/league/115″,"abbreviation":"GL"},"allStarStatus":"N","active":true},{"id":147,"name":"New York Yankees","link":"/api/v1/teams/147″,"season":2021,"venue":{"id":3313,"name":"Yankee Stadium","link":"/api/v1/venues/3313″,"location":{"address1″:"One East 161st Street","city":"Bronx","state":"New York","stateAbbrev":"NY","postalCode":"10451″,"defaultCoordinates":{"latitude":40.82919482,"longitude":-73.9264977},"country":"USA","phone":"(718) 293-4300″},"timeZone":{"id":"America/New_York","offset":-4,"tz":"EDT"},"active":true},"springVenue":{"id":2523,"link":"/api/v1/venues/2523″},"teamCode":"nya","fileCode":"nyy","abbreviation":"NYY","teamName":"Yankees","locationName":"Bronx","firstYearOfPlay":"1903″,"league":{"id":103,"name":"American League","link":"/api/v1/league/103″},"division":{"id":201,"name":"American League East","link":"/api/v1/divisions/201″},"sport":{"id":1,"link":"/api/v1/sports/1″,"name":"Major League Baseball"},"shortName":"NY Yankees","franchiseName":"New York","clubName":"Yankees","springLeague":{"id":115,"name":"Grapefruit League","link":"/api/v1/league/115″,"abbreviation":"GL"},"allStarStatus":"N","active":true},{"id":158,"name":"Milwaukee Brewers","link":"/api/v1/teams/158″,"season":2021,"venue":{"id":32,"name":"American Family Field","link":"/api/v1/venues/32″,"location":{"address1″:"One Brewers Way","city":"Milwaukee","state":"Wisconsin","stateAbbrev":"WI","postalCode":"53214″,"defaultCoordinates":{"latitude":43.02838,"longitude":-87.97099},"country":"USA","phone":"(414) 902-4400″},"timeZone":{"id":"America/Chicago","offset":-5,"tz":"CDT"},"active":true},"springVenue":{"id":2518,"link":"/api/v1/venues/2518″},"teamCode":"mil","fileCode":"mil","abbreviation":"MIL","teamName":"Brewers","locationName":"Milwaukee","firstYearOfPlay":"1968″,"league":{"id":104,"name":"National League","link":"/api/v1/league/104″},"division":{"id":205,"name":"National League Central","link":"/api/v1/divisions/205″},"sport":{"id":1,"link":"/api/v1/sports/1″,"name":"Major League Baseball"},"shortName":"Milwaukee","franchiseName":"Milwaukee","clubName":"Brewers","springLeague":{"id":114,"name":"Cactus League","link":"/api/v1/league/114″,"abbreviation":"CL"},"allStarStatus":"N","active":true},{"id":108,"name":"Los Angeles Angels","link":"/api/v1/teams/108″,"season":2021,"venue":{"id":1,"name":"Angel Stadium","link":"/api/v1/venues/1″,"location":{"address1″:"2000 Gene Autry Way","city":"Anaheim","state":"California","stateAbbrev":"CA","postalCode":"92806″,"defaultCoordinates":{"latitude":33.80019044,"longitude":-117.8823996},"country":"USA","phone":"(714) 940-2000″},"timeZone":{"id":"America/Los_Angeles","offset":-7,"tz":"PDT"},"active":true},"springVenue":{"id":2500,"link":"/api/v1/venues/2500″},"teamCode":"ana","fileCode":"ana","abbreviation":"LAA","teamName":"Angels","locationName":"Anaheim","firstYearOfPlay":"1961″,"league":{"id":103,"name":"American League","link":"/api/v1/league/103″},"division":{"id":200,"name":"American League West","link":"/api/v1/divisions/200″},"sport":{"id":1,"link":"/api/v1/sports/1″,"name":"Major League Baseball"},"shortName":"LA Angels","franchiseName":"Los Angeles","clubName":"Angels","springLeague":{"id":114,"name":"Cactus League","link":"/api/v1/league/114″,"abbreviation":"CL"},"allStarStatus":"N","active":true},{"id":109,"name":"Arizona Diamondbacks","link":"/api/v1/teams/109″,"season":2021,"venue":{"id":15,"name":"Chase Field","link":"/api/v1/venues/15″,"location":{"address1″:"401 East Jefferson Street","city":"Phoenix","state":"Arizona","stateAbbrev":"AZ","postalCode":"85004″,"defaultCoordinates":{"latitude":33.445302,"longitude":-112.066687},"country":"USA","phone":"(602) 462-6500″},"timeZone":{"id":"America/Phoenix","offset":-7,"tz":"MST"},"active":true},"springVenue":{"id":4249,"link":"/api/v1/venues/4249″},"teamCode":"ari","fileCode":"ari","abbreviation":"ARI","teamName":"D-backs","locationName":"Phoenix","firstYearOfPlay":"1996″,"league":{"id":104,"name":"National League","link":"/api/v1/league/104″},"division":{"id":203,"name":"National League West","link":"/api/v1/divisions/203″},"sport":{"id":1,"link":"/api/v1/sports/1″,"name":"Major League Baseball"},"shortName":"Arizona","franchiseName":"Arizona","clubName":"Diamondbacks","springLeague":{"id":114,"name":"Cactus League","link":"/api/v1/league/114″,"abbreviation":"CL"},"allStarStatus":"N","active":true},{"id":110,"name":"Baltimore Orioles","link":"/api/v1/teams/110″,"season":2021,"venue":{"id":2,"name":"Oriole Park at Camden Yards","link":"/api/v1/venues/2″,"location":{"address1″:"333 West Camden Street","city":"Baltimore","state":"Maryland","stateAbbrev":"MD","postalCode":"21201″,"defaultCoordinates":{"latitude":39.283787,"longitude":-76.621689},"country":"USA","phone":"(410) 685-9800″},"timeZone":{"id":"America/New_York","offset":-4,"tz":"EDT"},"active":true},"springVenue":{"id":2508,"link":"/api/v1/venues/2508″},"teamCode":"bal","fileCode":"bal","abbreviation":"BAL","teamName":"Orioles","locationName":"Baltimore","firstYearOfPlay":"1901″,"league":{"id":103,"name":"American League","link":"/api/v1/league/103″},"division":{"id":201,"name":"American League East","link":"/api/v1/divisions/201″},"sport":{"id":1,"link":"/api/v1/sports/1″,"name":"Major League Baseball"},"shortName":"Baltimore","franchiseName":"Baltimore","clubName":"Orioles","springLeague":{"id":115,"name":"Grapefruit League","link":"/api/v1/league/115″,"abbreviation":"GL"},"allStarStatus":"N","active":true},{"id":111,"name":"Boston Red Sox","link":"/api/v1/teams/111″,"season":2021,"venue":{"id":3,"name":"Fenway Park","link":"/api/v1/venues/3″,"location":{"address1″:"4 Yawkey Way","city":"Boston","state":"Massachusetts","stateAbbrev":"MA","postalCode":"2215″,"defaultCoordinates":{"latitude":42.346456,"longitude":-71.097441},"country":"USA","phone":"(617) 267-9440″},"timeZone":{"id":"America/New_York","offset":-4,"tz":"EDT"},"active":true},"springVenue":{"id":4309,"link":"/api/v1/venues/4309″},"teamCode":"bos","fileCode":"bos","abbreviation":"BOS","teamName":"Red Sox","locationName":"Boston","firstYearOfPlay":"1901″,"league":{"id":103,"name":"American League","link":"/api/v1/league/103″},"division":{"id":201,"name":"American League East","link":"/api/v1/divisions/201″},"sport":{"id":1,"link":"/api/v1/sports/1″,"name":"Major League Baseball"},"shortName":"Boston","franchiseName":"Boston","clubName":"Red Sox","springLeague":{"id":115,"name":"Grapefruit League","link":"/api/v1/league/115″,"abbreviation":"GL"},"allStarStatus":"N","active":true},{"id":112,"name":"Chicago Cubs","link":"/api/v1/teams/112″,"season":2021,"venue":{"id":17,"name":"Wrigley Field","link":"/api/v1/venues/17″,"location":{"address1″:"1060 West Addison","city":"Chicago","state":"Illinois","stateAbbrev":"IL","postalCode":"60613-4397″,"defaultCoordinates":{"latitude":41.948171,"longitude":-87.655503},"country":"USA","phone":"(773) 404-2827″},"timeZone":{"id":"America/Chicago","offset":-5,"tz":"CDT"},"active":true},"springVenue":{"id":4629,"link":"/api/v1/venues/4629″},"teamCode":"chn","fileCode":"chc","abbreviation":"CHC","teamName":"Cubs","locationName":"Chicago","firstYearOfPlay":"1874″,"league":{"id":104,"name":"National League","link":"/api/v1/league/104″},"division":{"id":205,"name":"National League Central","link":"/api/v1/divisions/205″},"sport":{"id":1,"link":"/api/v1/sports/1″,"name":"Major League Baseball"},"shortName":"Chi Cubs","franchiseName":"Chicago","clubName":"Cubs","springLeague":{"id":114,"name":"Cactus League","link":"/api/v1/league/114″,"abbreviation":"CL"},"allStarStatus":"N","active":true},{"id":113,"name":"Cincinnati Reds","link":"/api/v1/teams/113″,"season":2021,"venue":{"id":2602,"name":"Great American Ball Park","link":"/api/v1/venues/2602″,"location":{"address1″:"100 Main Street","city":"Cincinnati","state":"Ohio","stateAbbrev":"OH","postalCode":"45202-4109″,"defaultCoordinates":{"latitude":39.097389,"longitude":-84.506611},"country":"USA","phone":"(513) 765-7000″},"timeZone":{"id":"America/New_York","offset":-4,"tz":"EDT"},"active":true},"springVenue":{"id":3834,"link":"/api/v1/venues/3834″},"teamCode":"cin","fileCode":"cin","abbreviation":"CIN","teamName":"Reds","locationName":"Cincinnati","firstYearOfPlay":"1882″,"league":{"id":104,"name":"National League","link":"/api/v1/league/104″},"division":{"id":205,"name":"National League Central","link":"/api/v1/divisions/205″},"sport":{"id":1,"link":"/api/v1/sports/1″,"name":"Major League Baseball"},"shortName":"Cincinnati","franchiseName":"Cincinnati","clubName":"Reds","springLeague":{"id":114,"name":"Cactus League","link":"/api/v1/league/114″,"abbreviation":"CL"},"allStarStatus":"N","active":true},{"id":114,"name":"Cleveland Indians","link":"/api/v1/teams/114″,"season":2021,"venue":{"id":5,"name":"Progressive Field","link":"/api/v1/venues/5″,"location":{"address1″:"2401 Ontario Street","city":"Cleveland","state":"Ohio","stateAbbrev":"OH","postalCode":"44115″,"defaultCoordinates":{"latitude":41.495861,"longitude":-81.685255},"country":"USA","phone":"(216) 420-4200″},"timeZone":{"id":"America/New_York","offset":-4,"tz":"EDT"},"active":true},"springVenue":{"id":3834,"link":"/api/v1/venues/3834″},"teamCode":"cle","fileCode":"cle","abbreviation":"CLE","teamName":"Indians","locationName":"Cleveland","firstYearOfPlay":"1901″,"league":{"id":103,"name":"American League","link":"/api/v1/league/103″},"division":{"id":202,"name":"American League Central","link":"/api/v1/divisions/202″},"sport":{"id":1,"link":"/api/v1/sports/1″,"name":"Major League Baseball"},"shortName":"Cleveland","franchiseName":"Cleveland","clubName":"Indians","springLeague":{"id":114,"name":"Cactus League","link":"/api/v1/league/114″,"abbreviation":"CL"},"allStarStatus":"N","active":true},{"id":115,"name":"Colorado Rockies","link":"/api/v1/teams/115″,"season":2021,"venue":{"id":19,"name":"Coors Field","link":"/api/v1/venues/19″,"location":{"address1″:"2001 Blake Street","city":"Denver","state":"Colorado","stateAbbrev":"CO","postalCode":"80205-2000″,"defaultCoordinates":{"latitude":39.756042,"longitude":-104.994136},"country":"USA","phone":"(303) 292-0200″},"timeZone":{"id":"America/Denver","offset":-6,"tz":"MDT"},"active":true},"springVenue":{"id":4249,"link":"/api/v1/venues/4249″},"teamCode":"col","fileCode":"col","abbreviation":"COL","teamName":"Rockies","locationName":"Denver","firstYearOfPlay":"1992″,"league":{"id":104,"name":"National League","link":"/api/v1/league/104″},"division":{"id":203,"name":"National League West","link":"/api/v1/divisions/203″},"sport":{"id":1,"link":"/api/v1/sports/1″,"name":"Major League Baseball"},"shortName":"Colorado","franchiseName":"Colorado","clubName":"Rockies","springLeague":{"id":114,"name":"Cactus League","link":"/api/v1/league/114″,"abbreviation":"CL"},"allStarStatus":"N","active":true},{"id":116,"name":"Detroit Tigers","link":"/api/v1/teams/116″,"season":2021,"venue":{"id":2394,"name":"Comerica Park","link":"/api/v1/venues/2394″,"location":{"address1″:"2100 Woodward Avenue","city":"Detroit","state":"Michigan","stateAbbrev":"MI","postalCode":"48201″,"defaultCoordinates":{"latitude":42.3391151,"longitude":-83.048695},"country":"USA","phone":"(313) 471-2000″},"timeZone":{"id":"America/Detroit","offset":-4,"tz":"EDT"},"active":true},"springVenue":{"id":2511,"link":"/api/v1/venues/2511″},"teamCode":"det","fileCode":"det","abbreviation":"DET","teamName":"Tigers","locationName":"Detroit","firstYearOfPlay":"1901″,"league":{"id":103,"name":"American League","link":"/api/v1/league/103″},"division":{"id":202,"name":"American League Central","link":"/api/v1/divisions/202″},"sport":{"id":1,"link":"/api/v1/sports/1″,"name":"Major League Baseball"},"shortName":"Detroit","franchiseName":"Detroit","clubName":"Tigers","springLeague":{"id":115,"name":"Grapefruit League","link":"/api/v1/league/115″,"abbreviation":"GL"},"allStarStatus":"N","active":true},{"id":117,"name":"Houston Astros","link":"/api/v1/teams/117″,"season":2021,"venue":{"id":2392,"name":"Minute Maid Park","link":"/api/v1/venues/2392″,"location":{"address1″:"501 Crawford Street","city":"Houston","state":"Texas","stateAbbrev":"TX","postalCode":"77002″,"defaultCoordinates":{"latitude":29.756967,"longitude":-95.355509},"country":"USA","phone":"(713) 259-8000″},"timeZone":{"id":"America/Chicago","offset":-5,"tz":"CDT"},"active":true},"springVenue":{"id":5000,"link":"/api/v1/venues/5000″},"teamCode":"hou","fileCode":"hou","abbreviation":"HOU","teamName":"Astros","locationName":"Houston","firstYearOfPlay":"1962″,"league":{"id":103,"name":"American League","link":"/api/v1/league/103″},"division":{"id":200,"name":"American League West","link":"/api/v1/divisions/200″},"sport":{"id":1,"link":"/api/v1/sports/1″,"name":"Major League Baseball"},"shortName":"Houston","franchiseName":"Houston","clubName":"Astros","springLeague":{"id":115,"name":"Grapefruit League","link":"/api/v1/league/115″,"abbreviation":"GL"},"allStarStatus":"N","active":true},{"id":118,"name":"Kansas City Royals","link":"/api/v1/teams/118″,"season":2021,"venue":{"id":7,"name":"Kauffman Stadium","link":"/api/v1/venues/7″,"location":{"address1″:"One Royal Way","city":"Kansas City","state":"Missouri","stateAbbrev":"MO","postalCode":"64129″,"defaultCoordinates":{"latitude":39.051567,"longitude":-94.480483},"country":"USA","phone":"(816) 921-8000″},"timeZone":{"id":"America/Chicago","offset":-5,"tz":"CDT"},"active":true},"springVenue":{"id":2603,"link":"/api/v1/venues/2603″},"teamCode":"kca","fileCode":"kc","abbreviation":"KC","teamName":"Royals","locationName":"Kansas City","firstYearOfPlay":"1968″,"league":{"id":103,"name":"American League","link":"/api/v1/league/103″},"division":{"id":202,"name":"American League Central","link":"/api/v1/divisions/202″},"sport":{"id":1,"link":"/api/v1/sports/1″,"name":"Major League Baseball"},"shortName":"Kansas City","franchiseName":"Kansas City","clubName":"Royals","springLeague":{"id":114,"name":"Cactus League","link":"/api/v1/league/114″,"abbreviation":"CL"},"allStarStatus":"N","active":true},{"id":119,"name":"Los Angeles Dodgers","link":"/api/v1/teams/119″,"season":2021,"venue":{"id":22,"name":"Dodger Stadium","link":"/api/v1/venues/22″,"location":{"address1″:"1000 Vin Scully Avenue","city":"Los Angeles","state":"California","stateAbbrev":"CA","postalCode":"90012-1199″,"defaultCoordinates":{"latitude":34.07368,"longitude":-118.24053},"country":"USA","phone":"(323) 224-1500″},"timeZone":{"id":"America/Los_Angeles","offset":-7,"tz":"PDT"},"active":true},"springVenue":{"id":3809,"link":"/api/v1/venues/3809″},"teamCode":"lan","fileCode":"la","abbreviation":"LAD","teamName":"Dodgers","locationName":"Los Angeles","firstYearOfPlay":"1884″,"league":{"id":104,"name":"National League","link":"/api/v1/league/104″},"division":{"id":203,"name":"National League West","link":"/api/v1/divisions/203″},"sport":{"id":1,"link":"/api/v1/sports/1″,"name":"Major League Baseball"},"shortName":"LA Dodgers","franchiseName":"Los Angeles","clubName":"Dodgers","springLeague":{"id":114,"name":"Cactus League","link":"/api/v1/league/114″,"abbreviation":"CL"},"allStarStatus":"N","active":true},{"id":120,"name":"Washington Nationals","link":"/api/v1/teams/120″,"season":2021,"venue":{"id":3309,"name":"Nationals Park","link":"/api/v1/venues/3309″,"location":{"address1″:"1500 South Capitol Street, SE","city":"Washington","state":"District of Columbia","stateAbbrev":"DC","postalCode":"20003-1507″,"defaultCoordinates":{"latitude":38.872861,"longitude":-77.007501},"country":"USA","phone":"(202) 349-0400″},"timeZone":{"id":"America/New_York","offset":-4,"tz":"EDT"},"active":true},"springVenue":{"id":5000,"link":"/api/v1/venues/5000″},"teamCode":"was","fileCode":"was","abbreviation":"WSH","teamName":"Nationals","locationName":"Washington","firstYearOfPlay":"1968″,"league":{"id":104,"name":"National League","link":"/api/v1/league/104″},"division":{"id":204,"name":"National League East","link":"/api/v1/divisions/204″},"sport":{"id":1,"link":"/api/v1/sports/1″,"name":"Major League Baseball"},"shortName":"Washington","franchiseName":"Washington","clubName":"Nationals","springLeague":{"id":115,"name":"Grapefruit League","link":"/api/v1/league/115″,"abbreviation":"GL"},"allStarStatus":"N","active":true},{"id":121,"name":"New York Mets","link":"/api/v1/teams/121″,"season":2021,"venue":{"id":3289,"name":"Citi Field","link":"/api/v1/venues/3289″,"location":{"address1″:"Citi Field","city":"Flushing","state":"New York","stateAbbrev":"NY","postalCode":"11368″,"defaultCoordinates":{"latitude":40.75753012,"longitude":-73.84559155},"country":"USA","phone":"(718) 507-6387″},"timeZone":{"id":"America/New_York","offset":-4,"tz":"EDT"},"active":true},"springVenue":{"id":2856,"link":"/api/v1/venues/2856″},"teamCode":"nyn","fileCode":"nym","abbreviation":"NYM","teamName":"Mets","locationName":"Flushing","firstYearOfPlay":"1962″,"league":{"id":104,"name":"National League","link":"/api/v1/league/104″},"division":{"id":204,"name":"National League East","link":"/api/v1/divisions/204″},"sport":{"id":1,"link":"/api/v1/sports/1″,"name":"Major League Baseball"},"shortName":"NY Mets","franchiseName":"New York","clubName":"Mets","springLeague":{"id":115,"name":"Grapefruit League","link":"/api/v1/league/115″,"abbreviation":"GL"},"allStarStatus":"N","active":true}]},"isApp":false,"isCookieNoTrackQueryParam":false,"isPremiumQueryParam":false,"lang":"en","queryString":"","shareOptions":{"shareUrl":"https://www.mlb.com/news/roberto-clemente-day-celebrated-2021″,"twitterHandle":"mlb"},"storySlug":"roberto-clemente-day-celebrated-2021″,"topicSlug":"","userAgent":"Mozilla/5.0 (Linux; Android 11; SM-N970U) AppleWebKit/537.36 (KHTML, like Gecko) Chrome/93.0.4577.82 Mobile Safari/537.36″}}
window.adobeAnalytics = {"reportingSuiteId":"mlbglobal08,mlbcom08″,"linkInternalFilters":"mlb"}
window.globalState = {"tracking_title":"Major League Baseball","lang":"en"}
window.appId = "
/*–>*/
For nearly 50 years, Roberto Clemente's legacy has been largely defined by the final act of his life. When the plane he chartered to deliver supplies to earthquake victims in Nicaragua crashed off the coast of his native Puerto Rico shortly after takeoff on New Year's Eve 1972, Clemente's reputation as a selfless humanitarian became legend.
"Obviously, everyone knows what he did on the field, but off the field, the work he did to help the people — not only in Puerto Rico, but in other Latin countries — this guy is unbelievable," said Cardinals catcher and Puerto Rico native Yadier Molina. "You can learn from it."
Clemente, the first player from Latin America inducted into the National Baseball Hall of Fame, is also remembered as a magnificently talented baseball player. During his 18-year career with the Pirates, Clemente was a two-time World Series champion, 12-time Gold Glove Award winner in right field and 15-time All-Star. The 1966 National League MVP was also the first Latin American player to reach the hallowed 3,000-hit mark. Yet numbers hardly do justice to the exhilarating sight of Clemente tearing around the bases or his breathtaking throws from right field.
On Roberto Clemente Day, which coincides with the start of Hispanic Heritage Month in the U.S., we remember Clemente's altruism and his athletic prowess. But there's another element of Clemente's legacy that deserves acknowledgment on this day, and it is the way he stood up to bigotry and racism throughout his career in the hopes that those who came after him wouldn't have to.
Clemente arrived in the Major Leagues in 1955, eight years after Jackie Robinson became the first Black player in the history of the American and National Leagues, and nine years before President Lyndon B. Johnson signed the Civil Rights Act into law. It seems fitting that Clemente made his debut against Robinson and the Brooklyn Dodgers, as he would continue the struggle for racial equality within the game.
Being Afro-Latino made Clemente subject to Jim Crow laws, notably in Fort Myers, Fla., where the Pirates held Spring Training. Like the other Black players of his era, Clemente was not allowed to stay at the same hotels or share meals with his white teammates at restaurants. Yet legalized segregation was foreign to Clemente, who had grown up in a much more integrated society in Puerto Rico.
"My mother and father never taught me to hate anyone, or to dislike anyone because of their race or color," Clemente said in a television appearance in October 1972, which is considered his final interview with English-language media. "We never talked about that."
In that interview, the former U.S. Marine Corps reservist described becoming so indignant about having to wait on the team bus while his white teammates dined that he demanded Pirates general manager Joe Brown provide the team's Black players with a car of their own to travel in.
Clemente also had no problem calling out the mainstream media, which anglicized his name to "Bob" despite his objections and quoted him using phonetic spelling in abhorrent mockery of his accent. He challenged stereotypes about Latino players while demanding to be treated with respect and dignity, even as some of his peers urged him to keep his head down and remain quiet.
"They told me, 'Roberto, you better keep your mouth shut because they will ship you back,'" he recalled. "I said, 'I don't care one way or the other. If I'm good enough to play here, I have to be good enough to be treated like the rest of the players.'"
"[Clemente's] influence on the culture of leadership in baseball is what gets lost," says Adrian Burgos Jr., professor of history at the University of Illinois, who focuses on the participation of minorities in American professional sports. "Clemente was a figure who was not satisfied, was not acquiescent to those who refused to treat his people, Black and Latino, less than [they] treated the other individuals in baseball."
It wasn't until 1960, his sixth season in the Major Leagues, that Clemente's career really took off. He was selected to his first All-Star Game and won his first Gold Glove that year as he helped the Pirates beat the Yankees in a seven-game World Series. Yet even as he rose to stardom, Clemente remained a humble man who saw himself, as he put it, as belonging to "the common people of America."
Clemente's fierce pride in his Puerto Rican roots never wavered. It was never more evident than in 1971, when he slashed .414/.452/.759 in the Fall Classic to become the first Latin American player to be recognized with the World Series MVP Award. His performance included two home runs, the second a solo shot in the fourth inning of Game 7 that proved crucial in the 2-1 win that gave Pittsburgh the series victory over Baltimore.
To those following in Latin America, what Clemente did immediately after — ask his parents in Puerto Rico for their blessing, in Spanish, on national television — was just as heroic. In what he called the "biggest day of his life," Clemente asserted that he was still, above all, puertorriqueño.
"He was not embarrassed about being Puerto Rican, Latino, Black," Red Sox manager and Puerto Rico native Alex Cora said in Spanish. "On national television, he asked for a moment to speak Spanish. No one does that. He taught us resolve and conviction. In many ways, he showed the world that we have to fight for what we believe in and we have to stand up for our rights, and he did it the right way."
Clemente's efforts to make the game more welcoming for people like him is largely why he is a hero to the legions of Latin American players who followed in his footsteps and who get to wear their names on the backs of their jerseys complete with accent marks and tildes. It's why so many of MLB's Puerto Rican players were thrilled to join the Pirates in wearing Clemente's No. 21 on Roberto Clemente Day 2020, an opportunity that MLB has extended to all players this year.
Yet perhaps no one reveres Clemente more than his friend and former Pirates teammate, Panamanian-born catcher Manny Sanguillén.
Clemente and Sanguillén were part of the first all-Black and Latino lineup in AL/NL history on Sept. 1, 1971. Clemente, Sanguillén recalls, would often say that he strove for excellence because he wanted to create a path to the Majors for others like him by demonstrating players from Latin America had the skills and makeup to be difference-makers on the field.
"I have to take care of myself and play well so that one of these days, the Major Leagues will be full of Latinos," Sanguillén remembers Clemente saying.
Clemente, who was 38 at the time of the fatal plane accident, did not live long enough to see his vision fulfilled. But his impact endures. The 2021 Opening Day rosters featured 256 players from 20 countries and territories, the majority of them from Latin America. They included 18 players from Puerto Rico, many of whom have modeled their game after Clemente's.
"My dad taught me the game that way," Mets shortstop and Puerto Rico native Francisco Lindor said of Clemente's influence on his life. "Being aggressive, having fun, and then after you do all that, you go out there and help others and you become a great person off the field."
So on Roberto Clemente Day, we honor a great humanitarian and an extraordinarily gifted baseball player. But we also pay tribute to a man whose commitment to fairness, equality and inclusion changed the culture of our game for the better.