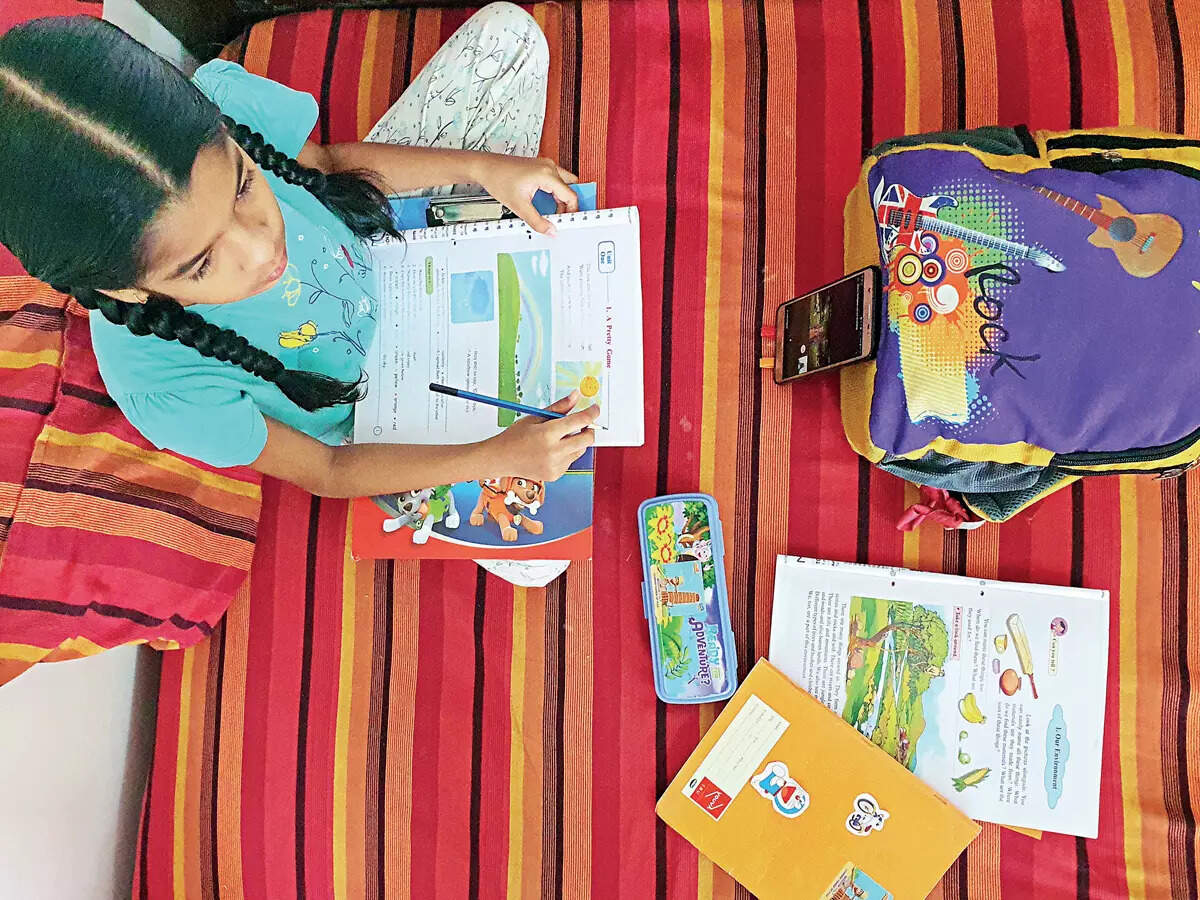 By Upama Upadhyaya
For over a year now, students have been attending lessons online, most of them spending long hours in front of computers. This no doubt is a seminal shift, and a whole new way of learning for evolving young minds. Yet, there is no official word on how effective online education has been.
One key element in learning that is undergoing phenomenal change at the moment is the language of instruction — surely, a new lingo is evolving around the new system, absorbing the limitations as well as advantages of tech-enabled e-learning.
A phrase often heard in a traditional classroom was 'keep quiet'. This is now being replaced by 'mute it, will you?' Those who used to 'bunk' are now 'switching off the video'. Teachers and some students in Bengaluru spoke extensively to Bangalore Mirror about the nuances (and absurdities) of the virtual classroom.
The pandemic transformed the meaning of classroom learning, said Sneha Madgaonkar of Neev Academy. "Teachers who felt threatened by tech are now embracing it.
We have moved on from four-walls to the rectangular screen. Display boards are replaced by websites; desks by workstations and cupboards by Google Drive. Despite this, what remains constant is the everlasting bond between the teacher and student," she said.
"I could not imagine being able to see the inside of my teachers' homes. Though far apart, online learning has brought us closer in ways that we never imagined," a student told Madgaonkar.
Anusha Mani, elementary teacher at Inventure Academy told BM: "Earlier, we used to ask the students to take notes. Now we ask them to type in Google Docs. Once, latecomers used to be pulled up: 'why are you late?'. Now we ask them to log in on time. We used to repeatedly ask students to look at the board. Now, we tell them to focus on the slide. Students were earlier asked to raise hands; now it is the virtual hands. While signing off, we ask the s udents to drop off for now."
CMR National PU College student Benita Alice Jacob said when the teacher asks a question to which the student doesn't know the answer, they are told to Google it.
"When I un-mute to speak, either my parents or siblings start speaking in the background or the neighbour plays music loudly," Benita recalled. Students who earlier used to say, "ma'am can you please repeat are now saying ma'am there seems to be an audio lag / you have frozen on screen – can you please repeat what you just said?"
The biggest advantage of online learning is accessibility… downside, however, is extended screen time and a sense of social isolation amongst children as it lacks the warmth of face-to-face interactions, thereby leading to lack of communication skills…
— Dr Rajeev Singh, Orchids The International School
Grade nine student Ruth Lobo has been having a hard time with online classes as 'it's been really boring'. "Teachers ask us to mute ourselves and switch on the video. They are always asking the class to get engaged. They make huge efforts to do that," Lobo added nevertheless.
Naina Chougule, secondary school teacher, said: "The one phrase I keep using is – are you there? – when no one seems to appear in the video. I keep asking the students to switch on their videos." According to DPS Whitefield vice principal Lovely Dutta Prusty, pre-covid, students were told to maintain pin drop silence in the classroom.
Today, the classes are so quiet, she said, as online teachers are forced to ask students to speak up saying — "you are here to interact, not remain silent."
Prusty further added: "To the younger children, we used to say, 'please stop talking! Don't make so much noise, please'. Today teachers are instructing, 'please mute your microphone. Unmute yourself only when your name's called."
The other common phrases teachers use in online classes are: 'Am I audible? Can you see the screen I am sharing? I will ask you to log out from the class. Why aren't your microphones/cameras working, especially when I ask you a question?'… and so on. Earlier, when some students used to ask questions at the end of a class, teachers would say: I shall get back to you tomorrow/come to the staffroom and I shall explain. Today, though, teachers tell students: 'put your doubts in the chat box. I will clarify after the class or you can WhatsApp your doubts to me and I shall clarify'.
The homework is submitted on mail or WhatsApp — the teacher says, "I want all your essays in my inbox by tomorrow/submit your homework on WhatsApp by tomorrow, or I shall not send my feedback before the exams." What is absurd is the teachers themselves used to tell students not to engage in social media.

Bridgette Kunder, a primary and elementary school teacher told BM: "I have to keep asking the primary kids to mute themselves and listen. Small talk that never happened in offline classes is now important – 'Did you have your breakfast? What did you eat? – that sort of thing."
Dr Rajeev Singh, the head of academic implementation at Orchids – The International School, explained: "The biggest advantage of online learning is accessibility. This ensures students do not have gaps in academics. Students and teachers do not have to reside in the same city. However, students dropping off is a disadvantage. Some parents faced challenges in getting a laptop and internet; some faced issues in affording children's education due to loss of jobs. Another downside of e-learning is the extended screen time and a sense of social isolation amongst children as it lacks the warmth of face-to-face interactions thereby leading to lack of communication

skills. Online education, which solves the accessibility problem, has its shortcomings."
Pre-pandemic, a teacher would say: "I want all assignments on my table tomorrow morning positively. Otherwise, you will miss the PT period." Thankfully, students have nothing to worry about missing the PT period anymore.