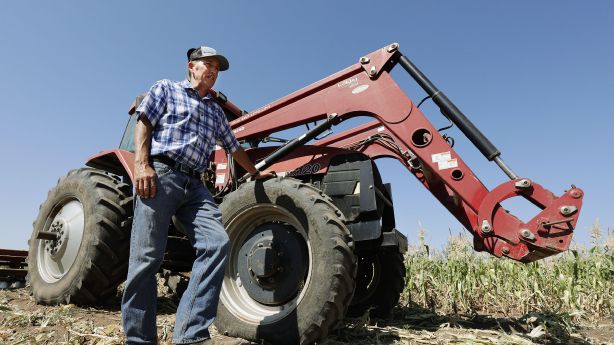 Tyson Roberts, of Roberts Family Farms, talks about how the drought is affecting his farm in Layton on July 16. A new loan program announced Thursday will provide help for Utah farmers and ranchers who suffered losses from drought conditions this year. (Jeffrey D. Allred, Deseret News)
SALT LAKE CITY — While rains across Utah the past few weeks have lessened wildfire risks, they haven't done much to improve drought conditions or the impacts those have on farmers and ranchers.
Now Utah farmers and ranchers who have been impacted by the drought have a new way to help recover losses associated with the drought. Gov. Spencer Cox and other state officials on Thursday approved a plan to put $5 million toward an Emergency Disaster Relief loan program that would help farmers cover losses caused by this year's drought conditions.
Under the loan, impacted farmers and ranchers can receive up to $100,000 from the state to help pay financial and other losses tied to the drought, such as feed costs or loss of livestock. The loans would be repaid in seven years with the first two interest-free, officials with the Utah Department of Agriculture and Food said Thursday. An agricultural producer applying for a loan would also not be required to provide collateral.
"This year has hit Utah's farmers and ranchers hard. We are hopeful that these loans will be a financial bridge that will allow producers to keep their operations going so that they will continue to benefit not only Utah's rural economies but all Utahns who enjoy local agricultural products," Craig Buttars, the commissioner for the state's agriculture department, said in a statement Thursday.
Recent rains have improved Utah's drought some. In its latest report, the U.S. Drought Monitor lists about one-fifth of the state in an "exceptional" drought, which is the worst drought condition listed. That's compared to close to 70% before monsoonal moisture arrived over the summer.
However, 88% of the state remains in at least an "extreme" drought status, and every part of the state remains within at least the "severe" drought status. That's impacted reservoirs heavily. The Utah Department of Natural Resources reports 31 of its 42 largest reservoirs are below 55% capacity and the statewide reservoir system is at 50% capacity.
There are also many reservoirs below 20%, especially in central Utah. For instance, Gunnison Reservoir is listed as dried up while Piute Reservoir is listed at just 3% capacity. Millsite, Minersville, Otter Creek and Yuba reservoirs are listed as between 9% and 19% capacity. There are also a few reservoirs elsewhere in Utah — Echo, Hyrum, Settlement Creek, Steinaker, Upper Enterprise and Woodruff Narrows reservoirs — listed as below 20% capacity.
In its report Thursday, officials with the state natural resources department wrote that drought conditions have impacted many Utah farmers and ranchers, cutting farm yields and leading ranchers to move livestock earlier than usual.
"Drought pressures continue to negatively impact Utah farmers and ranchers causing decreased yields and extreme additional expenses for feed, transportation and water hauling," they wrote. "Due to limited water and forage, livestock are being moved from pasture earlier than average across the state."
With those conditions in mind, Cox and the Utah Governor's Office of Economic Opportunity approved a measure to add $5 million to an Emergency Disaster Relief loan program. The money was transferred from the Industrial Assistance Fund that the state economic opportunity office manages to the Utah Department of Agriculture and Food.
Government leaders said the loan is necessary because the ongoing drought places "the viability of Utah's farmers and ranchers and their agricultural and economic productivity in jeopardy."
"Utah's current extreme and prolonged drought conditions have been devastating for our agricultural producers," Cox said in a statement. "These farmers and ranchers need real solutions and we are committed to helping in every way we can. Authorizing money from Go Utah will provide necessary aid to those who truly need it."
The state agriculture department will accept applications from farmers and ranchers across Utah beginning Monday. Those eligible for the loans include farmers who can prove at least a 50% loss since May 15 and ranchers who can provide proof of the death loss of breeding stock, the cost of replacement of breeding stock sold due to drought or the cost of feed purchased.
State agriculture officials say they will continue to accept applications through April 1, 2022, or until all of the money in the loan fund is exhausted.
×
Related Stories
More stories you may be interested in