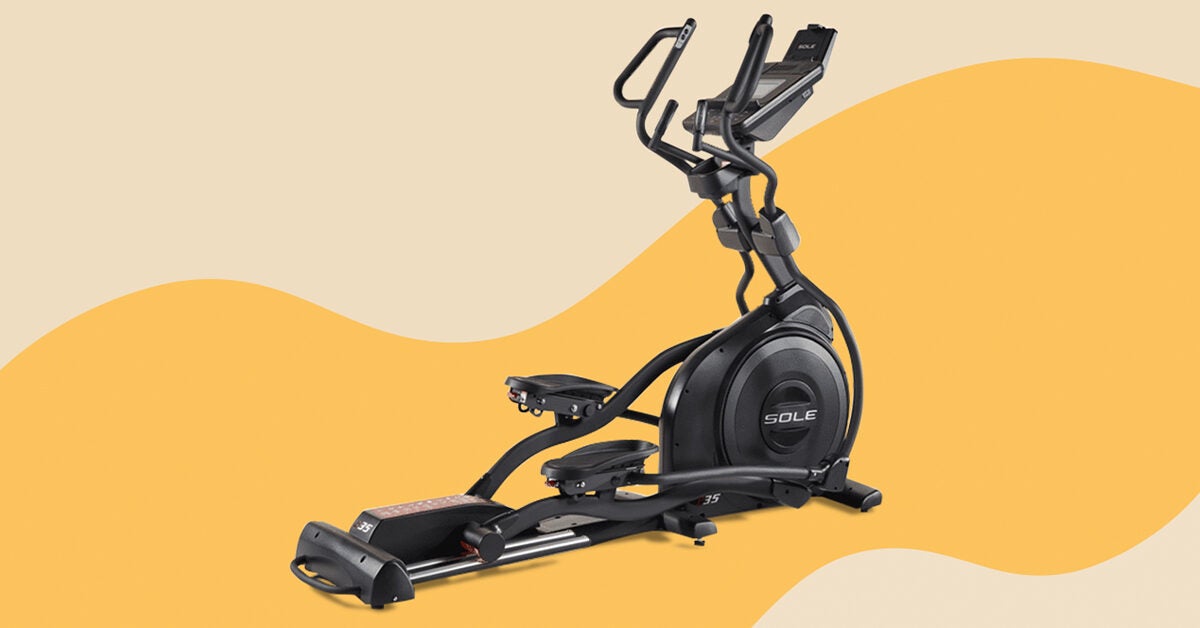 Elliptical trainers use a gliding motion to provide a challenging workout without placing excess strain on your joints.
As a result, they offer an effective cardio solution for people with hip, knee, or ankle concerns.
Plus, ellipticals include a variety of training options.
So, they can help improve cardiorespiratory endurance — how your lungs, heart, and muscles work together during exercise — regardless of your fitness level.
The Sole E35 is a highly rated front-drive elliptical that features a durable, stable, and comfortable design.
In particular, it's a popular choice for people who want a low impact cardio workout without having to dial back on intensity.
This article provides a comprehensive review of the SoleE35 to help you decide if it's the right elliptical for your exercise needs.
Sole Fitness is best known for manufacturing hotel-quality treadmills.
However, over the past 5 years, Sole has grown to become a household name as well, thanks to its extensive line of cardio machines.
These include:
The Sole E35 is one of Sole's mid-range elliptical models.
Despite its competitive price point, the E35 provides many of the benefits and features found in higher-end machines.
Specifically, the E35 uses magnetic resistance and a fluid gliding motion to provide a quiet and smooth workout experience.
Plus, the pedals were designed with input from physical therapists to encourage proper alignment and reduce pressure and discomfort in your hips, knees, and ankles.
As a result, the E35 offers three pedal angles to suit a variety of body sizes, gaits, and arch heights.
Is the Sole E35 easy to assemble?
According to customer reviews, one of the main downsides of the Sole E35 is how challenging and time-consuming it is to assemble.
Many users report that the instructions are vague and difficult to understand, though others note that you can find helpful tutorials on YouTube to make the process easier.
If you're not up to the challenge of setting up the machine yourself, Sole offers expert in-home assembly for an additional cost. However, due to the COVID-19 pandemic, this service is temporarily unavailable in some areas.
The Sole E35 features a heavy-duty steel frame that's durable and offers plenty of stability.
It's also equipped with a 25-pound (11-kg) flywheel, which results in a smooth and quiet ride, even during vigorous workouts.
The E35 is described as a front-drive elliptical, meaning that the flywheel is positioned at the front of the machine.
This style of elliptical trainer places the user toward the front of the machine and at a slight angle, resulting in a higher vertical range of motion that's similar to climbing hills.
Another important spec to be aware of is the max 20-inch (51-cm) stride length, which is suitable for people up to 6′ (183 cm) tall.
Training options
The E35 features a user-friendly adjustable console with a 7.5-inch (19-cm) LCD screen, Bluetooth speakers, and a tablet holder.
From the center console, you can select from 10 workout programs, including cardio, fat burning, hill, interval, heart rate, and custom.
While it doesn't offer an integrated touchscreen, the Sole E35 does comes with a tablet holder, making it easy to stream TV shows, podcasts, or workouts using your own device.
The machine is also compatible with the SOLE Fitness App, which allows you to record and save your workout metrics. You can also transfer your training stats to a fitness app, such as Fitbit, Apple Health, or MyFitnessPal.
Even if you don't use the company's app, the elliptical still records your performance metrics, including your:
To adjust the intensity of your workout, the machine also includes 20 levels of incline. You can change the incline from the center console or the multigrip handlebars.
Other notable features of the Sole E35 elliptical include:
USB charging port
cooling fan
water bottle holder
heart rate chest strap
handlebar pulse sensors
transport wheels
The Sole E35 retails for $2,799.99, though it's frequently discounted to $1,499.99 on Sole Fitness's website.
Your purchase also includes a 30-day money-back guarantee and free shipping within the contiguous United States.
To protect your investment, the E35 is covered by the following warranties:
lifetime frame
5-year parts and electronics
2-year labor
Finally, to help make the elliptical more affordable, Sole Fitness offers special financing for qualified customers with 0% APR for the first 12 payments.
Reviews of the Sole E35 elliptical are overwhelmingly positive, with most customers reporting satisfaction with the quality and performance of the machine.
Many reviewers specifically note that the elliptical is quiet, sturdy, and easy to use.
However, no product is perfect.
Several reviewers complain that the elliptical can be noisy or squeaky, while others note that the tablet holder is flimsy. A few people also feel that the sound quality of the speakers could be better.
Some negative reviews are more concerning, with users reporting that their machine doesn't work properly or stopped working completely.
Quite a few reviewers also report that the Sole customer service team is unresponsive to emails and phone calls. In fact, multiple people mention that when they called Sole to report a problem, they were placed on hold for several hours.
The Sole E35 is far from the only elliptical machine on the market. Here's how it compares to two similar products:
All of the ellipticals compared above are front-drive machines with oversize pedals and heavy flywheels.
Overall, the Sole E95 is the sturdiest option since it offers the highest max weight capacity and heaviest flywheel.
However, because the E95 is more expensive and doesn't offer additional training features, the Sole E35 provides better value for most home workouts.
Both the Sole E35 and E95 ellipticals are frequently discounted to $1,499.99 and $1,999.99, respectively.
As a result, there's often no difference in price between the Sole E35 and NordicTrack Commercial 9.9 when you account for shipping fees.
Instead, the main differences come down to:
size
training options
stride length
The NordicTrack Commercial 9.9 is more compact than the Sole E35, making it a better option for small spaces.
However, this smaller size also comes with a shorter max stride length, which may be too cramped for users over 5'7″ (170 cm) tall.
Additionally, the Commercial 9.9's max weight capacity is lower. So, it may not be quite as stable as the Sole E35.
That said, the NordicTrack Commercial 9.9 offers more in terms of training options, including two more levels of incline and three times the number of programmed workouts.
The Commercial 9.9 also has an HD touchscreen and includes a 1-year family membership to iFit for streaming live and on-demand classes.
The Sole E35 a great option if you're looking for a high quality, affordable elliptical trainer that can support intense workouts.
Since it's a front-drive machine, the E35 offers a greater vertical range of motion than other styles, making it similar to hill climbing. It's also closer to the floor, allowing you to easily step on and start moving.
While it doesn't include an integrated touchscreen for streaming, the E35 still offers plenty of training options to keep you challenged.
Specifically, the machine comes with 20 levels of resistance and 10 programmed workouts. It's also equipped with a tablet holder, so you can stream workouts using your own device.
While a 20-inch (51-cm) stride length is standard for gym and hotel elliptical trainers, users over 6′ (180 cm) tall may want to consider a larger option, such as the Bowflex Max Trainer M6 or NordicTrack FS14i FreeStride.
Overall, once you get through the assembly process, you'll likely be satisfied by the value that the Sole E35 offers.
Suitable for a range of fitness levels, the Sole Fitness E35 elliptical features a heavy-duty steel frame and 20 incline levels to provide a challenging workout.
What's more, the innovative design adjusts to your body, providing comfort and encouraging proper alignment.
Overall, the E35 a great option if you're interested in a high quality machine and can live without some of the high tech features found in other models.